Schedule    Details    Contact   Meet our Student Leaders  What People are Saying
Welcome to Viterbo's Service Saturdays!
Are you looking to learn more? THIS VIDEO does an excellent job of capturing the story of our Service Saturdays experience.  Kudos to Mark Seitz for his creative vision and hours of editing!  
Our Mission:  
Viterbo University's Service Saturdays program creates opportunities for lasting relationships and meaningful reflection by connecting Viterbo's core values with local agencies, our neighbors, our environment, and each other.  
**Click here to register for Viterbo Rings Service Saturday on 12/2.  Priority registration is due Wednesday, November 29th!**
2023-2024 Save the Dates:  
What do we do?
We are incredibly excited to provide opportunities for Viterbo students to serve alongside various community organizations, connect with each other, and enjoy a post-service reflection meal led by our Service Saturdays student leaders. Service Saturdays include a variety of service opportunities and sites with activities. We hope to take burdens away from local agencies so they can better serve the community. Each Saturday sees multiple project options, providing service across ability and interest areas. We may serve in a garden for the FSPA sisters, deep clean for our friends at the Place of Grace, or interact with residents at a local assisted living facility. 
Each Saturday is a different opportunity for the Viterbo community to make meaningful relationships with each other, local agencies, their staff, and our neighbors they serve. We hope Service Saturdays allows participants to meet other Viterbo folks, explore issues affecting our community, and build long-term service-oriented relationships beyond one Saturday morning.  
Feel free to sign up with members of your club/organization or as an individual.  Registration is available/active on this page 3-4 weeks prior to serving, with a deadline typically the Wednesday before.  All students, faculty, staff, alumni, and their families/guests are invited! For questions contact Colin Burns-Gilbert at 608-796-3846 or cgburnsgilbert@viterbo.edu.
If you are interested in being on the Service Saturdays email list, sign up here.
**All Service Saturdays participants need to have an updated Participant Assumption of Risk and Release of Liability Form on file before participating.** Only 1 completion of the form is required.  VU students/employees should complete the Etrieve form.  Guests can complete a paper version.
COVID19 Impact:
Participants will be required to follow the COVID19 procedures in place at their hosting agency or organization, as well as mitigations implemented by Viterbo. These specifics will be included in the email confirmation sent a few days before our service.

Because of the unpredictable nature of both service and COVID19, at this time we encourage everyone to bring a sling bag with a mask, hand sanitizer, a full water bottle, a snack, and/or any other personal needs relevant to their project (sunscreen, work gloves, backup mask, bug spray, etc).  
Upcoming Service Saturdays and Registration
Service Saturdays generally start with check-in prior to kickoff at 8:30 a.m. We will then transition to the service projects we signed up for. The day will end with a post-service conversation and free lunch at Viterbo. Visit the Details section of this page for—you guessed it—more details. 
2023-2024 Dates 
Aug. 26: Orientation Service Saturday - We sent approximately 300+ people out into the community on the first Saturday of Orientation.  Viterbo employees/upperclass students serve as Site Leaders on this day, but participation is limited to new Viterbo students. In one morning, our group provided 945 hours and a community impact valued at over $26,0000!  Click here to review photos! 
Sept. 16: Family Day Service Saturday -  In fall 2023, we saw 130+ people join us (65+ guests, family, and friends).   Thank you to everyone who made an impact as our Service Saturdays family!
Oct. 14: Westby Service Saturday - For the first time ever, we took Service Saturdays on the road!  We are partnered with a local community to build better relationships through shared service and a community meal.  Transportation was provided from Viterbo to Westby in the morning and after service/lunch.  We saw ~40 people across generations 
Nov. 4: Make a Difference Day Service Saturday  - This is our day to collaborate and serve with students from UW-La Crosse and Western!  Viterbo hosted 90+ people from all 3 campuses in our quest to build bridges between our institutions as we serve the common good.  That's a community impact valued at over $8,000 in one morning of service!
Dec. 2: Viterbo Rings Service Saturday- On the weekend before finals, Viterbo needed all hands on deck to take over Salvation Army Red Kettle locations for the day.  In 2021,  Viterbo folks raised nearly $5,600 in one day at 13 different locations!  Take a 2-hour shift or serve all day.  All are welcome and groups are encouraged to adopt an entire location for the day. 
In December 2022, we took over 9 locations and were able to raise $3,164.25 in one day at those 9 locations! Click here to visit our Viterbo Rings page!
Jan. 15, 2024: MLK Day of Service, Learning, and Celebration - Live Dr. King's values with invaluable non-profits serving some of our most vulnerable neighbors.  Help lighten their loads before learning about various identities and issues before celebrating the incredible good across La Crosse.  MLK Day 2023 saw 230+ people serve, creating a community impact valued at over $20,000 in one morning! 
Feb. 17: Traditional Service Saturday - This will be our traditional Service Saturday of the spring semester.  Join us for a more intimate Viterbo service experience!
March 23: Traditional Service Saturday - This day is special because lunch and reflection will be hosted by our partners at the Place of Grace.  Founded by Professor Tom Thibodeau, the Place of Grace helps provide food, resources, and spiritual support to our closest neighbors, just a few blocks from Viterbo.  Join us to help make love visible through service!
April 20: President's Day of Service -  We will end our Service Saturday year by returning to our traditional started in 2017 - honoring and connecting with each other and the community.  If you can only make it to one Service Saturday this spring, make it this one as we plan to return to the Mathy Center for a shared meal and guest speaker after service.  Viterbo organizations, groups, and departments are encouraged to adopt a site/project and promote with their members!
Anti-Racist Resources
Service Saturdays 6-Week Anti-Racism Project: Created to help the Service Saturdays family navigate their journey to better understand and dismantle racist ideas and policies. 
Click here to access hundreds of resources to learn more, reflect on, and celebrate our neighbors of color!
Photos from President's Day of Service 2018
Inauguration Service Saturday Pictures and Info
Past Service Saturday Pictures
Details
NO LAST MINUTE CANCELLATIONS, PLEASE. Unless ill, do not cancel within 24 hours of your volunteer shift. The community agencies count on us.
Service Saturdays Leader: Groups will have a trained Service Saturdays site leader at each site whenever possible. This person will be your on-site contact and will contact you by Wednesday before the project regarding specific details. Know that the site leaders are a resource for you.
What to wear/bring: Wear closed-toed shoes and bring a water bottle. There may be other requirements for specific events, be sure to check your Viterbo email the day before and the morning of the event.  It's usually safe to wear clothes you don't mind getting dirty.
Weather: Some projects are outdoors. In the case of bad weather, we will contact you ASAP (email if on Friday, cell phone if on Saturday) to let you know of any changes.  Most Service Saturdays will be rain or shine.
If problems or questions arise: You may contact Colin Burns-Gilbert at 608-796-3846 or cgburnsgilbert@viterbo.edu until 2:30 p.m. on Fridays. After that time, contact your Service Saturday site leader directly.
Contact
Interested in learning more? Want your club or organization to sponsor a service site? Have questions? Contact our student leaders Ellie Hoesley, Emma Blackdeer, Trevor Rowray, or Jenna Jacobsen.  You may also contact Colin Burns-Gilbert at 608-796-3846 or cgburnsgilbert@viterbo.edu. We are more than happy to answer your questions about Service Saturdays!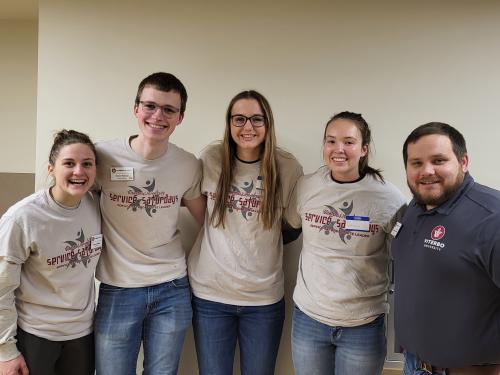 ---
Meet our Service Saturdays Student Leaders
 

 

 

 

TBD- click link above to apply!

 

Ellie Groth 

You!? 

Emma Blackdeer

 
Major: Biology

Major: 

Major: Neuroscience

 

Minor: Chemistry
Minor: 
 
 
Class Year: Winter 2024
Class Year: 
Class Year: Class of 2026
 
Hometown: West Salem, WI 
Hometown: 
Hometown: Sparta, WI
---
What People are Saying about Service Saturdays
Orientation Service Saturday saw over 330 people serve at 21 different projects. CLICK HERE to see the coverage from WKBT.
Check out what WKBT had to say about our President's Day of Service in April 2018.
CLICK HERE to check out what the La Crosse Tribune had to say about Service Saturdays.
Testimonials:
"I really liked meeting a group of people that I'm not normally exposed to. Everyone seemed to be really invested in serving, which was inspiring to see. I think Service Saturdays are well set up in that it's not too overwhelming for students."
~ Viterbo Student
"I'm so glad that Viterbo is offering this! There aren't many opportunities for faculty to serve alongside students, and this is a great way for them to get to know us and us to get to know them in a non-classroom setting". 
~ Faculty Member
"We're so glad you reached out to us to offer assistance with our upcoming event. It's always a treat working with Viterbo students!"
~ Community Nonprofit Organization
Meaningful Interactions:
Sep 24 Family Day – "The coordinator was shocked at the dedication and pace at which we were moving.  What we were doing truly mattered to us and wasn't just a required task.  I had to change my perspective from "that was quick/easy, no big deal" to "wow, the group of us just saved the employees hours of time and energy." – Kane St Community Garden
Oct 15 – "Talking to residents about their feelings – their husbands being deployed.  I wanted to hug them they were so emotional." – Eagle Crest South
Feb 25 – "Seeing families spending time together and children smiling made me remember my past and those who helped me get here – it's good to give back." – Children's Museum
March 25 – "Roles at Viterbo don't define status when it comes to serving the community." – Place of Grace
April 15 – "Talking with those I served with made it more fun – I met new friends." – FSPA Garden
April 15 – "Getting to know and work together with the non-profit hosts.  I learned so much!" - HorseSense
Contemplating Factors:
Oct 15 – "I felt appreciated.  Her interest in our majors and experience helped deepen the connections we made." – La Crescent Community Garden
Nov 5 – "Volunteering always opens your mind up to helping people and committing acts of kindness (even in the rain)" – GROW La Crosse
Feb 25 – "I feel more connected to the Viterbo community after getting to know Leslie, a former employee and learning about the students who go to school here." – Hamilton Elementary
March 25 – "Considering our life experiences, it's good to work for something bigger than myself." – First Teen Clothes Closet
March 25 – "Doreen telling us about the impact and life experiences.  New Horizons is a blessing to our community!" – New Horizons Domestic Abuse Shelter
April 15 – "It's nice to know they do a lot with a group of people that are othered." – HorseSense
April 15 – "Humbled to serve with those who do it daily – realized service is more than 'just doing stuff for someone." – Habitat for Humanity ReStore
Change Behaviors
Oct 15 – "I sometimes just shut myself from the outside world but being with others truly opened my eyes and heart." – Place of Grace
Nov 5 – "Being there made me thankful for my current situation because a lot of people do not have the support that I do." – Bluff Country Family Resources
Feb 25 – "I want to be willing to step in more when things get uncomfortable." "I hope to always feel like a safe space for those I am around." – The Parenting Place
March 25 – "Hearing Karla's story and her insights, I feel more knowledgeable and inspired to advocate more, speaking against assumptions about the homeless population." – Catholic Charities Warming Center
April 15 – "Be more mindful of the waste I create and water I use." – FSPA Garden
April 15 – "Spend more time helping others reach their goals." – Pump House Performing Arts Center
2022-2023 Impact
| | | |
| --- | --- | --- |
| | Fall 2022 | Spring 2023 |
| # People | 647 | 349 |
| Hours Served | 1881 | 1047 |
| Community Impact Value | $59,815.80 | $33,294.60 |
| Local Orgs/Projects | 56 | 40 |
| Participant Breakdown (traditional events) | First Year = 57%, Sophomore = 9%, Junior = 6%, Senior = 6%, Employees = 9% Alumni/Guests = 13% | FY = 26%, Soph = 14%, Junior = 19%, Senior = 10%, Employees = 22%, Alumni/Guests = 9% |