Thursday, March 4
9–11 a.m. Campus Ministry Morning MUG: Stop by for conversation, fellowship, and a treat for the road.
Noon Mass – San Damiano Chapel
3–7 p.m. WorkForce Fair: Career, Internships, and Graduate Schools –via Handshake. Attend for any length of time. There will be more than 100 organizations, registered including more than 20 graduate schools, seeking students of all majors for a variety of opportunities. More info on the Career Services Events page. The Viterbo college with the most student attendance will win a hot beverage and donut party in March.
3:30 p.m. Campus Ministry Bible Study – Campus Ministry Second Floor Lounge
6 p.m. Eucharistic Adoration with Stations of the Cross – San Damiano Chapel
Fire drills will occur in campus residence halls and apartment buildings between 9–11 a.m. today.  When the fire alarm sounds you should evacuate the building, closing doors and any open windows as you leave. Proceed to the building's designated outdoor rally point.
Viterbo Emergency Response Plan for Fire, Smoke, or Explosions:
1. Activate the nearest fire alarm (if not sounding).
2. Call 911 and calmly provide your name, the building address, and location of fire, smoke, or explosion.
3. Call Campus Safety at 3911 if using a Viterbo phone; 608-796-3911 or 608-780-1582 if using a non-Viterbo phone.
4. Assist persons with disabilities/special needs and/or provide their location to emergency responders. Notify fire personnel if you know someone is trapped.
5. Immediately exit the building, closing doors behind you. Do not use elevators and keep fire doors closed.
6. If caught in smoke, drop to your knees and crawl to the closest safe exit. Breathe through your nose. Cover it with a towel or shirt if possible.
7. Upon exiting the building proceed to its designated outdoor rally point.
8. If trapped in a building, close all windows and doors. Place wet or dry cloth material under door to prevent smoke from entering. Attempt to signal people outside the building. Call 911 to notify responders of your location.
9. Never reenter a building until an "all clear" signal is given by authorized emergency personnel.
Any questions or concerns, please contact the Director of Campus Safety, Adam Malin at 608-796-3913 or ammalin@viterbo.edu
Coming Up:
There will be a Breaking Barriers Diversity Club meeting Tuesday, March 9 at 7 p.m. in the School of Nursing Building 195. Women's History Month and other related topics will be discussed. All are welcome.
Help the Breaking Barriers Diversity Club celebrate International Women's Day by Shattering the Glass Ceiling. Stop by the Murphy Center Lobby between 9 a.m.–1 p.m. Monday, March 8 and let the BBDC know when you've seen the glass ceiling being shattered in your life or in the world.
The Identities Project is hosting a panel conversation exploring the difference between facts, fake news, and click-bait on Tuesday, March 9 at 6 p.m. Register for the virtual event HERE
Attention student veterans, military, and military family members: Join the Military Aligned Student Support (MAS) office for a Donut and coffee social Tuesday, March 9 from 7:30 a.m.–11:30 a.m. (stop by as your schedule allows between these times) in the Fine Arts Center FSPA Lobby. MAS staff will also address any questions or concerns you have and take ideas for future social gatherings.
Celebrate Aldo Leopold Day with author and naturalist J. Drew Lanham as he presents "Coloring the Conservation Conversation" as part of the Viterbo University D.B. Reinhart Institute for Ethics in Leadership's Spring Lecture Series at 7 p.m. Friday, March 5 on Facebook Live.
Notices:
COVID-19 has continued to affect college-aged students in numerous ways. Students are researching how food availability has affected college students during campus closures. This survey is anonymous, and the data received will help researchers understand the need for both continued and new advertisement and support of the Viterbo food pantries. Questions may be directed to Sierra Harper-Beutel at sharpe69068@viterbo.eduand Hannah O'Kane at hokane71369@viterbo.edu. Take the survey.
Art department members and Viterbo leaders recognize the importance of art for overall health and well-being. With that in mind, students would like to solicit feedback about a series of art workshops to be offered to the Viterbo community. Fill out the survey about creative opportunities that you might be interested in: LINK
Student Activities Board (SAB) needs your help to plan this year's Courtyard Carni. Completing this survey will you to win a $25 gift card of your choice. If you would like to share more of your ideas, attend the meeting Wednesday, March 10 at 5 p.m. via Zoom. Any student who shows up for the meeting will receive a $10 gift card. https://viterbo.zoom.us/j/93873633791
Summer Housing Assistant applications are due tomorrow at 4 p.m. Summer Housing Assistants work in the office of Residence Life during the summer and are compensated via hourly pay and free housing accommodations. To learn more and apply, CLICK HERE.
Calling all student leaders: Student Government Association (SGA) election season has begun and students can sign up to run for a host of different open positions for the 2021–22 academic year, including SGA President, up until noon on Friday. Details can be found at www.viterbo.edu/sga. Questions? Email us at sga@viterbo.edu.
Nominations are open for the annual Spirit of Saint Francis Sustainability Award. Click for more information.
News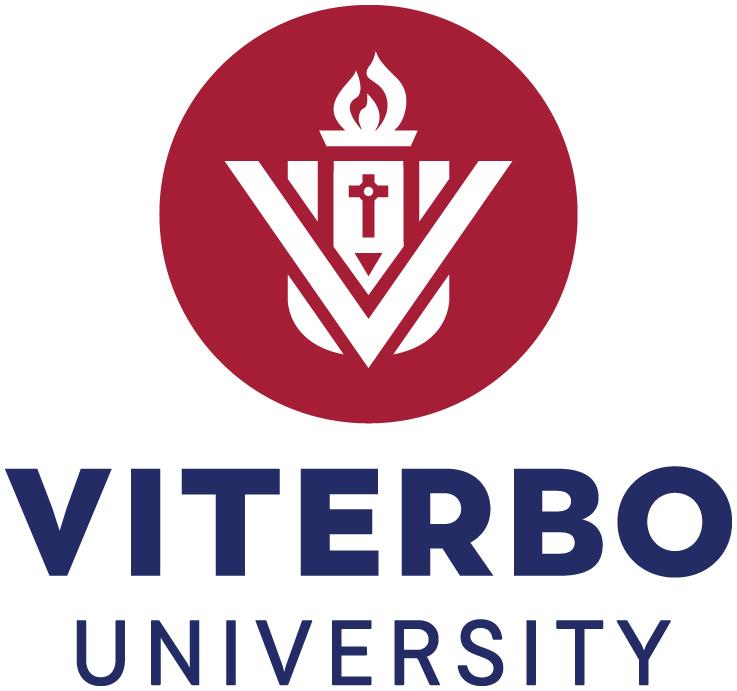 Viterbo University and Congregation Sons of Abraham of La Crosse announce the 2021 (5781) celebration of Wisconsin International Ladino Week.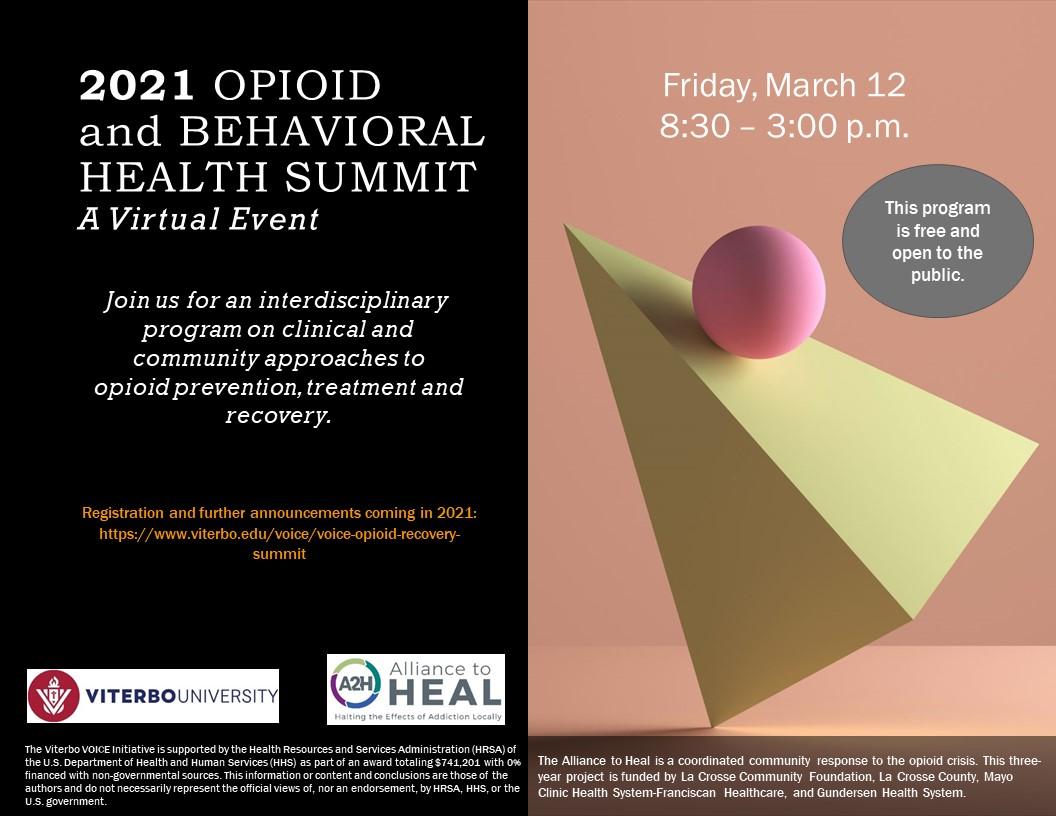 The public is invited to attend the virtual 2021 Opioid and Behavioral Health Summit sponsored by Viterbo University and La Crosse's Alliance to HEAL organization from 8:30 a.m.–2:30 p.m. Friday, March 12.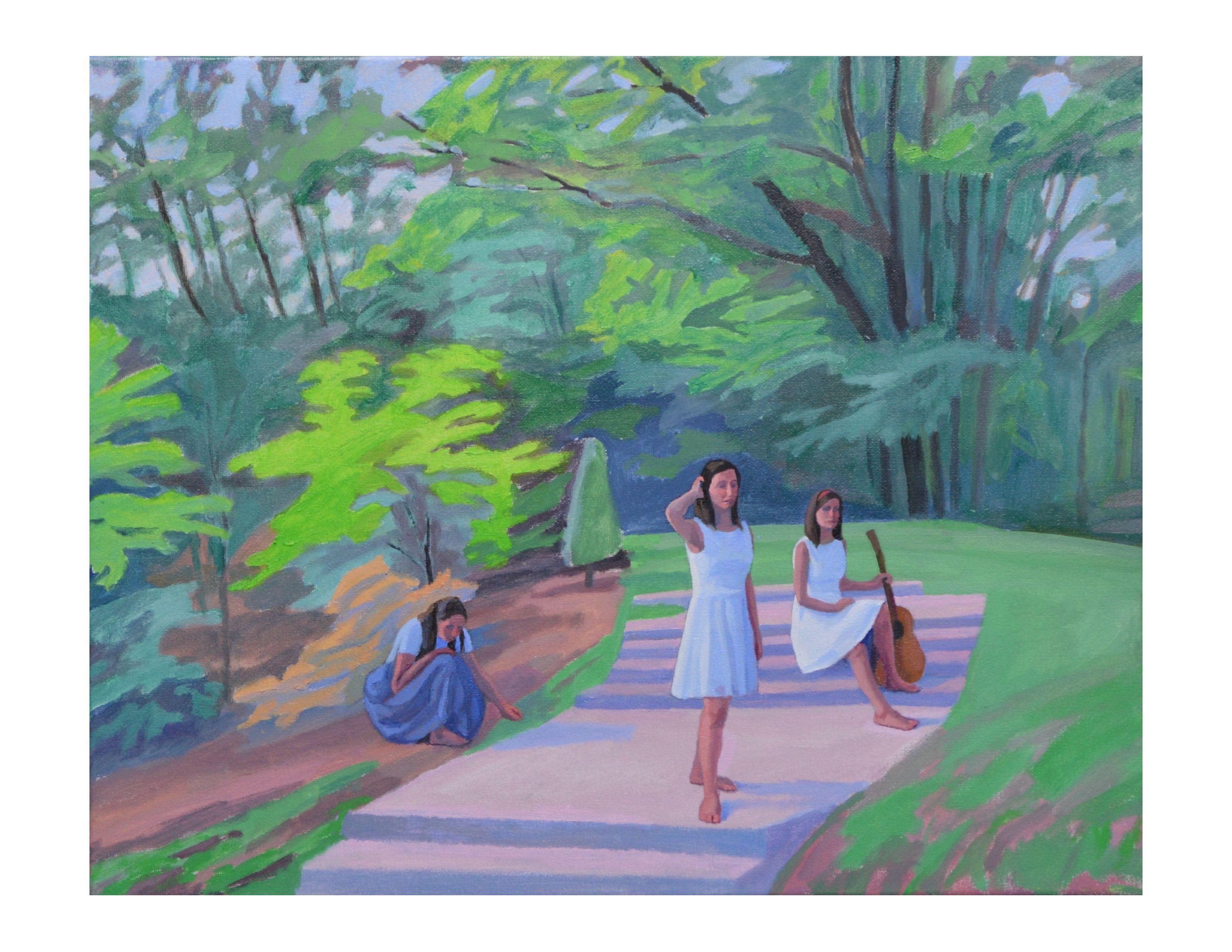 The exhibit "Figures in Landscapes: Seeking God's Shalom. The Paintings of Douglas R. Giebel" will be on display in the Viterbo University Gallery from Wednesday, March 3–Wednesday, April 7.