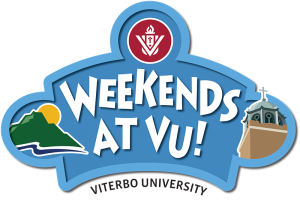 Weekends at VU 2020 Programming
Join Weekends at VU on Fridays and Saturdays for some safe, socially-distanced FUN!
Follow the Weekends at VU group on the Viterbo App to see upcoming activity information and for updates or changes to the schedule. All WAVU events take place on Fridays and Saturdays when classes are in session. Most events require an electronic sign-up, so be sure to watch for additional information as advertisements for events come up.
Weekends at VU and the Recreation Department are teaming up to offer Tuesday Night Trivia. Join us Tuesdays at 7 pm starting on April 13 for Kahoots on Zoom: https://viterbo.zoom.us/j/93452654498. The first night is Music Trivia.
Upcoming Events
Date
Event
Time
Description
Location
Registration
4/30
Canoeing Event
8 AM - 5 PM

Weekends at VU will be sponsoring a canoeing event at Schafer's river rentals in Onalaska on Friday, April 30th. Students are able to rent a canoe or kayak for free anytime on Friday between 8-5 pm. Transportation to the rental service is on your own.

Please use the survey below to register for the event. Anyone that will be renting a canoe/kayak must use the survey to register in order to receive the free equipment rental. Registration closes Thursday at 5 pm, and more information will be shared then.

Schafer's River Rentals
Canoeing Rental Registration
5/1

Sand Volleyball Tournament

2 PM

Weekends at VU is hosting a sand volleyball tournament on Saturday, May 1st starting at 2 pm in the Marian courtyard. Students can register as individuals or as a team up to 4 people. If you register as an individual or as a pair of 2, we will group you together to form teams.

 

Food, drinks, and music will be shared at the event. All participants will receive a prize from Weekends at VU and the top three placing teams will receive additional rewards! 

Marian Courtyard

Please fill out the survey below to register for the event by Friday at 3 pm
Contact Us
Looking to connect with Weekends at VU? Feel free to send us ideas for events or feedback by emailing campusactivities@viterbo.edu, by calling 608-796-3807, or by visiting the campus activities office in the Hawk's Nest.