President's Day of Service
President's Day of Service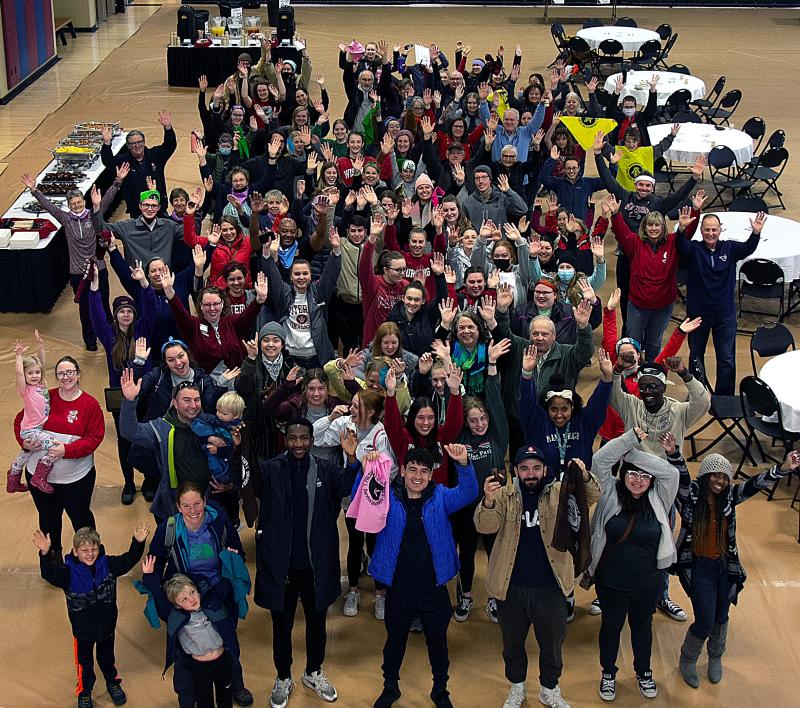 Thank you for visiting the President's Day of Service webpage. We will use this page to facilitate all President's Day of Service information moving forward. 
*Inauguration Service Saturday: October 15th, 2022**  
*This year, President's Day of Service will align with President Trietley's Inauguration in Fall 2022*
CLICK HERE to register your project preferences by Wed October 12th at 12p!*
Click here for more information about Viterbo's 10th Presidential Inauguration. 
What is the President's Day of Service?
Viterbo's President's Day of Service is a new tradition created from the Inauguration Day of Service in Spring of 2017 which celebrated President Temple's official arrival. Because the day was so powerful and really highlighted connections with Viterbo's Mission and Core Values, we have decided to continue these efforts each year. This year, we anticipate between 150-250 Viterbo folks serving our communities and hope YOU can be a part of the impact!
The President's Day of Service is hosted by the Service Saturdays team. For more information about upcoming Service Saturdays, CLICK HERE.   
If you have any questions or suggestions, please don't hesitate to reach out to Colin Burns-Gilbert at cgburnsgilbert@viterbo.edu.
Site Leader Interest?

If you know you will be serving with us this year and want an elevated leadership role, consider serving as a Site Leader! Ultimately, that means you would facilitate welcome/reflection, serve as the main contact for your service project, introduce yourself to organization staff, and provide guidance/direction for those in your service location/group. Site Leaders would help with registration in the morning (arriving around 7:55a) and be encouraged to assist with cleanup (ending around 1:30pm).  
Example Site Leader Guide: Click here to view a Site Leader Guide from a traditional Service Saturday for more context on the role/day.
Please, if you have experience with Service Saturdays or simply want to challenge yourself in a different way, we encourage you to serve as a Site Leader for our President's Day of Service! Indicate your interest in the general registration form and you'll be contacted with more information.  
Timeline of President's Day of Service Day
7:45a-8:30a - Registration and Light Breakfast
We'll have breakfast and registration in the FSPA Lobby in the Fine Arts Center.  Please arrive no later than 8:15a to ensure time to register and fuel up before our day together.  You'll be able to connect with others and will have a chance to snack on a light breakfast egg bake, fruit, and bread. Our welcome program will begin at 8:30a. 
8:30 a.m. - Welcome and Kickoff 
Our program will kick off with some inspiration from President Trietley.  We'll also take a group photo before dismissing to each of our service projects.  All of that information will be included in the confirmation emails sent Wednesday evening.
9 a.m. - 12 noon - Serve the Community
For the duration of this time frame, we'll be serving at our various locations, assisting in whatever ways the organizations and community members will benefit from. We encourage all to serve intentionally and to focus on the entirety of the experience, building in opportunities to contemplate the deeper meaning and build relationships throughout the task/project.
~Noon-12:30 p.m. - Lunch  
People will arrive back to the campus at staggered times depending on their project(s) and locations. Lunch will be ready and available for folks to refuel after a full morning of service in the Mathy Center.
~12:30-1 p.m. - Reflection
We'll provide structured opportunities to reflect on the impact of the service we performed, hear others' perspectives, and share our own experiences through service. This will be an opportunity to connect to our day on a deeper level, learn about different perspectives, and hear others' stories.  Tom Thibodeau will deliver remarks to kick things off before reflection conversations.
Confirmed Fall 2022 Projects/Agencies
(More detailed descriptions in registration)
*Adopted projects by Viterbo organizations/partners.
| | |
| --- | --- |
| Project | Description |
| American Legion | Deep cleaning event hall and kitchen space for K9 fundraiser event.  Deep clean facilities and organize furniture.   |
| Aptiv | Organize and deep clean the youth service area at the main Aptiv location in South La Crosse.  We'll take the lead from Aptiv staff and assist with activities, cleaning, and socializing with guests.  |
| Bluff Country Family Resources | Organize and sort donations for family distribution  |
| Children's Museum | Deep cleaning/disinfecting equipment and facilitating activities for kids like face painting |
| Eagle Crest South | Interacting with and interviewing veteran residents to highlight their service and experiences in November |
| First Teen Clothes Closet | Sorting and rearranging donations  |
| Friends of the Blufflands | Removing invasive species (buckthorn) from bluffs through cutting and spraying with herbicide |
| FSPA Garden | Harvesting produce from greenhouse, planting seeds, and preparing outdoor garden areas and tools for winter |
| GROW La Crosse | Supporting Spence Elementary community garden space |
| Habitat for Humanity Construction | Helping with active construction project on Adams St |
| Kane St Garden* | Help harvest late-season produce, assist with mulching and composting, and prepare garden for the winter season.  This project is adopted by Kathy Duerwachter's VUSM. |
| Knit-a-Thon | Sew 5" x 5" squares together into blankets to donate to Mayo patients and children of patients |
| Place of Grace | Deep cleaning, food/meal prep, food pantry organizing |
| Plastic Bag Upcycle Project* | During COVID, the Service Saturdays team created a homegrown project to serve some of our most vulnerable neighbors, especially as in-person service appeared to be limited.  This project was initiated and hundreds of bags have been collected and cut to squares.  Help us move the project along; cutting squares into strips.  Once all squares are cut into strips, we'll be able to begin crocheting them into plastic mats before donating to local shelters serving our unsheltered neighbors.  This project will be hosted on campus. This project is adopted by Viterbo Sustainability Club.  |
| Student Government Association Highway Cleanup | Join a group of about 10 as we assist our SGA leadership with cleaning up our portion of the highway between Pettibone Beach and La Crescent, MN.  This group will carpool together. |
Do you work with a local organization and want to host a project in the future?  Contact Colin at cgburnsgilbert@viterbo.edu with your interest.
Capturing Our Impact
CLICK HERE to access photos from President's Day of Service 2022.  
CLICK HERE to access photos from President's Day of Service 2021.
CLICK HERE to access photos from President's Day of Service 2019. 
CLICK HERE to access photos from President's Day of Service 2018.
CLICK HERE to view photos from Inauguration Service Saturday 2017.