Viterbo Rings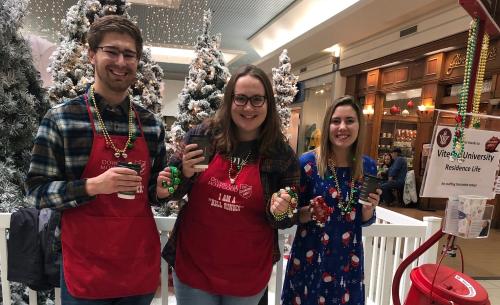 On Saturday, December 11, 2021 the Viterbo community came together across La Crosse county to help raise money for the Salvation Army Red Kettle Campaign. We had 13 different locations across the area, 8 of which have been adopted by various Viterbo groups (see list below). In 2021, we raised $5,546 in our single day of bell ringing! CLICK HERE to view photos from last year!
Save the Date: Saturday, December 3rd, 2022!
Looking to serve with a group that adopted a location not listed on UGetConnected? Check out the list below and connect with the group you're looking to serve with.
Anyone empowered to continue serving on their own can sign up for bell-ringing shifts directly on the Salvation Army's website by clicking here. 
Looking for a different opportunity to serve on 12/3?   
Click here to serve meals and socialize with our older neighbors and the ADRC.  
Click here to serve at the Viterbo Alumni Children's Christmas party on 12/3!
Details about our Day
While you serve, please wear your favorite Viterbo gear and/or festive apparel to promote the holiday spirit and our Viterbo pride! 
Hospitality with a twist: Our Service Saturdays Team will be delivering hot chocolate and holiday cheer around to the locations. Below are a few reminders from Viterbo and the Salvation Army to stay safe while ringing bells this year: 
No more than 2-3 bell ringers at one location, per shift. Even if the people are from the same household or family unit.  This has been written into some of the kettle contracts with businesses, so please monitor that when reserving your shift (ex: If you plan to ring with a friend, but there is only 1 available spot for that location/shift, do not just show up.  )
CLICK HERE for a helpful and comical tutorial of "A Day in the Life of a Bell Ringer" from our friends at the Salvation Army.  
Transportation: Participants are responsible for their own transportation.  Please CLICK HERE to view the La Crosse MTU bus routes/timing that may help! 
Questions?:  Please email cgburnsgilbert@viterbo.edu or call Colin at 608-796-3846.
Photos from the day will be available here! Email any photos you have and want to be included in the album to communityengagement@viterbo.edu.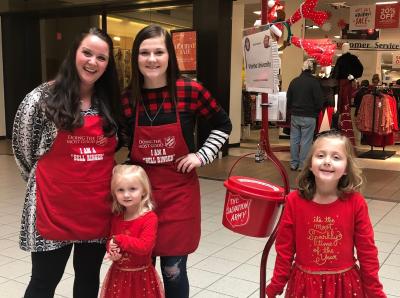 Below are the locations in 2022.  Thank you to everyone showing up to serve!
| | | | | |
| --- | --- | --- | --- | --- |
| Location | Time Frame | Indoor or Outdoor | Groups | Contact |
| Farm and Fleet - Onalaska | 2p-8p | Indoor | Pi Phi | Kerri Busteed |
| Hobby Lobby | 10a-8p | Outdoor unless bad weather | Honors Program | Paige Buske |
| Woodman's - Onalaska | 10a-8p | Inside | Men's Volleyball | Dave Simon |
| Festival - Holmen | 10a-8p | Inside | Open | UGetConnected |
| Walgreens (Rose St ) | 10a-8p | Inside | VSNA | Clare Nelson |
| Festival - Copeland | 10a-2p | Inside | Open | UGetConnected |
| Walgreens (Mormon Coulee) | 10a-8p | Inside | Chi Sigma Iota | Carol Smith |
| Walgreens (West Ave) | 10a-8p | Inside | Open | UGetConnected |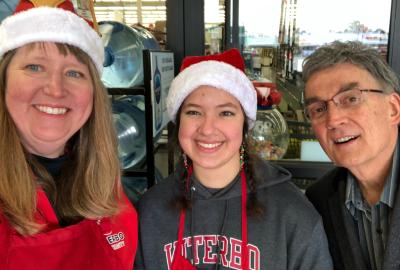 Viterbo Rings Yearly Totals
2022 - $3,164.25
2021 - $5,546.00
2020 - Cancelled
2019 - $7,698.09
2018 - $5,652.14
2017 - $5,212.01