MLK Day of Service, Learning, and Celebration
MLK Day of Service, Learning, and Celebration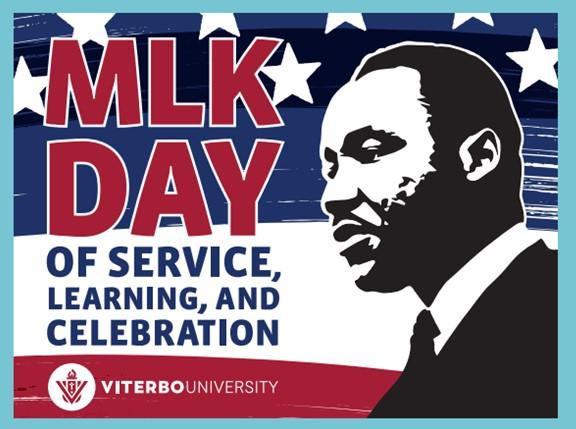 On Monday, Jan. 16 Viterbo University will honor Dr. Rev. Martin Luther King Jr. with a day dedicated to a variety of engagement opportunities that not only uplift the life and legacy of Dr. Rev. Martin Luther King Jr. but provide spaces of learning, service, and advocacy with our underrepresented and marginalized communities in the Coulee Region and beyond.
Below you will find the official schedule of events.
Thank you for your participation and involvement in the Dr. Rev. Martin Luther King Jr. celebration.
Monday, Jan. 16 Schedule of Events
8–8:30 a.m. Breakfast/Morning Kickoff and Prayer – FSPA Lobby
Join us as we kick off our day with a light breakfast in the FSPA Lobby of the Fine Arts Center. We will have registration/check-in for service projects in the main box office lobby and a light breakfast for folks to enjoy as we socialize to start our day "on."
At 8:30 a.m. we will have a short program and prayer. Following that, service projects will be dismissed by site, departing campus by 8:45 a.m. 
8:30 a.m.–noon Service at Various Locations in the Greater La Crosse Area
Sign up to participate in service to local community organizations in the Coulee Region. Go to the UGetConnected webpage to view and sign up for service opportunities.  
**Please make sure you are logging into the Viterbo-specific UGetConnected website by following the instructions below.  Do not go through the community portal (yellow/blue branding instead of Viterbo logo/branding). 
First time logging into UGetConnected? 
Step 1- Log In: Viterbo students/employees should use their school email login information. 
Please make sure you are logging into THIS PAGE with Viterbo logos/colors at the top.  
Step 2 – Select preferences for causes/interests (can return to profile to edit anytime).
Step 3 – After your profile is updated/created, return to this page to respond to your preferred project for MLK Day of Service.
Registration deadline: Saturday, Jan. 14 at 9 a.m. 
If you are interested in serving as a site leader for the project you are interested in, indicate that in your registration notes. We encourage any Viterbo employees or experienced Service Saturdays students to consider this role. 
Afternoon Workshops
All workshops take place in the Viterbo University Fine Arts Center Nola Starling Recital Hall.
Live stream options available for all workshops.
1–2 p.m. "Don't Forget Your Gift!" by Hope Restores
While we are all different, we are also all the same; created uniquely and without flaw. So much so that our greatest contributions to this life will be just how different and unique we all are.  As we move through this human experience we share and recognize as life; remember diversity is your God given gift. Don't forget your gift!
Live stream link: https://youtu.be/keRYDwgy_kY
2–3 p.m. "Gen Z Students of Color in Today's Education" by Quartell Roberson
Quartell Roberson, Viterbo alumnus, is the cultural liaison for the School District of La Crosse, board member for B.L.A.C.K, and the program director for Lady Riverhawk Basketball Club. He will be speaking about themes, trends, and the struggles that Gen Z students of color might experience in today's education. Presentation will include a panel discussion from student guests. 
Live stream link: https://youtu.be/DAW085k6y0U
3–4 p.m. "Ethical Dissent and Militant Nonviolence: Foundations of the Civil Rights Movement" by Keith Knutson
In 1896 the Supreme Court made segregation legal in the U.S.
The lone dissent was written by Justice John Marshall Harlan 
Harlan's Black brother James had shown him the ethical worth of every person
Robert had even lobbied President Rutherford B. Hayes to nominate his brother to the Court
In 1954 the Court used Harlan's dissent as the basis for overturning the Plessy decision in Brown v. Board of Education Topeka, Kansas
At the very same time Martin Luther King was spearheading America's civil rights movement
Militant non-violence was the foundation of the movement's success 
This presentation ties these two historical episodes together
Live stream link:  https://youtu.be/PDEhB9rhlMc
7 p.m. Dr. Andre E. Johnson – Fine Arts Center Main Theatre
This event will also be livestreamed on Facebook at www.facebook.com/viterboethics
Dr. Andre E. Johnson is an associate professor of rhetoric and media studies and the Scholar in Residence at the Benjamin L. Hooks Institute for Social Change at the University of Memphis He teaches classes in African American Public Address; Rhetoric, Race, and Religion; Media Studies; Interracial Communication; Rhetoric of Social Movements; and Hip Hop Studies. Dr. Johnson is the author of No Future in this Country: The Prophetic Pessimism of Bishop Henry McNeal Turner (University Press of Mississippi, 2020). He is the co-author (with Amanda Nell Edgar) of The Struggle Over Black Lives Matter and All Lives Matter (2018) which won the National Communication Association (NCA) 2019 African American Communication and Culture Division Outstanding Book Award. He is also the author of The Forgotten Prophet: Bishop Henry McNeal Turner and the African American Prophetic Tradition (2012) which won the National Communication Association (NCA) 2013 African American Communication and Culture Division Outstanding Book Award. He is the editor of Urban God Talk: Constructing a Hip Hop Spirituality (2013) and the curator and director of the Henry McNeal Turner Project (#HMTProject); a digital archive dedicated to the writings and study of Bishop Turner.
Dr. Johnson has presented academic papers at national, regional, and state conferences winning awards at each level and has published essays in Rhetoric and Public Affairs, Howard Journal of Communications, Southern Journal of Communication, Carolina Communication Annual, Black Theology Journal, The New York Times, Journal of Contemporary Rhetoric, and The Journal of African American History. He holds membership in several national, regional, and state associations in the areas of communication, history, African American studies, and religious studies.
On Your Own Engagement Opportunities
The Enduring Families Video Project
The Enduring Families Video Project is sponsored by the La Crosse Historical Society and hosts numerous opportunities for individuals to learn about the local La Crosse history of African Americans and other non-white settlers. Click here to watch three videos of historical re-enactments of local historical icons.
Juneteenth Audio Tour
On Saturday, June 20, 2020 Enduring Families Project collaborated with Black Leaders Acquiring Collective Knowledge (B.L.A.C.K.) and radio station Z-93 to celebrate Juneteeth Day and the 13th Amendment abolishing slavery in the U.S. 
Juneteenth is celebrated to commemorate the days when freedom came to the last African American slaves in Texas in 1865. 
There were pivotal individuals in history that lived right here in La Crosse that deserve to be celebrated. You are able to learn about La Crosse history by accessing the recordings from the event HERE
National MLK Day of Service Website
Celebrations to honor Rev. Dr. Martin Luther King Jr. are happening all over the U.S. on January, 16 2023. Click HERE to access the national MLK Day of Service website to learn more about Dr. Reg. Martin Luther King Jr.'s legacy and service projects happening around the country.
Service Saturday Anti-Racism Project
Do you hear the term anti-racism and you're not sure what it means? Do you want to learn more about anti-racism, but not sure where to start? Have you started your work on anti-racism, but would love more resources?
The Service Saturday team has provided an excellent resource for anyone wanting to engage more with anti-racism. This resource provides a variety of opportunities to engage including podcasts, books, reflection tools, as well as tangible action steps you can take today.
Click HERE to access the Service Saturday Anti-Racism Project.
Black-owned Businesses in La Crosse Area
B.L.A.C.K (Black Leaders Acquiring Collective Knowledge) complied a list of Black-owned businesses in La Crosse and surrounding communities. You can access the link HERE
Please know you can support these businesses and other organizations financially, but you can also promote their businesses on social media and provide recommendations to show your support.