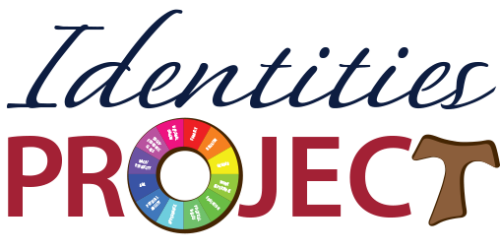 The Identities Project is a student affairs sponsored cross-campus collaboration with the Social Justice and Equity Committee, Breaking Barriers Diversity Club, and other campus entities that provides opportunities for our community to explore and discuss gender, race, religion, sexual orientation, social class, ethnicity, and other facets of identity through intentionally-reflective civil dialogues, lectures, documentaries with discussions, and other programs.  All are welcome and encouraged to attend these free events.
Fall 2021 Identities Project Schedule
Mon, Sep 13,

7 pm

FAC Main Theater

You're Enough!: A Game-Changing Mental Health Belief - Darryll Stinson

The D.B. Reinhart Institute for Ethics in Leadership Lecture Series is hosting Darryll Stinson. Stinson's ultimate goal in life is to be known for how he loves and gives. Learn more about Darryll Stinson and his lecture HERE. 

Ongoing

Waking Up White Regional Read- Various events Sept. 2021 - Dec. 2021

Join the Waking Up White Collaborative, a La Crosse Community effort to discuss race and racism. All La Crosse community members are invited to read Waking Up White by Debbie Irving and attend a variety of in person and virtual events. Learn more about Waking Up White Collaborative, the Regional Read, and upcoming events HERE

Tues, Sep 21, 6 pm

NRC 196

Civil Dialogue: Activism Through the Olympics

Join the Identities Project Team as we host a civil dialogue exploring the different forms of activism we have seen this summer during the Olympics. We will reflect on the difference between activism and protesting, techniques of activism and protest, and reflect on our individual role to create change. 

Tues, 

Oct 5

8AM - 3:45PM

Franciscan Day of Service Learning & Social Justice 

One way Viterbo is honoring St. Francis and celebrating our Franciscan heritage is by hosting our first Franciscan Day of Service Learning and Social Justice.  The Franciscan Day of Service Learning and Social Justice is Tuesday, October 5th and all daytime classes will be cancelled to allow for student attendance. Learn more about the day and register for service and workshops HERE

Tues, 
Oct 12

Noon

FSPA Lobby

Leadership at Noon: Shaundel Spivey - Black Leaders Acquiring Collective Knowledge 

Shaundel Spivey serves as the first director of Black Leaders Acquiring Collective Knowledge. He recently served as the director of Upward Bound at the University of Wisconsin-La Crosse. He is a community organizer and very passionate about social justice, equity, and community. Spivey is someone who serves in many capacities in the community and is always willing to share his knowledge and experience to help the community and others. He serves on the School District of La Crosse school board and serves as a Racial Justice training consultant in the community. Spivey also serves on the Governor's Equity and Inclusion Council. He is from Milwaukee and is a two-time alum of UW-L (2012 and 2015), as well as a Western Technical College alum (2014). Spivey is currently in the Counselor Education and Supervision doctoral program at Viterbo.   

In 2015, Spivey co-founded the organization Black Leaders Acquiring Collective Knowledge. The purpose was to build space and opportunities for black people, especially black youth, to feel empowered and knowledgeable about their power and significance in the community.

Thurs, Oct 21, 7 pm

FAC Main Theater

The Declaration of Independence Today- Danielle Allen

The D.B. Reinhart Institute for Ethics in Leadership Lecture Series is hosting Danielle Allen. Allen authored Viterbo's Common Read Our Declaration: A Reading of the Declaration of Independence in Defense of Equality (2014) along with many other incredible texts. Learn more about Danielle Allen and her lecture HERE. You won't want to miss it!

Wed, 
Oct 27

4:10pm

Hawk's Nest

LGBTQ+ History in Wisconsin

Join the Identities Project Team as we collaborate with the La Crosse Public Library on a walking tour through La Crosse to hear about the history of the LGBTQ+ community. The tour will depart at 4:30pm and we will be going over as a group and meeting at the Hawk's Nest (Marian Hall) at 4:10pm. 

Identities Project also encourages you to read We Will Always Be Here: A Guide to Exploring and Understanding the History of LGBTQ+ Activism in Wisconsin, We've Been Here All Along: Wisconsin's Early Gay History, and Coming Out, Moving Forward - Wisconsin's Recent Gay History to gain an inside look into historical events and topics we will be exploring on the walking tour. Copies of the books will be available to borrow in the Diversity Lounge.

Thurs, Nov 18

6 pm

NRC 196

Civil Dialogue: Religious Expression

Religion, faith, and spirituality are important in how individuals perceive themselves and engage  in the world around them. Rarely do we reflect on our own spirituality  in relations to other faith backgrounds, ask questions, and debunk myths and stereotypes about our faith practices. In this Identities Project civil dialogue, we will have a panel of individuals representing a variety of faith and spirituality backgrounds and we will discuss our own practices, ask mindful questions of one another, and work to create space for an inclusive interfaith campus community 

Fri & Sat. Dec 3 & 4

La Crosse Center

White Privilege Symposium 

Viterbo Identities Project has partnered with the La Crosse area Waking Up White Collaborative to assist in promoting the White Privilege Symposium held at the La Crosse Center on December 3 and 4, 2021.  White Privilege Symposiums are day-and-a-half regional gatherings held all over the country every year, allowing communities to come together to discuss what white privilege is, how it is systematized in our culture, and how we can work together to eliminate race-based privilege and create more equitable, welcoming communities. More information here: https://www.laxwakingupwhite.com/white-privilege-symposium.html  

 
Antiracist Resources
 The Identities Project committee members ask you to take time to  think critically about the unacceptable, but very real, racist behaviors and beliefs in our country. We'd also encourage you to learn more about actions you can take to move towards justice.
We've compiled a list of books, films and more for you to explore over the summer. Thank you to those folx who have added their suggestions! Please reach out if you have more resources you'd like us to add. 
After you engage with the material, feel free to reach out to Megan (mkpierce@viterbo.edu), Margy (mcfrazier@viterbo.edu), or anyone else on the Identities Project Team to chat. 
Want to do more than just learn? Start by joining your local SURJ chapter to connect to resources in your community (La Crosse area SURJ). 
Books - Nonfiction (consider purchasing from independent bookstores!)
"Between the World and Me" by Ta-Nahesi Coates
"Stamped from the Beginning" by Ibram X Kendi 
"How to be an Antiracist" by Ibram X. Kendi

"How We Fight For Our Lives" by Saeed Jones

"Me and White Supremacy" by Layla Saad 

"So You Want to Talk About Race" by Ijeoma Oluo

"From the War on Poverty to the War on Crime: The Making of Mass Incarceration in America" by Elizabeth Hinton

"The New Jim Crow: Mass Incarceration in the Age of Colorblindness" by Michelle Alexander

"When They Call You A Terrorist: A Black Lives Matter Memoir" by Patrisse Khan-Cullors

"Waking Up White" by Debby Irving

"Minor Feelings" by Cathy Park Hong
"Are Prisons Obsolete?" by Angela Davis

"I'm Still Here: Black Dignity in a World Made for Whiteness" by Austin Channing Brown
Books - Fiction
"The Hate U Give" by Angie Thomas 

"We Cast a Shadow" by Maurice Carlos Ruffin 

"On Earth We're Briefly Gorgeous" by Ocean Vuong 

"Copperhead" by Alexis Zentner 

"Pachinko" by Min Jin Lee

"Such a Fun Age" by Kiley Reid

"There There" by Tommy Orange
Films
13TH (free on YouTube!)

Self Made – Madame CJ Walker

When They See Us

Mudbound
Other