From the Dean
I invite you to share in the Viterbo University experience and to learn more about our outstanding programs. The School of Nursing is home to several fully accredited professional programs:
The Viterbo University School of Nursing is founded on a liberal arts tradition and rooted in Franciscan values. With this foundation, we educate nurses to provide quality care within the core values:
Contemplation, reflecting upon the presence of God in our lives and work
Hospitality, welcoming everyone we encounter as an honored guest
Integrity, striving for honesty in everything we say and do
Stewardship, practicing responsible use of all resources in our trust
Service, working for the common good in the spirit of humility and joy
Consistent with the Viterbo University mission to prepare students for faithful service and ethical leadership, we prepare students to address the complex ethical issues they will confront in their professional careers and in their daily lives. This values-based education is the hallmark of a Viterbo University graduate.
We are proud of our legacy of excellence and envision a strong future, offering premiere professional nursing programs where our graduates go on to make a difference in the lives of those in which they serve.
Explore our website to learn more about each of our programs. Join us for an on campus visit and experience what is best about the School of Nursing—our students, faculty, and staff.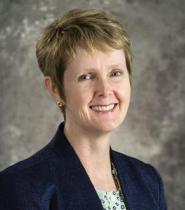 Martha Scheckel, Ph.D., RN
Dean, College of Nursing, Health, and Human Behavior
Viterbo University
900 Viterbo Drive
La Crosse, WI 54601
608-796-3664
mmscheckel@viterbo.edu