Recent Viterbo graduate Maria Norberg was a regular customer at Grounded Specialty Coffee in downtown La Crosse a decade ago. She loved the neighborhood and knew owners Todd and Deb Ondell because the former had taught several of her business classes at the university.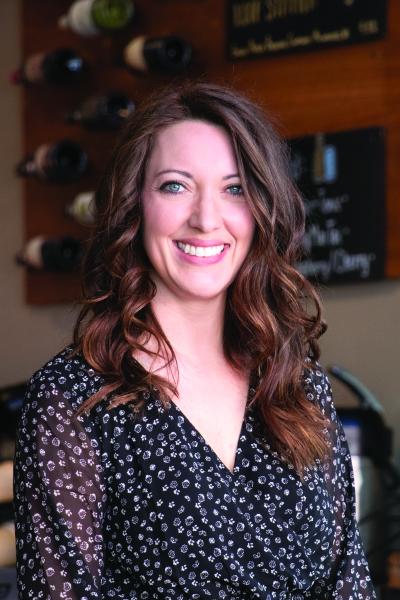 Chatting with Todd during a visit one day, Norberg mentioned she was considering buying one of the then many empty storefronts in the city's downtown and starting some type of business. Ondell, who was teaching full time at Viterbo, replied, "why don't you buy this one?"
"Grounded just sort of happened," said Norberg, who purchased the business three months after that initial conversation in April of 2011. "All of a sudden I had a coffee shop and a full-time job. But sometimes in life you don't know what's coming next. Owning a business was something I always wanted to do, and growing up on a farm I never learned how not to work."
Norberg immersed herself in the new venture when she wasn't working full time at her sales position with a prominent local company.
"When I look back on how little I knew about the coffee business, I wonder what I was thinking," she laughed. "I didn't know the difference between a mocha and a cappuccino. I had to figure it out and do it all. I was constantly learning, and the Ondells were great. My farm background was also a big help because I knew how to fix things myself. That's an important skill to have when you own an old building."
Norberg would make extensive improvements to her successful enterprise over the next decade including completely gutting and remodeling the interior of the building, adding a large outdoor patio that turned out to be a key to weathering the pandemic, and greatly expanding the food and beverage offerings. She also rebranded the business, changing the name to Grounded Patio Café.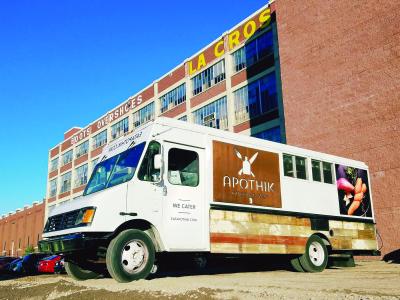 One of her planned expansion projects, a large new dining area on the neighboring lot she purchased, was originally derailed by a two-year property easement dispute. This fortunately led however to a major new business venture in 2015—Apothik Food Truck. Now a La Crosse area favorite known for its distinct fresh and local offerings, Apothik originally was parked on the lot next to Grounded Specialty Coffee to serve the downtown business lunch crowd. It would soon become a staple at area festivals, farmers markets, and weddings.
"That took the business to a whole new level," said Norberg, who left her sales position in 2017 to concentrate on running and growing her businesses. "The response to Apothik was overwhelming."
The food truck's success led to Norberg purchasing another downtown building and opening the Apothik Eatery restaurant in 2019. There are apartments on the upper level, "so I'm learning to be a landlord as well," she said.
"It's been a great ride these past 10 years," said Norberg of her business ventures. "We've experienced tremendous growth in downtown La Crosse. The best part has been the people, and the relationships you build with staff, suppliers, and especially the customers, who have always been the biggest advocates for whatever I wanted to try. It's been so rewarding."
The pandemic has not been kind to the food and beverage industry, Norberg said. She was forced to close for two months last spring, time which she used to organize, clean, paint, and make other improvements. Laying off her staff during that time was the most difficult thing she has had to do.
"It's not been easy, but we made it through," she said. "We're in a good position and really excited for an awesome 2021."
Two key elements of Norberg's Viterbo business education have been very beneficial in running her businesses—the importance of building relationships and understanding your community. She said she learned much from the many guest speakers in her classes, several of whom have been great contacts in the local business community. Norberg joked that she wishes she would have paid closer attention in her accounting classes, and stressed the importance of internships, employment, and other real-world experiences for students. She also offered advice for anyone considering starting or buying a business.
"Have what I call a 'personal board of directors'—trusted friends, family, and colleagues with whom you can discuss your issues and ideas," she said. "And most importantly, don't be afraid to take risks. If you're not willing to take risks, being an entrepreneur is probably not the best career for you."