Viterbo liberal studies major Laurie (Otte) Finn '87 took a unique path to business owner in 1986.
"Blame it on my husband," she laughed. "I had no real education in business and no plans related to business. I fell into it."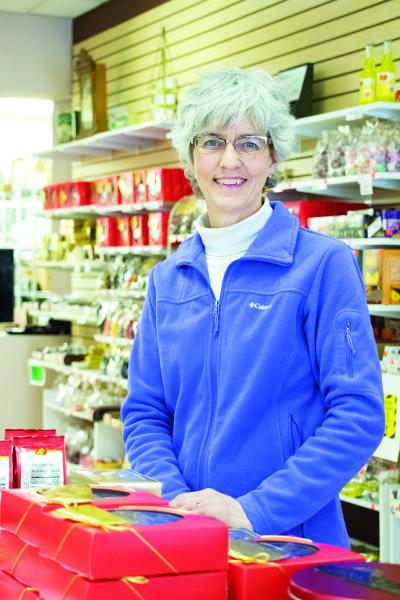 Finn was still in college, but her husband Frank had worked for a company that sold nuts for fundraising and the young couple decided to start their own business. Their enterprise would eventually develop into the popular Finnottes Nut & Chocolate Shop (a moniker which combined both their surnames) in La Crosse.
"When we started out, our entire line consisted of two sizes of glass jars and a tin of either mixed nuts or cashews," Finn said. "We also concentrated these in a direct mail program. The confection side of things came later after listening to our customers."
Located on Main Street in downtown La Crosse, Finnottes offers customers a variety of fresh roasted nuts and confections, or as Finn describes it, "a little bit of everything."
"Everyone has their favorites, but I often encourage people to find something that looks great that they haven't tried yet so they can enjoy that experience," she said. "We have an amazing variety of products that most people have never had before."
Owning a small business has both its rewards and challenges. Finn loves the daily interactions with her customers and she and her husband's ability and freedom to run and shape the business as they see fit.
"As an owner, I have the ability to make things happen," she said. "Sometimes my husband and I have a two-minute conversation right in the store and something gets decided. There is no red tape and no endless waiting to make changes."
The ability to quickly adapt their business to respond to current circumstances has been particularly important during the COVID-19 pandemic. The Finns increased social media marketing of their shipping and local delivery options, business hours, and the fact they were following all recommended safety precautions.
"That meant more cleaning, curbside pickups, more deliveries, and more time to process email and phone orders," she said. "We'll be fine because of the hard work we've done and the truly amazing customers and community we have. I heard time and again how people are shopping small businesses and downtown to help keep stores open."
That type of caring and concern for others was something that was emphasized at Viterbo when she was a student, she said. While she didn't major in business, Finn did learn a great deal that would help in her future entrepreneurial endeavors.
"The instructors were each passionate about their field and passed that passion on to the students," she said. And being involved in campus activities helped me become just a little more outgoing than the quiet, shy, and definitely not confident person I was when I started."
In business now for almost 35 years, Finn still strives to make Finnottes Nut & Chocolate Shop even better each day. Much of the knowledge she has gained over the years applies to any small business.
"The learning never ends," she said. "It's fun to know you will find new and better ways to do things all the time so never stop searching for them. I've realized there are a lot of ways to run a business and at some point you'll have to choose what yours is. It really is true that if you love what you do it never feels like a job. Find what brings you joy, harness it, expand on it, take chances, and who knows where it will lead."
Where it has led for Finn is having a loyal customer base and a career she greatly enjoys. She has no plans to change her occupation of small business owner.
"Well, I've been told I can never not be here, so for now that's my plan," she said. "When customers tell me how much it means that they can shop here, and that they couldn't imagine life without us, it warms my soul. That's why I'll keep working as hard as I can, doing both enjoyable and not so enjoyable parts of the job, so I can keep making a difference for each person who steps inside my store."