By the time she was 30, Viterbo basketball star Katina Mandylaris '10 had built an extremely successful global business, and that success was aided by servant leadership lessons she learned at Viterbo as a marketing major.
In a Zoom call from her home in Sydney, Australia, Mandylaris talked about how her success hinged on relationship building and helping others achieve success, a core tenet of servant leadership.
"I would not have understood servant leadership without Viterbo," Mandylaris said. "I want to teach people that they can have more and be more and do more."
During her time at Viterbo, Mandylaris had a big impact on the basketball court. She was the first female basketball player in Viterbo history (and the second basketball player of either gender) to score more than 1,000 points and make more than 1,000 rebounds, even being hampered by injuries.
Mandylaris now is a executive national vice president in Australia for Arbonne, an international direct marketing company that sells nutrition, skin care, and makeup products. She rose to that position by being committed to growing, setting and reaching goals, and helping others in the company do the same.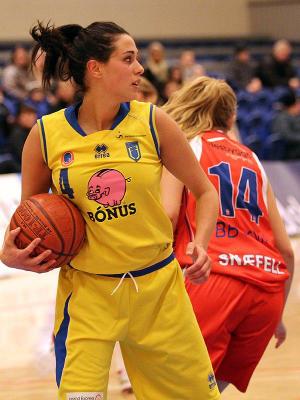 She came to Arbonne by chance, thanks to a severe ankle injury that had sidelined her from playing professional basketball in Australia (with plans to play in Europe). "I remember saying everything happens for a reason. I had to keep trusting and have faith," Mandylaris said. "I just jumped straight in and set a goal. I committed to growing personally and putting myself out of my comfort zone. I embraced everything this business threw at me."
A native of Melbourne, Australia, Mandylaris had a history of jumping at opportunities. She met Rod Popp, a longtime coach and athletic director at Viterbo, when he was Kilsyth Basketball director of coaching in Australia. Torn between playing college basketball and joining the ranks of the professionals in Europe, she took Popp's advice and came to Viterbo with the help of a generous scholarship.
Mandylaris didn't know what to expect coming to the U.S. After traveling two full days, she arrived at the Minneapolis airport. On the drive to La Crosse, she looked out the car window and saw an Amish horse and buggy going down the road.
"I remember crying, thinking where have I come to," she said with a laugh.
She soon found that La Crosse was not a primitive backwater, and soon met friendly, generous people who wanted to help her succeed, especially basketball coach Bobbi Vandenberg.
"Coach V was one of the most generous people I ever met," Mandylaris said. "My education at Viterbo would not have been possible without Coach V's generosity."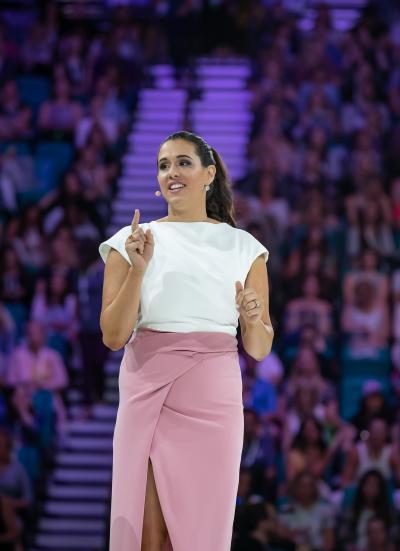 Vandenberg introduced Mandylaris to Kay and Butch Murphy, who provided her with a place to stay and a sense of family that was vital for her being so far from home.
"From the moment I walked in their house, it was like I was home. They're like my American 'Mom and Da,'" she said. "I think I drove them nuts, but they were great."
After a difficult first year at Viterbo that had her on the verge of quitting, Mandylaris returned with a commitment to dive completely into the Viterbo experience, getting involved with groups and committees outside of athletics and going on service trips, including one trip to Louisiana to help in the aftermath of Hurricane Katrina.
"Deciding to experience all of Viterbo had the biggest impact," she said. "I'm just so grateful for all my friends and their families who treated me like I was one of their own."
Mandylaris also was grateful for the many mentors she had at Viterbo, including athletic trainer Sheldon Wagner, who came with his wife to witness Mandylaris's 2016 wedding to Blagoj Janev. Mandylaris knew Janev, an Australian basketball player (born in Macedonia), before she came to Viterbo. They have two sons, Ilija (age 4) and Luka (15 months), and they should grow to an imposing height in time (Mandylaris is 6 feet tall and Janev is 6-8).