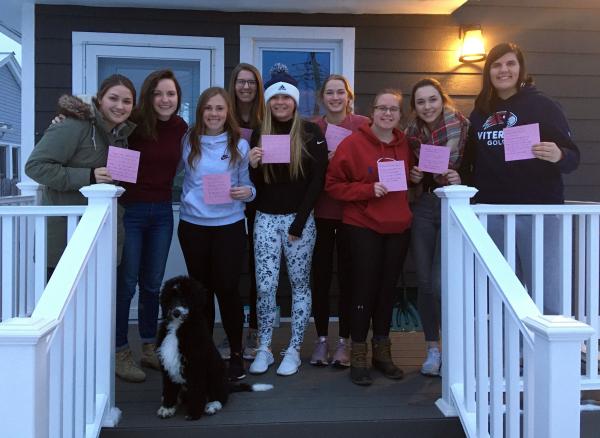 When Julia Callaghan '15 was a senior at Eau Claire Memorial High School, she came away from the Wisconsin state golf tournament with a seventh-place finish and something more—a pathway to success.
Waiting for Callaghan at the last hole was Viterbo University women's golf Coach Ken Barrett, who pitched her on the idea of pursuing her college studies and four more years of competitive golf at Viterbo.
"I don't know if you can say 'no' to that guy," Callaghan said of Barrett.
Even if Barrett hadn't been so persuasive, Callaghan still might have been destined to become a V-Hawk. She had other colleges coming after her to play golf, but after visiting Viterbo, she knew she had found her place.
"I chose Viterbo because of the feeling I got when I was on campus. It was a community I wanted to belong to," she said.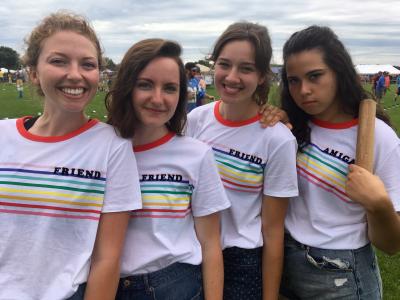 While playing golf at Viterbo, Callaghan made lifelong friends, which include three teammates—Josie (Costley) Anderson '18, Michaela Pisinger '18, and Ashley Hansen '18— with whom she competed as a team last year at a national tournament for kubb, a Swedish lawn game that's a cross between bowling and horseshoes.
Her collegiate golf career also was a great chance for her to spend more time with her father, Tom, who never missed one of her golf meets in high school or college. "He was always there and his support meant more to me than he'll ever know," she said.
Even since earning her bachelor's degree in math and moving on to a career, Callaghan has remained a part of the Viterbo community, serving as an assistant coach for the women's golf team.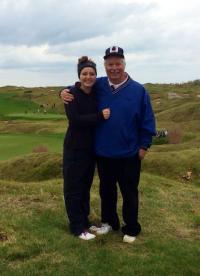 "It was such a great element of my college experience, getting to play competitive golf with people from all over the country and on courses all over the country," Callaghan said. "I'm just happy to still be able to be part of it as an assistant coach."
Callaghan also found another way to stay involved, joining the Viterbo Alumni Board in 2018.
"Once you're done here at Viterbo, you're not really done. You're part of the community, the Viterbo alumni community," Callaghan said. "Being on the board has given me a new perspective. As a student here you don't realize all the things that alumni are hoping to accomplish for students. It's an honor to witness and take part in that work."
Callaghan didn't really plan on majoring in mathematics when she started at Viterbo, but she's glad she went down that math path and got a chance to learn from Sheldon Lee and Michael Wodzak—not to mention Jason Howard, who taught her favorite classes in philosophy.
Since graduating from Viterbo, she taught math for a year at a state correctional facility before joining the staff at Western Technical College two years ago as a mathematics specialist. A major portion of her work involves overseeing the drop-in academic support Western offers for all of its math-involved courses.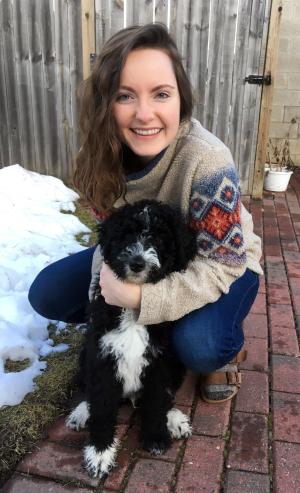 "I still wouldn't consider myself to be passionate about math, but I am passionate about people and helping people learn. I feel so fortunate to be in the position I'm in at Western, where I get to live out that passion every day," Callaghan said. "I just try to make math a little less awful for people. It's something they might have had failures with before. Math can be so frustrating and scary for people. The most rewarding moments come when I see that light bulb go off for a student who never thought success was achievable for him or her in math."
Many of the students Callaghan works with at Western end up transferring to Viterbo to pursue bachelor's degrees, and she has sort of a soft spot for them. Well, at least one transfer student in particular.
Back when she was a Viterbo student, Callaghan had a crush on a young man who worked behind the meat counter at Festival Foods. She'd even get dressed up to go grocery shopping in case she saw him.
She went for a long stretch without seeing him at the store and then one day walking across the Viterbo campus they crossed paths again. Andrew Sobkowiak '16, it turned out, had been going to school at Western but transferred to Viterbo to work on his business management and leadership degree.
Callaghan and Sobkowiak found romance on the Viterbo campus, and these days they use their musical skills to help others celebrate their love, performing together as wedding singers.
Although she stays quite busy between her job at Western, working on a master's degree through Ball State, coaching golf, and singing at weddings, Callaghan said it's important for her to find time to give back to Viterbo by being involved in the alumni board and related activities.
"We all want to see Viterbo succeed," she said.