As an inner-city kid growing up in Milwaukee, Adrian Boyd '92 didn't picture himself becoming a world traveler. He liked being home. Boyd was blessed, however, with exceptional athletic ability, basketball skills, and a work ethic that won't quit. That led to him logging countless miles as a professional basketball player and sporting entrepreneur who has made a particularly big splash in New Zealand.
"I've been blessed in so many ways. Sports has always been a blessing for me," Boyd said in an interview from his home in Orlando, Fla. "It's like winning the lottery, getting to play pro basketball."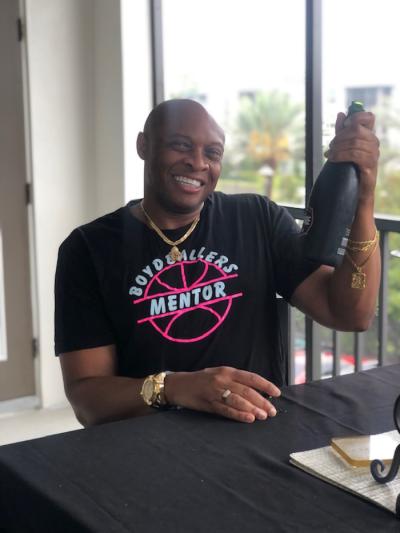 Boyd's road to becoming a globe-trotting success began with hour-long bus trips to high school from his home in Milwaukee to an upscale suburb. At Whitefish Bay High School, he became a dominating basketball player, named an alternate to a Wisconsin all-star team as a senior in 1987.
When one of the players couldn't play in the all-star game, Boyd got his chance, and he made the most of it. They put him in the starting lineup, and at the end of the game, he was the leading scorer.
Between that performance and his track record during his high school career, he had plenty of college recruiters making him offers. Out of all the recruiters, Viterbo University basketball coach Rod Popp stood out.
Boyd's older brother, Freddie, already was working on his Bachelor of Business Administration degree at Viterbo, so that gave Popp a slight edge. But it was Popp's pitch to Boyd's mother, Marie, that clinched the deal.
"He called up Mama Boyd and said, 'Adrian is a good kid. I'll take care of your kid, even after he's out of college,'" Boyd recalled.
By the time Boyd completed work on his Bachelor of Business Administration degree, his record-setting basketball exploits at Viterbo had earned him numerous honors and induction to the Viterbo University Athletics Wall of Fame.
After a stint with the La Crosse Catbirds of the Continental Basketball Association right out of college, Boyd went international. He played in Australia, Malaysia, and the United Kingdom, turning down a chance to play in China. It was in New Zealand Boyd spent the most time and had his greatest basketball accomplishments.
Most notably, Boyd was the only American to play on a New Zealand National Basketball League team that won three championships in a row. Boyd played for the Auckland Stars, which won NBL titles in 1995, 1996, and 1997, with Boyd named to the NBL's All Star Five in 1997.
Being a key member of the Chicago Bulls of New Zealand basketball created great opportunities for Boyd. He was featured in TV commercials—including some for Nike, Burger King, and car dealerships—and he was a TV commentator for basketball broadcasts. He even emceed concerts.
The biggest opportunity came in teaching young players in New Zealand and Australia.
"Once you win any kind of championship, it opens the doors," Boyd said. "Parents were like, 'I want my kids to learn from you.'"
In addition to conducting numerous training camps and skills workshops, 10 years ago Boyd founded BOYD (Beginners of Youth Development) Basketball Academy. It started modestly at a New Zealand facility with 13 students—he calls them "BOYDballers." He now has almost 700 students, with Boyd Basketball Academy locations in New Zealand and Australia and almost 30 employees.
Boyd calls what he and his colleagues do at BOYD Basketball Academy mentoring rather than coaching. While the young students (16 and younger) build basketball prowess, Boyd puts more emphasis on building character, downplaying the potential for his students to become big-time professional basketball players down the road.
"Parents need to understand it's about having an experience, not about grooming their kids for the NBA," Boyd said.
Life in New Zealand was fantastic for Boyd. He loves the people and culture—a melting pot with myriad influences—and the scenic beauty and weather are unsurpassed. Boyd also loves the cuisine, especially the fresh fish and the fruits, which hang from trees seemingly everywhere. "You can reach up and grab an orange and it's sweeter than anything," he said.
Boyd might still be in New Zealand today, but he moved to Florida in October 2019, in large part because he wanted the older of his two sons, now 18, to go to college in the U.S. Getting a BOYD Basketball Academy operation rolling in this country also was part of the plan. The pandemic meant some delays for that, but in early June Boyd signed a lease for a BOYD Basketball Academy site in Orlando.
While he has an operations manager overseeing his academies in New Zealand and Australia, Boyd still has a hand in the business, which is tricky given the time difference. "My phone blows up from 2 in the morning until 4," he said.
Within three years, Boyd aims to get a foothold for his basketball academies in Europe—he's already in talks for a site in Scotland—so it looks like he won't be letting up on the traveling anytime soon.
Boyd can't help but feel awestruck at the contrast between the small world he grew up in to the big wide world he now inhabits. "I just feel so blessed," he said.