The Skogen family has been in the grocery business for almost 75 years, ever since Paul and Jane Skogen borrowed $500 and opened a 3,000-square-foot store attached to their house in Onalaska. In that entire span, nothing even comes close to equaling the turmoil facing society now as people try to come to grips with a global pandemic and economic collapse.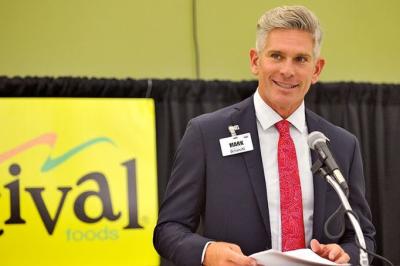 Mark Skogen '92 heads the family business now as president and CEO of Festival Foods, which includes 33 Wisconsin stores. In a recent interview, Skogen admitted that there was no pandemic response plan on the books when COVID-19 began spreading across the world — though there will be a plan in place if one happens again.
"Fortunately," Skogen said, "we've got a team of people who meet every day to take care of all the changes that are happening."
One of the biggest surprises for Skogen was that toilet paper would be the commodity that would have unbridled demand.
Another big surprise was how grocery store employees — they're called "associates" at Festival Foods — came to be considered among the pandemic heroes as they continued to report for duty despite the chance of contracting COVID-19.
"It's weird," Skogen said. "Grocery employees haven't been viewed with a lot of respect in the past."
Maybe not by the public, but at Festival Foods the aim has always been to make sure the associates feel valued and appreciated.
"You start by treating them right and giving them what they need to succeed and just care for them," Skogen said. "You just have to treasure them any way you can and make sure to get them into a role where they can thrive."
The approach Skogen describes is very much grounded in the ideas of servant leadership, although when Skogen was working on his degree in business administration at Viterbo, the servant leadership program had not yet started. He wishes the program had been available then, but that's about the only regret about choosing Viterbo.
Skogen was a standout basketball player at Onalaska High School, helping the Hilltoppers win a state championship as a senior in 1988, and basketball was a big reason Skogen came to Viterbo. In 1988, it was still a young program with a lot of potential and a coach, Rod Popp, for whom Skogen had a lot of admiration.
At Viterbo, Skogen relished the intimate campus and small class sizes that allowed him to get to know professors. He also learned valuable lessons in playing basketball and baseball at Viterbo, excelling at both. In basketball, he was the most prolific scorer in Viterbo history to that point and as a senior was named conference player of the year. Skogen's success as an athlete was so remarkable that he was inducted into the V-Hawks Wall of Fame six years after graduating and is one of two players to have had his jersey number retired.
Skogen said some of his most valuable lessons at Viterbo came through athletics. "You have to learn how to get along with people, a lot of different personalities, and you have to be determined. It made me tougher and just better at getting things done," he said. "In general, we all came out of Viterbo better than we went in."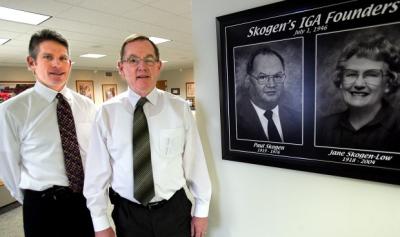 Although Viterbo didn't have a servant leadership program during Skogen's time, the university was firmly rooted in Franciscan values. Skogen learned a lot about servant leadership, however, from his father, Dave. And Skogen is fully invested in the family tradition of giving back to the community.
"That's just how I was raised. My grandpa started with that whole concept," said Skogen, noting that community needs will be acute with the fallout from the pandemic.
During the pandemic, the emphasis at Festival has been on protecting the health of associates and customers. One of Festival's first responses to the pandemic was to shorten store hours to ensure adequate time for deep cleaning the stores (and restocking depleted shelves). Festival stores also installed plexiglass barriers at the checkout lines between the customers and the cashiers, have taken steps to encourage social distancing, and have required associates to wear cloth masks while also strongly encouraging customers to do so.
"Our highest priority is making sure our people stay safe and making sure that our guests are safe," said Skogen, who was named the Wisconsin Grocers Association 2014 Grocer of the Year. "I have friends in the industry who've had to close stores because they've had a handful of people who have gotten sick. Between good luck and good preparation, there haven't been any outbreaks like that at our Festival stores."
Like many grocery stores, Festival has seen a large increase in customers who are ordering online and picking up to minimize their contact with other people. Skogen said he is glad to be able to offer that online shopping option but that's not where he sees the future of his business.
"Being online isn't something we want to be best at. We want to have people in the store getting the experience of our people and our products," Skogen said. "No one is ever not going to enjoy good service and kindness and friendliness. It's never going to go out of style."