Student Mission Opportunities
Student Pilgrimage and Course to Assisi
Students can travel to Italy as part of RLST 261:  Theological Foundations of Franciscan Leadership.  This course is offered every two years and takes students, over Spring Break, to Rome, Assisi and Viterbo, Italy - following in the Footsteps of Saints Francis, Clare and Rose.
Our next trip is March 8-19, 2022
Employee Mission Opportunities
Catholic Conversations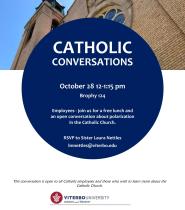 Join your colleagues to discuss various issues that are important to Catholics.  Our first CC of the semester will take place on Thursday, October 28 from 12-1:15pm in Brophy 124.  We will be discussing polarization in the Catholic Church.  Lunch will be provided to those who RSVP to Sister Laura Nettles (lmnettles@viterbo.edu).  Catholics, and anyone wanted to learn more about Catholicism, welcome.
Values Dialogue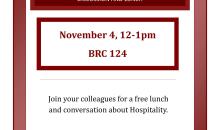 Our first Values Dialogue of semester will take place on Noon, November 4th.  We will meet in Brophy 124 and lunch will be provided.  Our theme is "Radical Hospitality" and we will discuss John Bennett's article "Hospitality:  An Essential Virtue."  
To RSVP, contact Sister Laura Nettles (lmnettles@viterbo.edu)
Employee Assisi Pilgrimage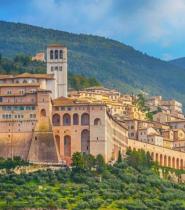 In collaboration with the Franciscan Pilgrimages Program, Viterbo sponsors representatives from the university community to participate in the Association of Franciscan Colleges and University's (AFCU) annual pilgrimage to Rome and Assisi in May each year. Viterbo covers most of the cost for the pilgrimage for those who are chosen to participate. We are also able to offer a discounted opportunity for Veteran Pilgrimages.
The application for the May 2022 Assisi Pilgrimage is now open!
Franciscan Spirituality Center - Collaborations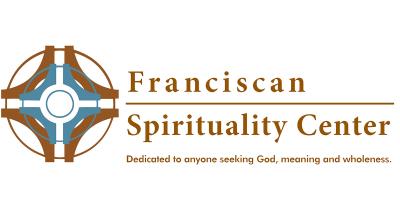 Several times throughout the academic year, the Franciscan Spirituality Center, in collaboration with the Office of Mission and Ministry, offer special programs for students and employees.
General Opportunities and Resources
Franciscan CORE - Summer Highschool Program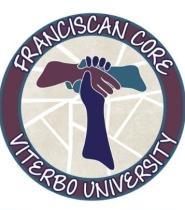 Franciscan CORE:
COMPASSION, OUTREACH, REFLECTION, EXPERIENCE
Franciscan CORE is a program for rising 10th, 11th, and 12th grade students which offers education, reflection, and experience on Catholic Social Teaching themes and principles using St. Francis of Assisi as a model for action.