Save the Date: April 13-14, 2023
Check back soon for more information!
---
Past Speakers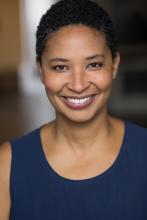 The Declaration of Independence Today
Danielle Allen
Thursday, Oct. 21, 2021
 7 p.m.–Fine Arts Center Main Theatre
No ticket required—free and open to the public
Followed by a book signing in the FSPA Lobby
Danielle Allen, James Bryant Conant University professor at Harvard University, is a political theorist who has published broadly in democratic theory, political sociology, and the history of political thought. She is the recipient of the 2020 John W. Kluge Prize for Achievement in the Study of Humanity, an award administered by the Library of Congress that recognizes work in disciplines not covered by the Nobel Prizes. Widely known for her work on justice and citizenship in both ancient Athens and modern America, Allen is the author of The World of Prometheus: The Politics of Punishing in Democratic Athens (2000), Talking to Strangers: Anxieties of Citizenship Since Brown vs. the Board of Education (2004), Why Plato Wrote (2010), Our Declaration:  A Reading of the Declaration of Independence in Defense of Equality (2014), Education and Equality (2016), and Cuz: The Life and Times of Michael A. (2017). She is the co-editor of the award-winning Education, Justice, and Democracy (2013, with Rob Reich) and From Voice to Influence: Understanding Citizenship in the Digital Age (2015, with Jennifer Light).
For more information on Danielle Allen visit her on Twitter, at scholar.harvard.edu/danielleallen/home, and explore her page on The Washington Post.