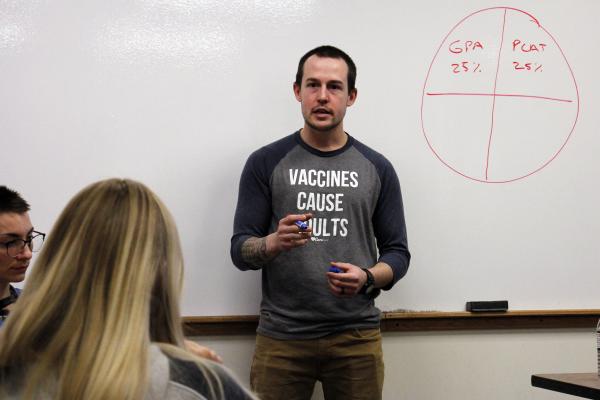 Adam Zart '12 became a pharmacist because he wanted to help people, and the lessons in servant leadership and Franciscan values he learned as a chemistry major at Viterbo University sharpened that focus. It also helped a lot when it came time to find a job.
"That values-oriented aspect of campus life is valuable to anyone in the health care field who is going to be dealing with people," Zart said during a recent visit to his alma mater to share his knowledge with current and prospective students. "In interviews, the core values of Viterbo really helped me. That's what health care is seeking."
Growing up in Boscobel, a town of about 3,000 located 67 miles southeast of La Crosse, Zart had a chemistry teacher who was a Viterbo graduate. His teacher saw in Zart a combination of intelligence, chemistry aptitude, and caring compassion that prompted a suggestion that Zart pursue a career as a pharmacist.
Zart also was influenced in his career choice by having a cousin who was diagnosed with cystic fibrosis and discovering how vital a role pharmacists have in dispensing life-saving medications. "That opened my eyes about how much a pharmacist can do to help people, and I was drawn to the treatment side of health care rather than diagnosis or surgery," Zart said. "It's humbling to be in a position to help people. You just don't take people for granted."
In addition to having an influential teacher who was a V-Hawk, Zart also was drawn to Viterbo because of the smaller campus and the stronger personal relationships that can result from that kind of a setting.
After graduating from pharmacy school at the University of Wisconsin in 2017, Zart decided he wanted to work in a community pharmacy rather than a hospital setting. "The relationship you develop with those patients is what drew me," Zart said.
After finishing grad school, Zart spent nine months as a "float pharmacist" for Walgreens, filling in as needed as a short-term replacement at stores around Wisconsin. That time was valuable as it exposed him to the many different ways pharmacies are run. That knowledge comes in handy in his role as the pharmacy manager at the Walgreens on Mormon Coulee Road in La Crosse, a job he's had since 2018.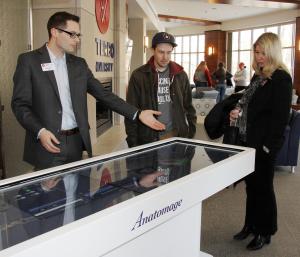 Getting to know the patients and making sure they get the medicinal help they need is extremely rewarding for him, but Zart admits there are parts of being a retail pharmacist he doesn't enjoy so much, like dealing with insurance companies, drug shortages and recalls, and people thinking they can learn everything they need to know about pharmaceuticals online.
"What I want to say is, 'Oh, you mean I wasted eight years of my life getting a pharmacy degree when I could have just Googled it?'" Zart said with a laugh. "It definitely keeps you on your toes because you never know what people will find out online."
Zart gives back to Viterbo whenever he gets a chance, including serving on a Viterbo advisory board that helps design curriculum and arrange job shadowing and volunteering opportunities. His most recent visit to campus was for the annual Health Science Scholarship competition event, during which he talked with students about his educational and professional journey and served on a panel of five people who work in the health care field.
Two other alumni joined Zart on the panel—Randall Nall '12, a second-year internal medicine resident at Gundersen Health System, and Chris Suilmann '16, a physical therapist—along with Viterbo biology faculty member Christina O'Neill, a veterinarian whose husband is a Viterbo graduate.
Service to others is a deeply engrained part of Zart's life, even going so far as to donate blood marrow to strangers through the Be the Match registry. So far, he's been a match for one patient, who thanks to Zart's donation, got to spend a Christmas with his family that he might not have otherwise.
Zart emphasized that contrary to popular belief, the blood marrow donation procedure is not painful at all. He was a little sore for a time afterward, but the biggest effect he experienced was a strange reaction to the anesthesia—a tingly scalp and changes in his sense of taste, both of which went away with time.
Even with the complications he experienced, Zart gives far greater weight to the chance to help somebody, maybe even save a life, than the effects marrow donation might have had on him. "I'd be happy to do it again," he said.