Melissa Edgar remembers one important detail about visiting Viterbo University before she was completely sure it was the right school for her.
Edgar is now a junior, majoring in biology and minoring in Spanish and ethics. But back then, as a recent high school graduate, she wasn't fully sure where she'd end up and had visited Viterbo once, along with a larger public school. She'd spoken briefly to a professor on her Viterbo visit and when she returned for an accepted student event, she met him again.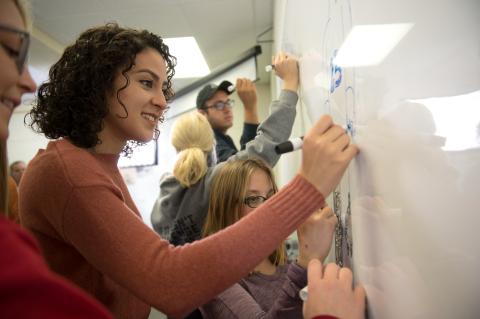 "He referred to me by name when I saw him; he had remembered me from when I came the previous time, and the idea that the professor remembered my name, who I'd never had for class, and only had met once, that was pretty distinct and special for me and that made me think OK, this is definitely a good school to come to," Edgar recalled.
It was that sense of connection, of being viewed as an individual rather than another face in the crowd, that Edgar was seeking, and she found it at Viterbo.  
"At some of the larger universities, where there are many pre-health or pre-med students, the atmosphere feels competitive and you look around and think I don't know any of these people but they want the same thing I want, and there's limited spots available," she said. "At Viterbo, you don't get that feeling of competitiveness because it's kind understood that we are here to help each other. It's really a learning environment, where people support each other, rather than compete with each other."
Edgar is president of Viterbo's student-led Spanish Club, serves on the Student Government Association, and is part of the Tri-Beta National Biological Honor Society. She's both enjoyed those experiences and picked up useful skills along the way.
"There's tons and tons of clubs that have so many opportunities to make connections," she said. "You also really learn how to plan events and build people skills."
Edgar, who is from La Crescent, Minnesota, is studying biology as part of Viterbo's pre-health program and hopes to become a physician. She said she's unsure of what area of medicine she'll specialize in, but has been supported every step of the way by her professors as she gets closer to graduation.
"I think one of the most common things I hear from professors at Viterbo is my door is always open," she said. "And they don't just say it, they actually mean it."
Edgar said her professors use "active learning" strategies in the classroom that have helped her grasp difficult scientific concepts and were a big factor in her decision to come to Viterbo.
"It helps make sure students are understanding the material instead of just memorizing it," she said. 
Before choosing Viterbo, Edgar was concerned that because it's a private university, it would be too expensive. But after she received scholarships from the university, she discovered that the cost of Viterbo was the same as a public school she was also considering attending.
"When I saw that I thought I don't even have to think about this anymore because this is the school I want to go to," she said. "I knew I'd be treated as more of an individual rather than part of a mass and it made me feel special."
All admitted freshmen at Viterbo are considered for academic merit scholarships and many get additional scholarships depending on what they choose to study. On average, Viterbo students get over $16,600 in gift aid, which is money that doesn't have to be repaid.
Does Edgar have any advice for students who may be considering attending Viterbo but aren't quite sure if it would be the right fit for them?
"I think going to Viterbo will really help you grow as an individual," she said. "You'll feel connected really quickly."