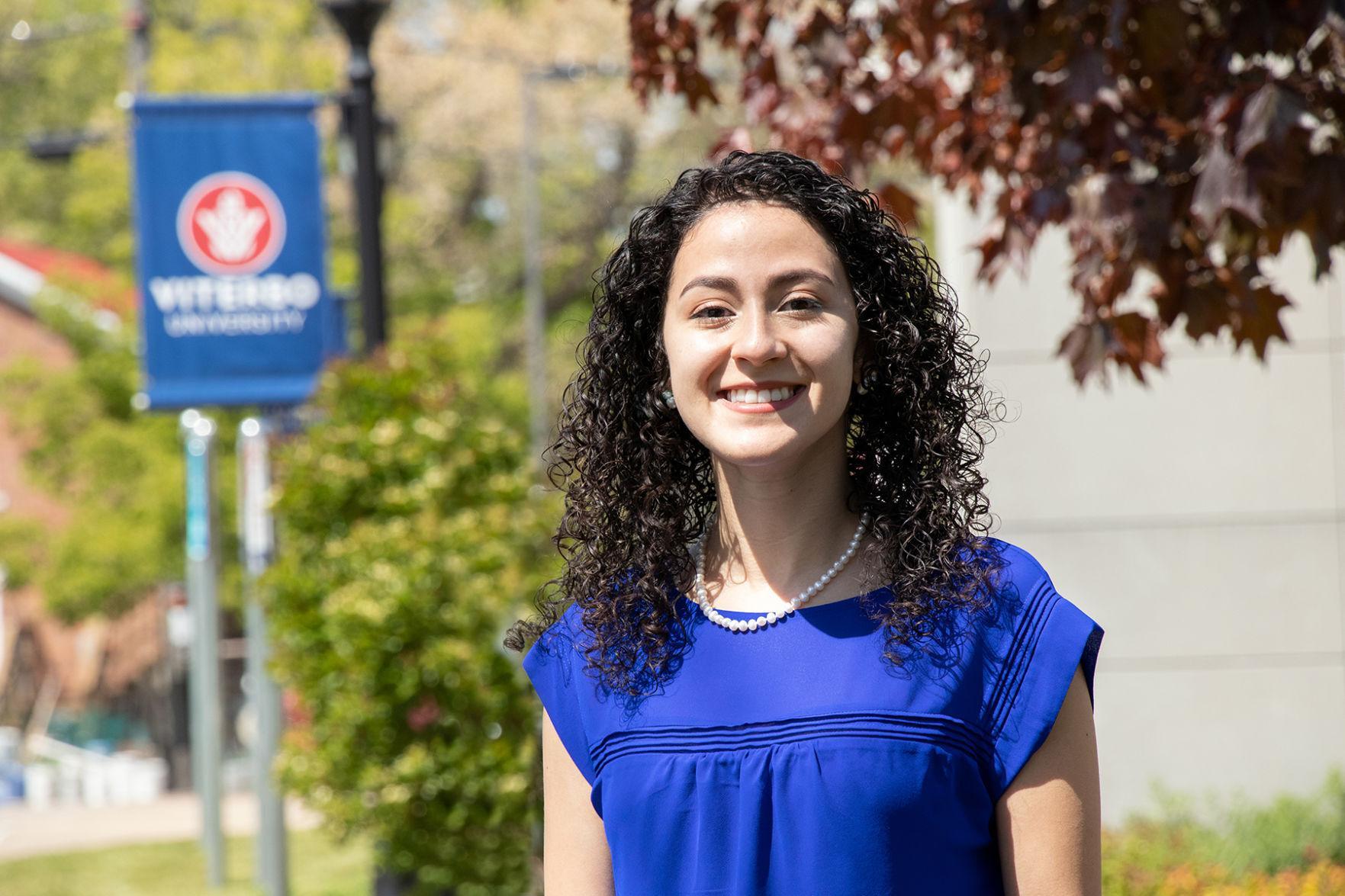 Melissa Edgar received a phone call last week about which nearly all college students can only dream.
Edgar, who graduated May 16 from Viterbo University with a Bachelor of Science degree in biology, had already been accepted by the University of Minnesota Medical School, Duluth campus. Now the school administrator on the phone had especially good news — Edgar was being awarded the Dean's Scholarship, an incredibly prestigious and rare four-year, full-tuition medical school grant.
"I just replied, 'Oh my gosh, thank you so much' and I started crying," said Edgar. "I don't remember much after that other than her telling me, 'We look forward to having you.'"
A first-generation college student from Kasson, Minn., who graduated from La Crescent High School, Edgar has overcome a good deal of adversity in her life that has helped to shape who she is today. Associate professor of biology Chris Mayne, PhD, said these issues have served to make Edgar even more hardworking and focused.
 "Quite simply, Melissa is the most highly qualified medical student I have ever encountered in my career," said Mayne, who began teaching at the college level in 2011 and has been at Viterbo since 2014. "I had never even heard of a full-tuition scholarship to medical school. Melissa is highly responsible, fearless, talented, and a generous individual who has persevered due to her uncanny drive and determination."
While Mayne admires Edgar's intellect and resolve, it is her genuine kindness he enjoys most about her.
"Melissa is internally driven and does not see her colleagues and classmates as competitors, but is instead eager to take the time to help others understand the material," Mayne said. "Many times, I have heard her patiently going through each detail of a concept during group work to make sure everyone understands it, modestly never giving away the fact that she likely had it figured out herself several minutes ago."
That quality isn't lost on fellow faculty member Matthew Bersagel Braley.
"It was clear in my earliest conversations with Melissa that she possessed an intellectual maturity, intrinsic motivation and work ethic that distinguished her from her peers," said Bersagel Braley, associate professor of ethics, culture and society and the director of the Viterbo honors program. "What I have come to appreciate, however, is that unlike so many students who share this focus and the goal of becoming a doctor, Melissa values and actively cultivates a sense of community and service.
"Her deep sensitivity to and appreciation of the lived experience of others emerges from the many challenges she faced growing up — challenges that, for many of us, would have been our undoing. When combined with her aptitude in the sciences, Melissa's sensitivity, initiative and capacity to see things holistically has allowed her to chart a trajectory ideal for the medical profession."
Edgar said many factors contribute to her long-time interest in being a physician — her love of helping people, an outstanding aptitude in the sciences, and her innate ability to handle stress are just three. Right now, she is considering family medicine and psychiatry, but her clinical rotations will help her decide on a specific field. Edgar has minors in Spanish and psychology, two fields that will also help make her a better doctor, she said.
"My mom's family all speak Spanish, and I'll be serving a diverse population throughout my career," Edgar said. "Spanish and psychology will allow me to communicate better with my patients."
Perhaps the only thing rivaling Edgar's intelligence and determination is her energy. Despite a rigorous academic regimen, during her time at Viterbo University she found time to conduct undergraduate research, serve as president of the Spanish club, and be a part of the Student Government Association, Global Connections club, the Tri Beta biology honors society, the honors program and the Identities Project committee. She also worked in the Fine Arts Center box office and as an orientation leader. She even volunteered twice a week in patient services at Gundersen Health System before the pandemic. Edgar received an Outstanding Student Leader award last month.
Since her first visit to campus four years ago, Edgar said she has greatly enjoyed her experience and the education she has received at the university.
"There are so many good things about Viterbo, but most important of all, there are really great people here," she said. "The faculty make sure you are heard and that every student is valued. They are great role models, and I have learned a great deal from them."
Learn more about Viterbo University's Biology, Biochemistry, and Neuroscience majors.