Taking a break from the busy schedule of an internationally acclaimed opera singer, Matt Boehler '98 returned to his alma mater in November to perform a recital and spend several days working with students. It was a special homecoming he very much enjoyed.
"So much of who I've become as an artist began at Viterbo," said Boehler, who today lives in San Francisco. "The folks in the theatre department, aside from giving me the fundamentals, really encouraged me to follow my instincts and explore more than what was just in the classroom. It was also important for me to listen to today's students about what they need. The world they are coming up in is so different than when I was a student. The ways we communicate now, and the fact that we all have instant access to information from sources far and wide—this is incredible. But it's also valuable to pause and make room for one idea at a time. It's inspiring to see this is still encouraged at Viterbo."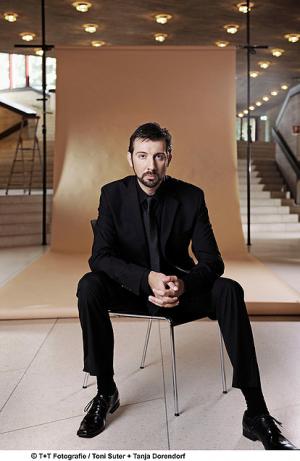 After studying voice at Viterbo with faculty member Jerry Benser, Boehler went on to earn an Artist Diploma in Opera Studies from the Juilliard School of Music in New York City. He has performed on the stages of some of the world's most hallowed music venues and has appeared as a principal artist with The Metropolitan Opera, New York City Opera, Dallas Opera, Théâtre Royal de la Monnaie, Theater St. Gallen, Canadian Opera Company, and as a soloist with the New York Philharmonic, Baltimore Symphony Orchestra, Minnesota Orchestra, and the New York Festival of Song. He has also been featured on PBS's Great Performances.
"One of the great gifts of being a travelling singer is spending time in new places," Boehler said. "Some of my favorites have been Montreal, Berlin, and St. Gallen in Switzerland. They all hold many good memories for me. Singing at important and fancy venues is nice, but when you're on the road, it's the small things you carry with you afterward. Spending time with your colleagues in the company, walking around and getting to know a neighborhood in a new city—those things are just as memorable as stepping on stage at Carnegie Hall."
The acting skills he developed at Viterbo have greatly aided his career, Boehler said. He has had many favorite roles over the years, often what he is working on at the moment.
"It is becoming more important to me as an artist to work with people who inspire me to do better work," he said. "Great art can be made anywhere."
Coming up this spring are performances of Antonio Dvořák's Requiem with the Madison Symphony Orchestra in April and playing the role of George Moscone in the Opera Parallèle production of Harvey Milk in San Francisco.
Boehler is also an accomplished composer. While a student at Viterbo, he wrote the music for several shows. He put his interest on hold during his pursuit of a career as an opera singer, but "the desire to write never went away," he said. "I knew I needed to focus on my writing for a while, so I studied for a few summers in Paris. Then I went back for my master's in composition at the San Francisco Conservatory of Music."
His original work, Foursquare Cathedral, was chosen as winner of the 2017 Art Song Composition Competition of the National Association of Teachers of Singing. It was described by the judges as, "absolutely brilliant, from the first note to the last."
"The award was a great gift that inspired me to write more," Boehler said.
Included in his advice to Viterbo students was "to not be afraid to engage with the things that move you in a deep way. Break them apart and commit them to memory. The best way to understand something is to know it by heart. It becomes part of you. Building community is very important. The things we do to lift up and promote our fellow artists is not only the right thing to do, but it gets paid back many times over. Be kind, be a good colleague, be present, and put your ego aside. I am so grateful to the people at Viterbo who taught me this by their example."