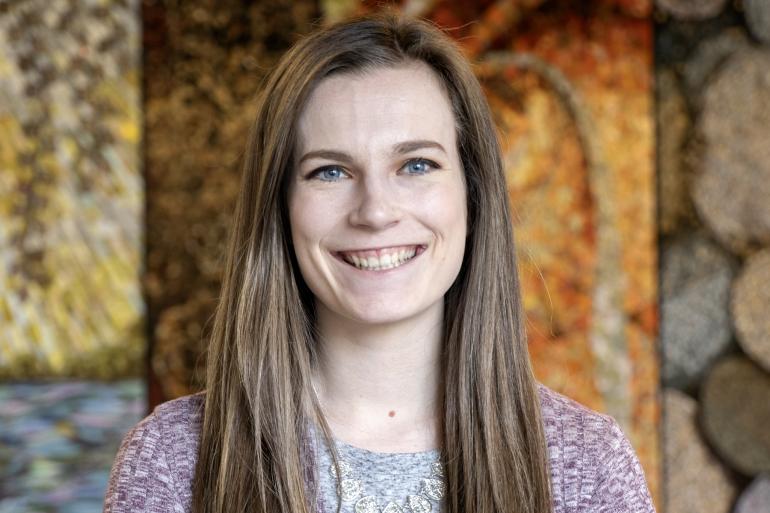 Kendal Schmitz graduated in May with a Bachelor of Science degree in community medical dietetics.
The Farmington, Minn., native said, "I'm interested in nutrition because I see how influential it can be in impacting our health. I want to be able to empower individuals to make better nutritional choices through the food they consume."
"I chose to attend Viterbo because it has a coordinated program in dietetics, unlike other programs out there," she said. "The internship is built into Viterbo's four-year program. If it were not coordinated then I'd have to complete my internship after four years of study."
Schmitz also likes the small campus and is impressed by the hospitality of the faculty, staff, and employees.
"All of the faculty at Viterbo are very helpful and want to see their students succeed," she said. "The professors are willing to go above and beyond to help a student succeed."
Schmitz was a member of the Viterbo Honors Program and also president of the Viterbo Student Dietetic Association, which helped her "strengthen my leadership and communication skills."
"At Viterbo I've been exposed to many opportunities that I may not have gotten if I went to a bigger university," said Schmitz. "For example, I participated in the Summer Undergraduate Research Fellowship program and conducted research under the guidance of a faculty member. I was also able to pick where I wanted to complete my internships."
After graduation Schmitz will pursue a Ph.D. in Nutritional Sciences at Purdue University.
"I've loved my time at Viterbo and would truly recommend it as a great school for others to attend," said Schmitz. "My advice for students is to take advantage of every opportunity that is available to them. It is also important to form good relationships not only with peers but also professors, as they can serve as future references."