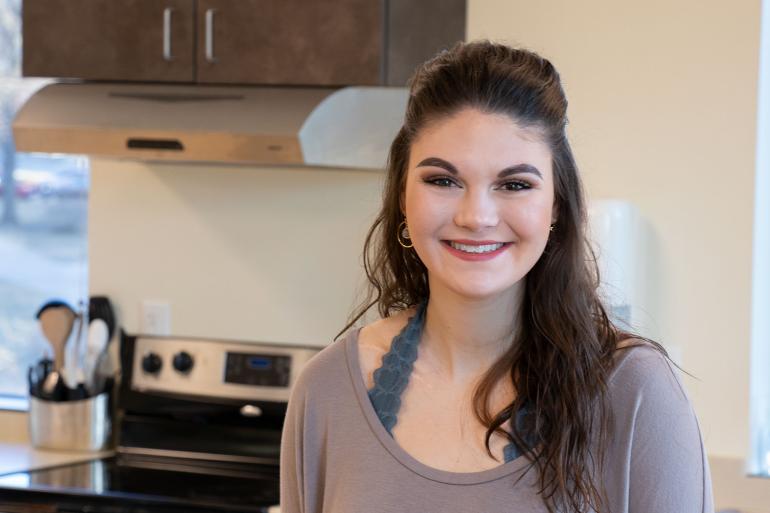 Brooklyn Seiler, a Viterbo University nutrition and dietetics major, has had a clear vision of her education and career goals since she was a freshman in high school in Byron, Ill.
Seiler said, "I have always been interested in eating healthy, and I decided I wanted to become a Registered Dietitian Nutritionist (RDN) my freshman year of high school. Besides my interest in nutrition, I did not know much about the subject or exactly how to eat healthy myself. I wanted to learn how to live a healthy lifestyle for myself, so I could share it with others in the future.
"Deciding to attend Viterbo was a no brainer for me. To achieve the RDN credential, one must complete his/her Bachelor of Science degree in dietetics and complete a 1,200-hour internship (five years total). Fortunately, Viterbo has a coordinated program in dietetics so that I can complete both a bachelor's degree and internship within four years."
Viterbo is one of only 61 programs in the U.S. to offer coordinated programs that meet both requirements during undergraduate studies, so no additional internship is required.
Seiler says that her most interesting classes are also the most challenging. "To complete my required internship hours at Viterbo, we have supervised practice classes. Within these classes, we complete projects based on community nutrition, such as nutrition presentations, cooking classes, nutrition posters, etc. I find these classes most interesting because I am directly applying what I have learned in previous years to these classes. Plus, I am doing projects that I will most likely be completing in my career."
 "What I like most about Viterbo is our close-knit community," she said. "Most of my class sizes have been 16 students or less, making it easy to contact classmates and professors. The nutrition and dietetics professors have always been very helpful."
Seiler is also active with Student Support Services, National Society of Leadership and Success, and is president of the Student Dietetics Association.
"I also love how involved Viterbo is within the La Crosse community. I have enjoyed participating in our Service Saturdays events to give back to our greater community."
Seiler's Viterbo journey won't end with her bachelor's degree. She is starting work on her master's degree this summer and plans to finish it upon graduation in May 2020. She said, "Viterbo just launched their new Master of Science Degree in Nutrition Sciences. I am excited for two more years of education at Viterbo with the same nutrition professors. It gives me a sense of comfort because I know what to expect and the quality education I will be receiving. I also hope to start working as an outpatient weight-loss RDN, while finishing my master's degree."
"You can do anything you put your mind to," said Seiler. "This is something my dad has always shared with me, and I think this is something Viterbo stands for as well. I have high expectations for my career goals and myself. Viterbo is helping me reach every one of those goals."