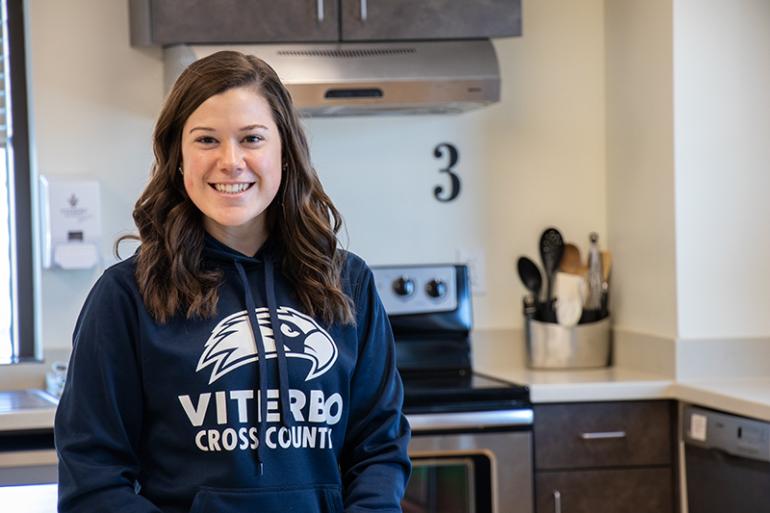 Allison Stoeffler found the perfect academic major and athletic team for her at Viterbo University.
"I've always been passionate about living a healthy lifestyle and the preventative side of medicine," said Stoeffler, a senior nutrition and dietetics major and women's cross country team member from La Crescent, Minn. "Exercise is also very important, and I've always loved running. I can't sit still very long." 
Stoeffler transferred to Viterbo after her freshman year in college because of the university's nutrition and dietetics major.
From 2024, registered dietitians must earn a master's degree from an accredited university and perform 1,200 hours of supervised practice. Viterbo is one of the only universities to offer has a 4+1 option for a Nutrition Sciences (B.S.) to Accelerated Community Medical Dietetics (M.S.) with a dietetic internship. This means that Viterbo students can complete all requirements, including clinical hours, to become a registered dietitian in five years. Most programs take six years.
Stoeffler was also impressed by Viterbo's internship opportunities, of which she is taking advantage this spring. She will spend six weeks in Florida as an intern with a dietitian who works with athletes at the University of Central Florida and the U.S. Tennis Association. An additional six weeks will be spent at St. Luke's Hospital in Duluth, Minn.
"I also like the community atmosphere at Viterbo," she said. "It feels like a family. Everyone knows everyone and goes out of their way to help each other. The professors really work to help their students succeed."
As a member of the cross country team, Stoeffler was named an NAIA Scholar Athlete for her academic achievements and received a Champions of Character award for her sportsmanship and upholding the key values of NAIA athletics.
In her limited free time, Stoeffler enjoys hiking, the outdoors, and spending time with family and friends. She also works at a local coffee shop. Upon graduation from Viterbo in May, she will look for employment in her field, with an eye on graduate school.
"My intern experiences will help me get a job and determine the path I want to pursue," she said.