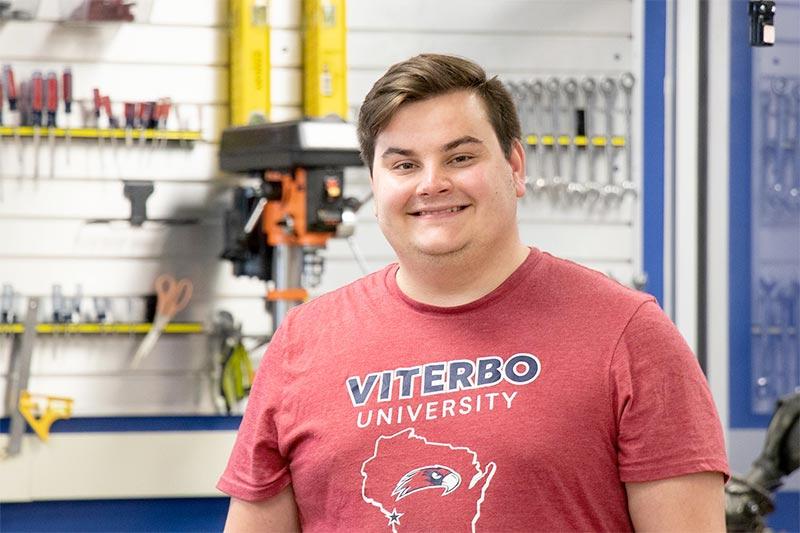 Jacob Lee has yet to graduate, but he's already working on innovative engineering projects at a leading company.
You can find him on most days of the week at Inland Packaging in La Crosse, where he's working as an engineer as part of his co-op while also continuing to study for his degree at Viterbo University.
At Inland, Lee works on research and development across different teams, helping to fine-tune existing processes and find new, improved ways of getting the company's product to market.
"I'm looking at how our labels are holding static and trying to develop a test method to quantify that static electricity," he said. "I'm also looking at adding more automation to some of their processes."
It's high level work, but Lee is taking it in stride and is excited for what the future holds. Originally from Whitewater, he was attracted by Viterbo's small class sizes and brand-new facilities in its engineering program, which was launched in 2018.
The classroom experience at Viterbo is one where students and professors collaborate and there's plenty of opportunity for questions and experimentation.
"The professors treat you almost as colleagues," Lee said. "They value your opinions and they're really good at making sure everyone is on the same page all the time. Because of the small class sizes, there's no trouble if in the middle of a lecture you need to raise your hand for a question; it's not like a 200-person lecture hall where that's just not a possibility."
Lee's co-op at Inland is a paid position, and along with the scholarships he's received, helps to make his education at Viterbo affordable.
"It's comparable to some of the larger public schools," he said of the cost of attending Viterbo. "You see the big-ticket price that is posted but that's not what you really pay, there are scholarships that really bring down the cost to attend."
Lee said his classmates in the engineering major work together well and have developed a tight bond.
"It's a pretty close-knit community," he said. "We all know each other, we all study together, we all do stuff together in our free time as well. We've really grown to become close friends through this whole experience together."
Looking ahead, Lee said he's feeling prepared for the future, especially with the experience he's getting at Inland. He said Viterbo has done a good job of engaging industry partners through the engineering program, which has informed the curriculum for the major.
"I've heard lots of things from employers who really like what Viterbo has done in the engineering program," he said. "Not only am I confident I will have the skills necessary to be an engineer but I feel the companies that are looking at Viterbo engineers are also confident we will be prepared when we graduate."