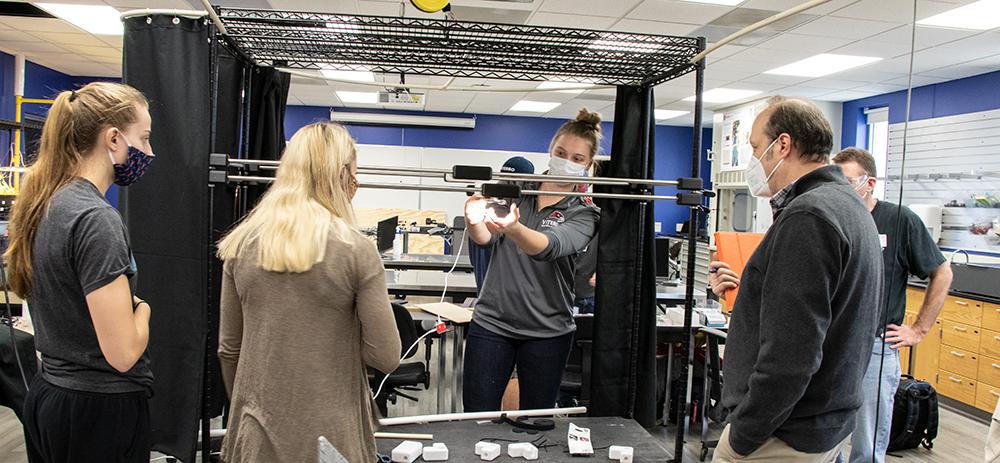 Students in Viterbo University's Engineering 130 class were presented with a unique challenge this semester—design an animal behavior learning environment (ABLE) with a specific set of capabilities but within rigid specification, budget, and time constraints.
The ABLE, which will be used by biology and neuroscience students in the biology department to study various aspects of animal behavior and learning in insects, fish, and other creatures, needed to include two video cameras, multiple monitors, a control computer, a large aquatic and terrestrial tank, and numerous other criteria.
"The lessons learned in a project like this are huge for the students," said Viterbo engineering faculty member Ric Harned, who teaches the course. "They needed to incorporate all the needs of the customer within the design of the product. I wanted to infuse that thought process from day one."
The 12 students in the class were divided into four subgroups—lighting and visual, structure, electrical systems, and electrical distribution. All would need to work together within and outside their teams to accomplish their goal of a functional product that met the needs of their client, biology professor Michael Alfieri. Very early in the process, the students met with Alfieri to learn the required parameters of the finished ABLE.
"The students carefully listened to design plans, asked informed follow-up questions, and researched and designed innovative solutions to meet project needs," Alfieri said. "When they presented their components at a meeting later in the semester, they exceeded my expectations with functional, innovative, and elegant design elements. Later, they presented several of the components working together and I was not only impressed with how well each part of the project was conceived, but also how well the entire system is coming together meeting all of my design requests. The ABLE will serve many student research projects and classes moving forward as a result of the great work from the students in this engineering design class."
One of the students in the class was Madison Davis, a junior biochemistry major and engineering minor, who plans to earn a master's degree and would like a career in biomedical engineering. Davis served as the team lead of the lighting design subgroup. They were tasked with designing maneuverable lighting with multiple brightness settings, contrasting colors underneath the structure's tank, and a blackout device that would reduce external stimuli.
"One of the most eye-opening parts of this project was the communication required, not just with the client but also the other student teams," Davis said. "I had never worked on a design project for an outside party before, so I underestimated how difficult it would be to meet the requirements and understand the corresponding functions. Meeting the client's needs versus their wants is a balancing act. It was challenging, but I was very happy with our team's ability to work together and solve challenges as a group."
Freshman engineering major Michael Barnes was the leader of the electrical systems team, whose area of responsibility included the camera systems.
"Doing this project really broadened my perspective on the field of engineering," said Barnes, who has been interested in the field since he was 8 years old and would like a career with a construction or engineering firm in which he can "solve difficult and complex problems." "We had to talk with every other student engineer almost daily to understand how each of our parts of the project affected the others. Teamwork like this was extremely important, and without it the product would not have been able to function or even come close to being completed."
Problem solving was of course a critical aspect to the entire project, with each group encountering their own obstacles and working creatively to find solutions. As the course instructor, Harned served in the role of "project manager."
"Things rarely go smoothly in the real world and that was one of the things I was trying to teach them," Harned said. "I tell them they 'have to take risks and try things, sometimes multiple times. That's engineering people.'"
Harned is very pleased with the outcomes of the class this semester. He was particularly impressed when during one exchange, one team convinced Alfieri that their design was better than what he originally wanted.
"The best results are when I look into the eyes of the students and see they've learned a great deal," he said. "A class like this really lets them be creative, and that's what I love. Some of the things they came up had me thinking 'wow, I never would have thought of that.' That's wonderful."