Jacky Mathews toured several larger schools before deciding that Viterbo University was the right fit for her.
A sophomore from Plainfield, Ill., Mathews is double-majoring in engineering and applied mathematics and analytics, in addition to playing on the Viterbo softball team.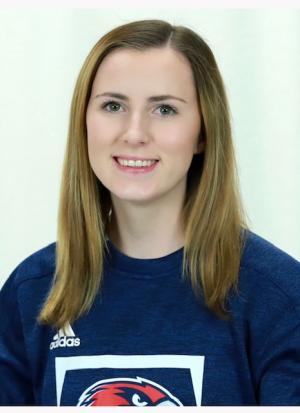 When Mathews toured Viterbo, she was impressed by how professors wanted to talk to her about her goals, whereas at the bigger schools she visited, she "felt like just one student out of hundreds."
"At Viterbo, I actually got to meet the professors and speak with them," she said. "I knew I would be able to make more connections at Viterbo than those other schools."
Mathews said she's benefited from the small class sizes in both her engineering and applied mathematics majors, which have helped her to build close relationships with her classmates and professors.
"You're not sitting in a lecture hall with 300 people just listening to a professor. You're actually engaged. You're with, depending on your major, 10-20 other students in your class," she said. "So, you're actually able to ask questions, stop the professor and have conversations, and work in small groups. You wouldn't be able to do that with larger class sizes."  
Balancing two majors and playing on the softball team sounds like a lot to juggle, but Mathews said her coach and professors have provided her with the support she needs to make it all work.
The softball team studies together for two hours every week, a time when the students can also benefit from free academic tutoring available at Viterbo's Academic Resource Center. 
Mathews started a paid internship at Trane last October that's set to continue through the summer. Trane is a major producer of heating, ventilating and air conditioning systems that has advanced manufacturing facilities in La Crosse, close to Viterbo's campus. 
"It's been really awesome," she said of her experience with the company. "When I started my internship at Trane, they asked me what specifically did I want to do there."
After a period of training, Mathews has been working on reviewing electrical design systems and she said she's really enjoying the work.
Trane is one of several local companies that collaborated with Viterbo to launch the university's engineering major in 2018. Students like Mathews in the engineering major benefit from brand new facilities, including a state-of-the-art inventor's workshop.
Mathews said she's considering staying in La Crosse after graduation. There are "a lot of opportunities" for a job right out of college because of the connections Viterbo has to local companies, which range from regional engineering firms to major corporations like Trane.
She came to Viterbo not sure what she wanted to do, except that she liked math, and was impressed by what she heard about the engineering major. Now, Mathews said she's feeling confident and prepared to start a career in her field after she earns her degree. At some point in the future, she said she would like to return to college to study for a master's degree.
Mathews now looks back at the time she spent trying to decide whether Viterbo was a better choice for her than a bigger college, and feels certain she made the right choice.
"I just felt like I was more at home at VIterbo," she said. "I feel like I actually mean something to the professors at Viterbo, and they're always willing to help their students to succeed. It's a great community - friendly, helpful and welcoming."