Senior nursing major Myles Maxwell appreciates the experiences he gets in the field from clinicals for more than just the new skills and knowledge he acquires. For Maxwell, it's a way to get outside his college student "bubble," which has been even more pronounced during the pandemic.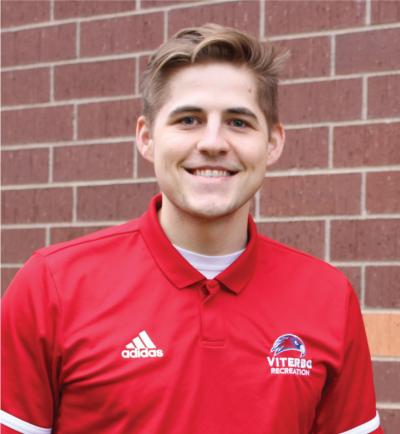 "I think working in a hospital really lets you see what the population of your community looks like as a whole," said Maxwell, who in mid-December completed a clinical in the cardiac care unit at Mayo Clinic Health System-Franciscan Healthcare. "Before I started taking part in clinicals, the only view I had of La Crosse was other college students. After working in the hospital, I got to see all the different types of people in the community."
Maxwell has had numerous field experiences through clinicals during his time at Viterbo, and will get out in the field more before he graduates in May 2021. For him, the hands-on, real-life experiences clinicals offer have been his favorite part of his Viterbo training.
"I've really enjoyed the clinical experiences. I think they're huge," Maxwell said. "It's helped me connect with people outside the campus, and that's been especially nice now since I've been confined to my apartment."
Maxwell came to Viterbo after graduating from Milton High School in southern Wisconsin, attracted by the smaller class sizes and greater faculty access that affords. Nursing was a natural fit for Maxwell.
"I've always liked being around people and making people happy. I was the class clown when I was younger," Maxwell explained. "I also knew I wanted to go into some sort of medical field because that's what I was passionate about, intellectually."
In addition to a nursing degree, Maxwell also will graduate with a psychology minor, which he pursued because of his fascination with how the brain and nervous system work.
Maxwell thought about becoming a medical specialist, such as an anesthesiologist, but he was attracted to nursing because of the greater amount of patient contact he would have. His dream job is to work in some sort of intensive care unit. He'll see fewer patients but working in an ICU offers the chance to do "deep dives" and help people in their darkest hours.
Aside from the nursing knowledge and skills he has gained during his education at Viterbo, Maxwell said one of the biggest life lessons he will take with him is to have empathy.
"Viterbo has taught me a lot about empathy, understanding different people's living conditions, backgrounds, cultures, and how important it is to consider that in nursing as well as in everyday life," Maxwell said.