At Viterbo University, education majors get out in the field early so they can get a taste of what's ahead for them and make sure they are on the right path. That early community connection helped Caitlin Parish discover her path was not what she thought it was.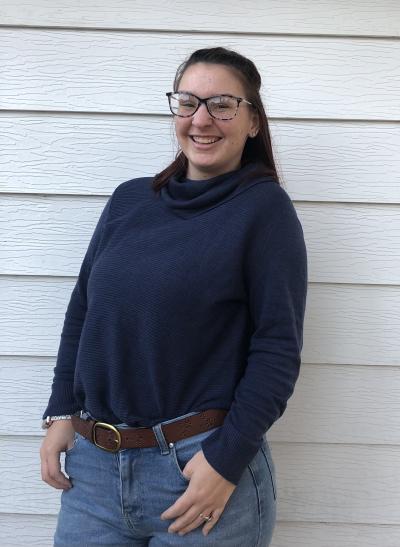 Parish came to Viterbo planning to major in elementary education. "I honestly went into it because I like kids, and that was the only profession I could think of that works with kids," said Parish.
As she started her sophomore year, though, Parish had strong doubts that elementary education was what she was destined to do, having done observations in area classrooms.
That semester was a tough time for Parish. She suffered two big personal blows: her father had a stroke and her grandmother was diagnosed with dementia. On top of that, she switched majors with the new intention of becoming a high school chemistry teacher, but she soon began to question that decision.
"Something in my heart and my mind just said, 'You're missing something,'" she said. "I just felt like there was a void I needed to fill."
When Parish, the youngest of four children, got a visit from a brother, they went to a ceramics studio downtown to find some comfort in making art. Afterward, during a visit to Viterbo's career services office to talk about her concerns about where she was headed, Parish told an advisor there about her ceramics session.
"She said, 'Your face just lit up when you talked about art. Have you thought of art therapy for a profession?'" Parish recalled.
Using her passion for art to do some good had a huge appeal for Parish. She switched her major to art education (the fastest route to her degree), and now she's on the homestretch in her undergraduate education, completing her second student teaching placement in her hometown of Milwaukee.
Student teaching has long been a normal part of college for education majors, but, of course, this year isn't normal. In Milwaukee as in La Crosse, classes have been conducted online. Parish is still getting the experience of running her own classroom, but there are challenges student teachers haven't faced before. It's tough for students as well as teachers.
"It's crazy for these kids. They still have to go to school, and the expectations for what they have to do isn't being adjusted," Parish said. "I have K-4 students who have to learn to manage their time like college students."
Becoming an art therapist some day is still something Parish is considering as an option, but her desire to become a teacher has returned. "I want to teach for at least a few years and see if that's where my heart really is," she said.
Some Viterbo graduates might skip the Marking the Milestone virtual commencement ceremony, but not Parish. It is an extra big milestone for her. She is the first in her family to earn a bachelor's degree.
Parish said there's at least one nice thing about the ceremony being virtual: Since they are at home, her mother can shed all the tears she wants.
Graduation wasn't the only reason Parish had to celebrate this December. Her husband of two years, Khalil, is coming home after completing four years of service in the U.S. Marines.