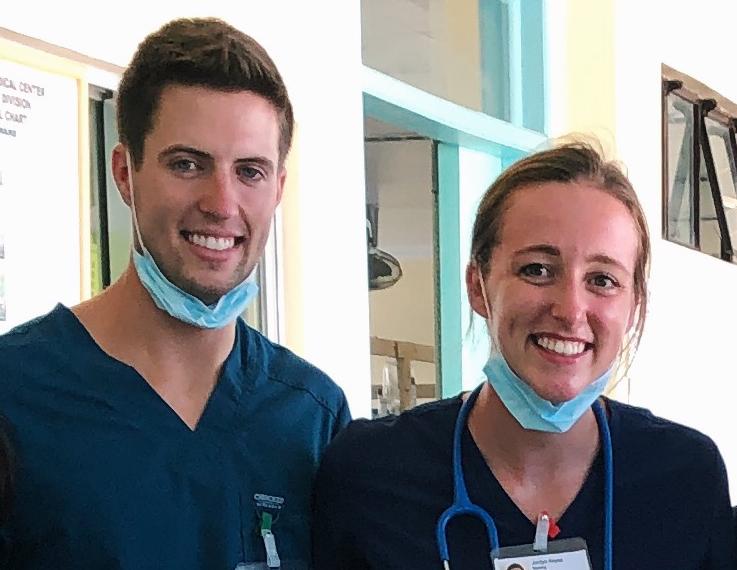 Viterbo University nursing majors Levi Orr and Jordyn Keyes have gotten used to working with state-of-the-art, modern equipment and facilities during their three years of studies at Viterbo. Their monthlong internship last spring in the Philippines, however, gave them a new perspective on how health care is done in less fortunate parts of the world.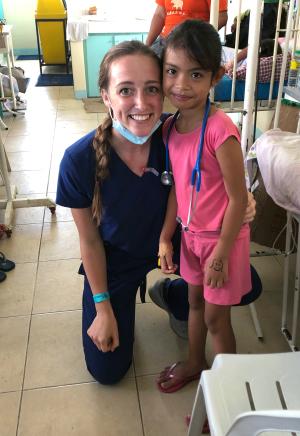 The two spent four weeks in the Philippines last May and June through an organization called Work the World. A friend of Keyes who had done a Work the World internship encouraged her to look into it, and Orr and Keyes decided to try the experience together.
They got a wide variety of clinical experiences there, including an overcrowded and hectic emergency room, intensive care units, obstetrics, a pediatric unit, and rural clinics serving the remote villages where they stayed.
As a high school student in Prairie du Chien, Orr had gone to Europe with a big group, but the Philippines experience was a bigger leap and required him to go far beyond his comfort zone. "It was scary before I went, but once you do it you wish you could do it all the time," he said. "It opens your eyes to different cultures."
Orr said his main takeaway from the experience was the full realization of how good Americans have it and how we often take that for granted. "You don't really realize it until you go to a developing country and see how little they have," Orr said.
Keyes found the experience broadened her perspective on what it means to provide quality health care. "Although their health care practices are based on standards within the U.S., their approach to medicine is completely different," Keyes said. "The family is involved in the entire care process, from admitting the patient to passing medications. Their lack of funding and overwhelming patient population forces them to be extremely resourceful — IV bottles are reused to collect urine, ampules are extremely common, and pre-filled syringes were non-existent. 
After they returned from the Philippines, both Orr and Keyes launched crowdfunding campaigns to raise money for the pediatric unit at the Western Visayas Medical Center, one of the internship placements they both worked at in the Philippines. People can still donate on both Orr's gofundme page and on Keyes' page.
Orr wrote the following account of his experience in the Philippines.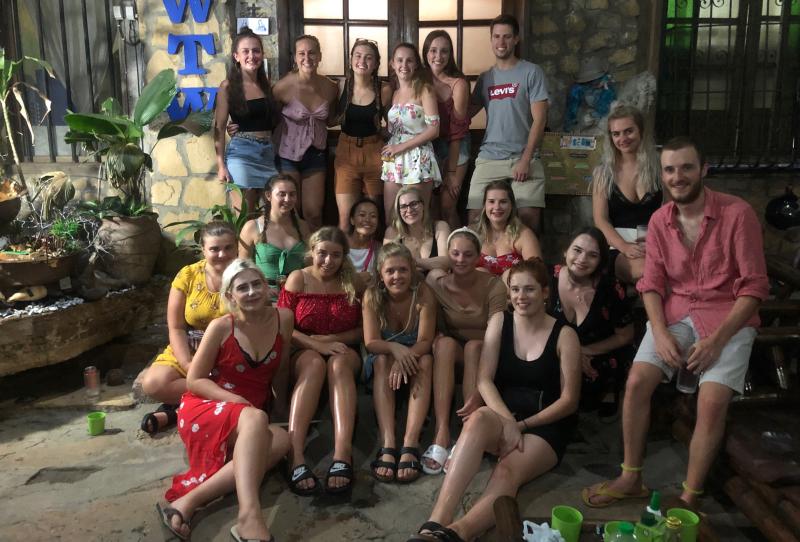 My Eye-opening Nursing Placement in the Philippines
By Levi Orr
The second I arrived in Iloilo (on the Philippines island of Panay), I realized how different it was compared with the U.S. The lifestyle was much simpler, and I immediately knew it was going to be an amazing trip. From the moment we got off the plane, everyone was so nice to us. I couldn't believe I was actually in the Philippines and that I would be spending the next four weeks there.
Placement
I spent my first week in the emergency room at a low-resource and overcrowded government hospital. The facility had around 700 patients but only 350 beds.
It took me a few days to adjust because it was so different to the hospitals in the U.S. But it was important to be respectful and understand why things were done the way they were. The staff did the best they could with the resources they had.
In the ER, I saw stab wounds, CPR carried out multiple times, cancer patients, suturing, and, sadly, death. It was an eye-opening experience.
For my second week, I was in the medical and surgical intensive care units. These two areas of the hospital were more modern than the rest. They had IV pumps and even air conditioning. However, it was also much slower than the ER, which was to be expected. But I still got to see cases like motor vehicle accidents, neurological cases, stroke patients, and stab wounds.
I spent my third week in pediatrics. The nurses, doctors, patients, and families were so appreciative — I'd never met such kind-hearted people. I saw lots of different cases, including dengue fever, cancer, pneumonia, premature babies, and ITP (immune thrombocytopenic purpura). The nurses were very knowledgeable and eager to talk to me, too. I highly recommend doing a pediatric rotation if you have the option.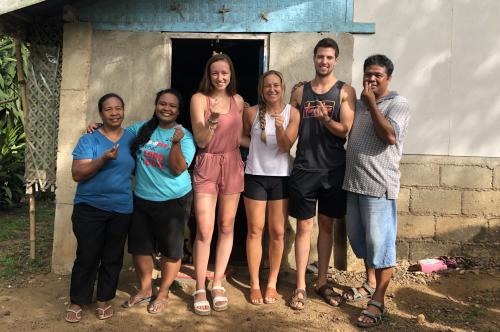 The following week I was due to travel to live in a rural village. So two of my housemates and I went into the hospital on Saturday for one last time. It was sad to say goodbye to the staff, families, and patients we'd come to know.
When we got to the village, there was minimal cell phone reception. We had limited contact with anyone outside of the village, but it was refreshing to take a break from technology.
Living in the village was a lot of fun. We stayed with a local family, and they were so welcoming, which made us feel at home. They went out of their way to show us their way of life. They lived simply, but joyfully. Everyone was so happy and grateful for everything, and this humbled us all.
While I was in the village, I got some experience in a rural hospital and two clinics. I was even able to assist with CPR.
In the afternoons we went island hopping, learned about herbal medicine, made Filipino delicacies, and immersed ourselves in culture.
It was an amazing experience, and unlike anything I had ever done. The hardest part of the week was saying goodbye — none of us wanted to leave.
I am still in contact with our host family to this day.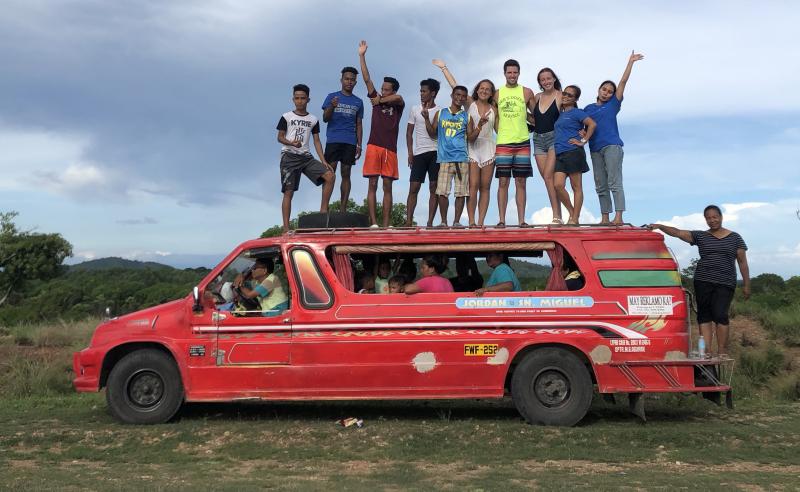 Leisure time
Throughout the week, we explored the city. And on the weekends, we explored further afield.
On the first weekend, we went to Antique on the western side of Panay Island. We got a private van, went to an island and swam in the ocean, saw the world's largest pearl, hiked to a waterfall, went "extreme tubing," enjoyed a bath in a fire-heated cauldron, went fishing with the locals, and ate an enormous amount of delicious food.
During our second weekend, three of my housemates and I flew to Cebu for a mini vacation.
We fit a lot in considering how short our time there was. We stayed in Cebu City and in a place called Moalboal. The four of us had a blast exploring the island. Throughout the trip we swam with turtles, went to different beaches, and tried canyoneering (which was awesome).
* * *
Deciding to go on this trip was the best thing I've ever done. I learned and experienced so many things. It opened my eyes to how lucky we are in the U.S.
The experience surpassed my wildest expectations. It was so hard to leave, but I know I will go back someday. If you're unsure about whether to do something like this, stop thinking about it and just do it! You won't regret it — you have my guarantee.