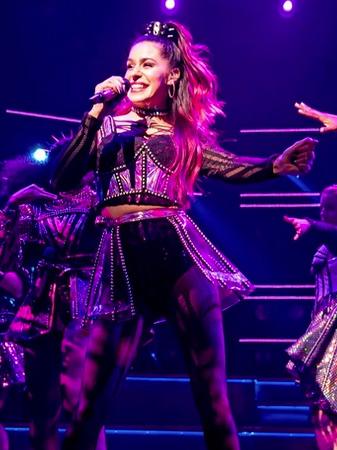 Successful Graduates
You'll find Viterbo Theatre and Music Theatre graduates working in major theatre markets across the country—in New York, Chicago, Los Angeles, and Minneapolis. They are on Broadway and in regional theatre. They are designers and technicians working in theatre and in related industries. They are arts administrators and teachers keeping the art of theatre alive and thriving for generations to come.
Let us know where you are and what you're doing so we can keep your successes with our current and prospective students.
Linda Balgord, AEA, AFTRA, SAG
1983 BA Theatre
Broadway: Gypsy, Pirate Queen, La Cage aux Folles, Passion, Sunset Boulevard (tour) and more. Carnegie Hall: The Jerry Springer Show with Harvey Keitel 2008.
Arbender J. Robinson, AEA
1999 BA Theatre
Broadway: The Little Mermaid (original cast), Hairspray and extensive work as a singer/actor for Disney.
Matt Boehler, AEA
1998 BA Theatre
National: Hailed by the Washington Post as "extraordinarily charismatic," he has played to acclaim at the New York Festival of Song, the Chicago, St. Louis, Minneapolis Operas, and more.
Samantha Pauly
2012 BFA Music Theatre
Broadway: Six (opens March 2020); London production of Evita (title role)
Jhardon DiShon Milton
2013 BFA Music Theatre
Broadway: TINA: The Tina Turner Musical (original cast), A Bronx Tale (directed by Robert DeNiro)
Luke Kritzeck
2004 BFA Design
On tour: Cirque de Soleilin China. He holds an MFA in lighting design from Cincinnati Conservatory of Music.
Maya Richardson
2019 BFA Music Theatre
Paw Patrol Live- national tour
Raisa Ellington, AEA
2003 BFA Music Theatre
US Tour: Whistle Down the Wind by Andrew Lloyd Webber.
Ashley Pankow
2007 BFA Music Theatre
Lives in New York City. Regional: Dutch Apple Dinner Theatre, Great Plains Theatre, Cumberland County Playhouse, Amory Dinner Theatre, Hershey Park with Matt Davenport Productions. www.AshleyPankow.com
David Adamick
2003 BFA Music Theatre
New York: Off-Broadway showcase of White Widow, Passajj Productions, Ltd. Regional: Bailiwick Repertory, Theatre Building Chicago, Dutch Apple Dinner Theater, La Comedia Dinner Theatre, Theatrebam.
Rebecca Kaasa, AEA, AFTRA, SAG
2002 BFA Acting
New York: Recurring Role on As the World Turns. She holds an MFA in acting from the actor training program at UCSD.
Barry Moe
2002 BFA Music Theatre
New York: Freelance hair and make-up designer. He has toured with Torri Amos as her personal wig and hair assistant.
Kerby Joe Grubb
2000 BFA Acting
Regional: American Players Theatre in Spring Green, Wis.
Troy Iverson
2007 BFA Acting
Regional: Commonweal Theatre Company.
Emily Therrien
2007 BFA Music Theatre
Pursuing an MFA in vocal performance at Wichita State University on full scholarship.
Rachel Moll
2006 BFA Stage Management and Arts Administration
Stage Manager: Kentucky and Texas Shakespeare Festivals, Orlando Shakespeare Theater, and AD Players in Houston, Texas.
Dixie Roberts
2006 BFA Music Theatre
Pursuing an MFA in vocal performance at Wichita State University on full scholarship.
Dillon McArdle
2006 BFA Design/Tech
Regional: Great River Shakespeare Festival. Resident designer and Executive Director Weber Center for the Performing Arts
Abby DeSanto
2006 BFA Acting
Regional: Great River Shakespeare Festival, Minnesota Shakespeare Project.
Jamie Adler
2005 BFA Arts Administration
Regional: Guthrie Theatre costume and properties artisan.
Anne Jude, AEA
2005 BFA Arts Administration
Regional: Assistant stage manager, Fulton Theatre; stage manager and production assistant at Maine State Music Theatre, Goodspeed Musicals, and Commonweal Theatre Company.
Jen Spridco
2005 BS Theatre Education; BFA Theatre/Directing
Pursuing an MFA at the Dell'Arte School of Physical Theatre in California. Founding artistic director of The Suitcase Shakespeare Company, an ensemble-based company creating physically dynamic theatre that entertains, educates, and bridges the gap between classical themes and contemporary culture in a way that is fresh, mobile, accessible, and hilarious! www.suitcaseshakes.com
Josh Vanier
2005 BFA Design/Tech
Research and development staff for Electronic Theatre Controls (ETC).
Adam Erdmann
2004 BFA Arts Administration
Membership and Registration Coordinator at the Children's Museum in Madison, Wis.
Jen Roberdeau
2004 BFA Acting/Arts Administration
Director, Audience Services and Fine Arts Marketing at Viterbo University.
Nadia Wahhab
2002 BFA Music Theatre
New York: Roundabout Theatre Company. Regional: Media Theatre, Rocky Mountain Rep, Solstice Theatre. Nadia is also a professional photographer. You can find her work at www.wahhabphotography.com.
Jesse Dreikosen
2002 BFA Design
Scenic Designer: New York, Houston, and Miami. Currently Assistant Professor of Design at Florida International University-Miami. He holds an MFA in scenic design from Purdue University.
Kelly Behrens
2001 BFA Design/Tech
Lighting designer. She holds an MFA in lighting design from Purdue University and has taught theatre at Hillsboro Community College in Ohio.
Eric Graves
2000 BA Theatre
Pursuing an MFA in acting at the University of Missouri-Kansas City.
Stephanie Miller-Lamb
1996 BA Theatre
Assistant Director of Conference Services at UW-Madison. Formerly, Director of Operations for Wisconsin Chamber Orchestra and Stage Manager at University of Iowa Hancher Auditorium.
Karin Maresh
1995 BA Theatre
Assistant Professor, Theatre at Washington and Jefferson College. Director W&J Theatre Company. Ph.D., Theatre from the Ohio State University; M.A., Theatre from Illinois State University.
Allison Hertzel
1995 BA Theatre
Assistant Professor, Acting and Voice at University of Alabama Department of Theatre and Dance.
Annissa Morgensen-Lindsay
1993 BA Theatre
Assistant Professor, Theatre at Adrian College specializing in theatre history and literature, technical production. Ph.D. from Bowling Green University.
Mark Frank
1989 BA Theatre
Published playwright and director of theatre at Coffeyville Community College.
Dean Yohnk
1986 BA Theatre
Artistic Director and chair of theatre at University of Wisconsin-Parkside.
2 Per Row