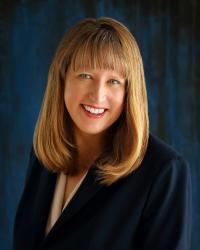 Glena Temple
On Jan. 1, 2017, Glena Temple, Ph.D., became the ninth President of Viterbo University, having served as the Vice President of Academic Affairs at Viterbo since 2015.
Temple started her service at Viterbo in 2001 as a biology faculty member. She has held multiple leadership roles on campus including department chair, Honors Program director, dean, associate vice president for academic affairs, and vice president. During her service at Viterbo, Temple has been very active in securing external grant funding to improve student learning and success. She serves as the project director for a $2 million U.S. Department of Education grant focused on retention and student success. Temple also provided leadership for the undergraduate admissions office during the 2015–16 academic year.
From 2014–15 Temple served as the founding Dean of Online and Distance Education at the University of Wisconsin Colleges, achieving significant enrollment growth and leading administrative changes to support the future growth of the unit.
Beyond Viterbo, Temple has been actively involved in the Council of Undergraduate Research, served as chair of the joint Board of the Amie L. Mathy Center for Recreation and Education, a partnership between Viterbo University and the Boys & Girls Clubs of Greater La Crosse. She is an affiliate of the Franciscan Sisters of Perpetual Adoration. Temple serves on the board of the Weber Center for the Performing Arts. She was recognized with an achievement award at the La Crosse area YWCA Tribute to Outstanding Women in 2009.
Temple earned a Bachelor of Science in Biology from Allegheny College in Meadville, Penn., a Ph.D. in Botany and Plant Sciences from the University of California–Riverside, and a Master of Arts in Educational Policy and Administration from the University of Minnesota.
Temple is a native of the Rochester, N.Y. area, but has called the Midwest home since 1996. She and her husband Stephen met at the University of Minnesota and have lived in the La Crosse area since 1999. Stephen Temple, Ph.D, is a scientist at Forage Genetics International, a subsidiary of Land O'Lakes.