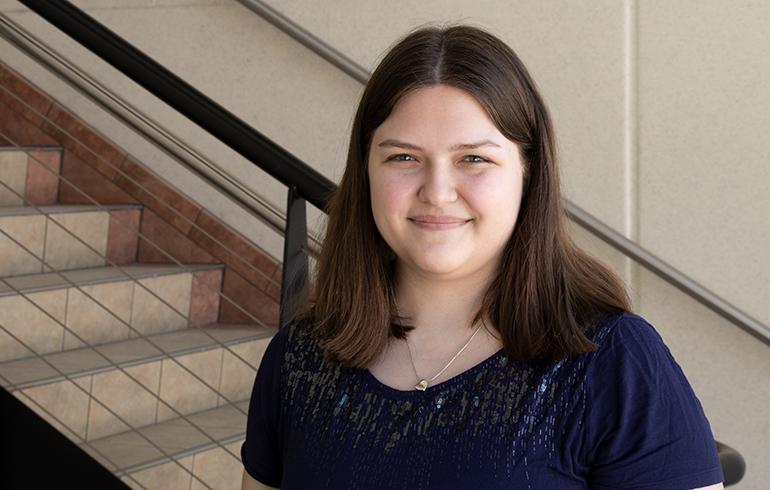 Kari Kipp, a Viterbo University senior majoring in creative media design, not only appreciates her academic and athletics scholarships, but she also takes great satisfaction in the fact that the scholarships are helping her parents who provide her with financial assistance in attending college.
Kipp is the recipient of a Hallmark Scholarship for academic achievement and an athletics bowling scholarship. She also received a Kwik Trip Family Scholarship in recognition of her academic achievements.
In addition to her scholarships, Kipp is proud of the fact that she is the first in her family to attend college.
Kipp estimates that her scholarships have covered approximately one-third of the cost of attending Viterbo. She notes the scholarship application process was made easy through the help of Viterbo's admissions office, allowing her to stay focused on her academic studies—and on knocking down tenpins with the Viterbo women's bowling team.
"It means a lot to me to be able to help my parents who have been helping me so much," Kipp said.
In addition to her studies and bowling, Kipp works as an intern in Viterbo University's communications department. Upon graduation, Kipp would like a career in graphic design, marketing, and/or social media.
A bowler since childhood, Kipp bowled in middle school as well as at Madison East High School where she earned All-Conference honors all four years. Kipp twice qualified for the Wisconsin state high school bowling tournaments, placing 11th her junior year.
As a V-Hawk bowler, Kipp has placed very well in several tournaments, was fourth on the team during the 2016–17 season, and in 2015–16 was an NCBCA (National Collegiate Bowling Coaches Association) Academic All-American.
Viterbo's bowling scholarship not only helps individual bowlers like Kipp financially, it also supports the sport in general. Bowling is an activity that can be enjoyed for an entire lifetime.
"My grandfather was still bowling at age 93!" Kipp said.
The goal of Viterbo University's scholarship program is to encourage academic merit, address special talent, and recognize the value of enrollments in specific programs of study.