When Jed Barton '17 came to Viterbo University, he planned to go on to medical school. During his time at Viterbo, though, he realized medical school was not the path he was meant to pursue, but he wasn't quite sure how to discern his true path. So he did something that he hopes a lot more fresh college graduates will do.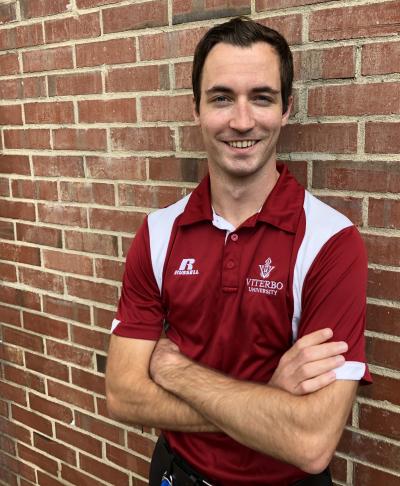 He committed to a volunteer year, something he was able to do because of scholarships he received as an undergraduate.
Thanks to the generosity of benefactors who fund scholarships (and his own hard work), Barton graduated from Viterbo debt free, he said, "and that set me up to be in a position to volunteer and be OK financially."
After graduating, Barton began a yearlong stint as a volunteer at Christ House, a 33-bed medical respite facility in Washington, D.C., for men who are experiencing homelessness, men who are too sick to be out on the streets but not sick enough to be admitted to the hospital. At the end of his volunteer year, Barton stayed on as clinic manager.
Barton most likely wouldn't have had the impulse to do a volunteer year were it not for lessons learned at Viterbo as a student majoring in biopsychology and minoring in family studies.
"The mission seminars really started me on this path, I think, started this transformation. I would not have found Christ House and be in D.C. if not for going on a mission trip to Rochester, New York, as a sophomore. "What really solidified it for me was I went on a Viterbo mission trip to South Africa. That was incredibly insightful."
At Christ House, Barton said, the focus is on holistic healing, not just dealing with medical issues. In addition to health care, Christ House provides help with addiction recovery, mental health, spiritual healing, and case management that can help clients overcome obstacles to getting shelter.
Christ House has a staff of 50, with four to eight volunteers at a time who live in a nearby house. The volunteers are provided with room and board and a $125 monthly stipend, which doesn't go far in the big city. "You have to slim down your life and really think of the things that are important to you," said Barton, who will complete work on his Viterbo Master of Arts in Servant Leadership degree this semester.
The volunteer year was "stressful but fulfilling," Barton said, and he'd recommend it for anybody. "It's a moment in life for you to reassess your priorities and do more listening than talking."
Barton advised that people considering their paths in life might want to consider the words of author, philosopher, theologian, and civil rights leader Howard Thurman: "Don't ask yourself what the world needs. Ask yourself what makes you come alive and then go do that. Because what the world needs is people who have come alive."
As clinic manager, Barton lives on the premises and feels a strong camaraderie with fellow staff members and the people who come to Christ House for help. "I'm here in a community that is very much like Viterbo, where everyone genuinely cares about each other," Barton said. "I think the most valuable thing Viterbo taught me was the importance of living out the call to serve the common good, in both my personal life and professional life."