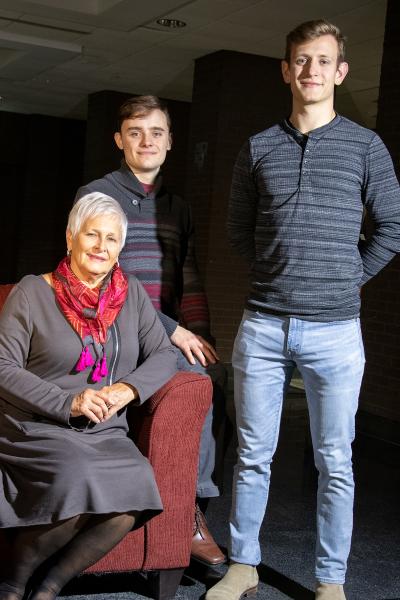 As a student at Catholic Memorial High School in Waukesha (class of 2016), Joe Lange felt the pull of the stage. And when it came time to choose a college at which to pursue his theatre passion, he settled on Viterbo University. After all, one of his favorite high school teachers, Nick Narloch, graduated from Viterbo.
After a year at Viterbo, though, Lange decided to major in vocal performance instead of theatre, even though switching majors would delay his graduation. Luckily, a surprise scholarship award took the financial sting out of changing majors and affirmed his decision to pursue music.
Lange was chosen as a recipient of the Dorothy E. Mundt Lewis Vocal Music Scholarship, a scholarship established by Barb Skogen in honor of her mother, a longtime La Crosse area music teacher who passed away in 2008.
The scholarship came as a welcome surprise and boost to his confidence the first year, and the scholarship has been renewed twice.
"Tuition is tuition, so unless you have some gigantic scholarship that's going to cut the cost in half, it's not going to be life-changing. But this has definitely taken away a lot of financial stress and worry for me and my family," Lange said.
Beyond the financial impact, the scholarship award is always in the back of his mind, a confirmation that he is on the right path. It also motivates him to plow through difficult times.
"It gives me a lot of inspiration to do well in my classes. You've got to put your head down and put in the work," Lange said. "I want to be seen as a worthy recipient."
Lange sings in the Viterbo Concert Choir and performs in the university's Platinum Edition show choir. The baritone's ultimate goal is to make a career as a professional performer, but he also could see being a college professor and choral director, thanks to the inspiration of Viterbo faculty members Brett Robison and Daniel Johnson-Wilmot, his voice teacher.
"I've learned a lot of worldly wisdom from him (Johnson-Wilmot)," Lange said.