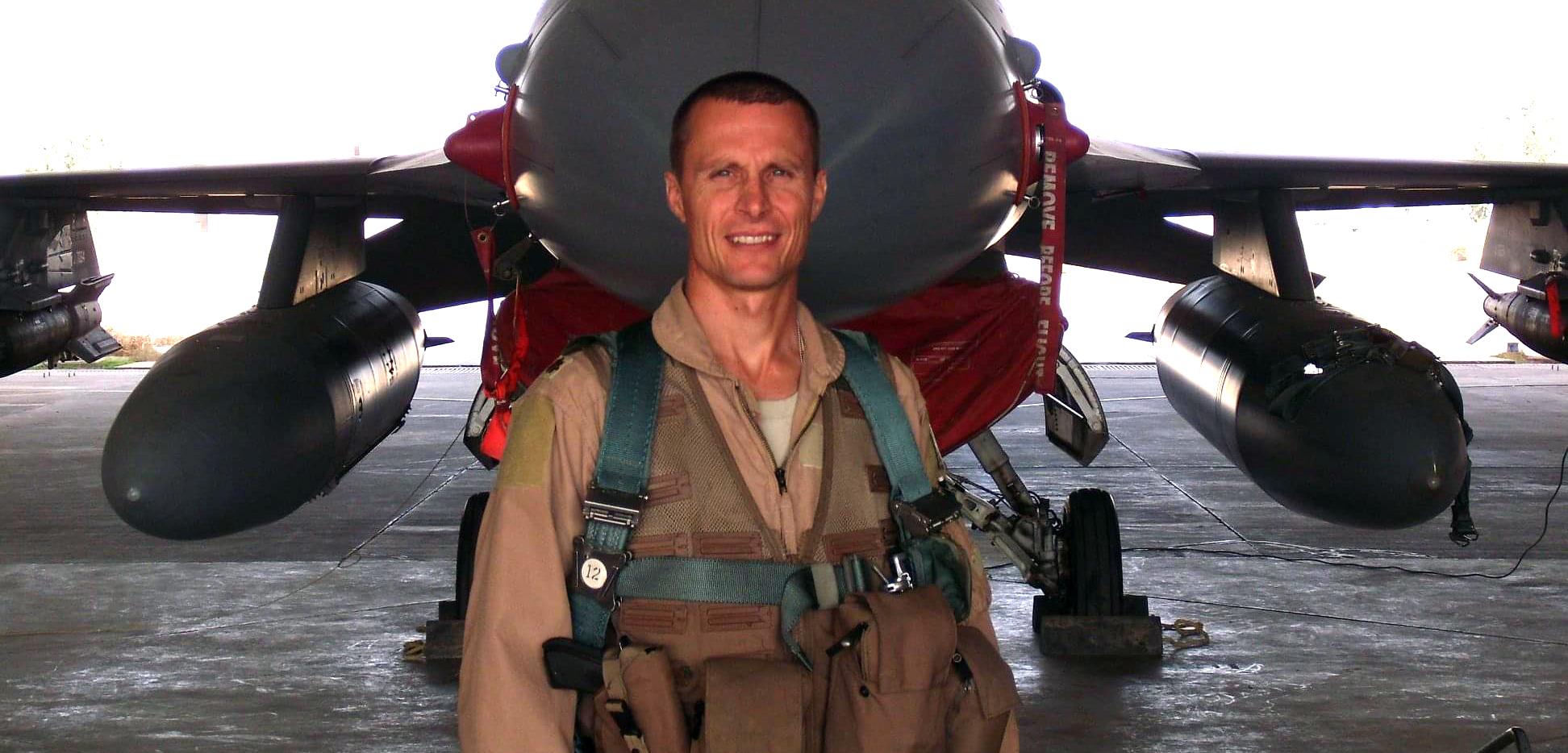 When Chad Milne '94 joined the Wisconsin National Guard in 1987 as a high school junior, he didn't plan on making a career out of the military. For Milne, serving in the reserves was a way to pay for college so he could follow in the footsteps of his educator/coach father. 
"Once I got in the Guard, though, it became more about the mission at hand, and then it became more about the camaraderie and the people I worked with," Milne said. "It was challenging, and it was rewarding. It was the ultimate team to be a member of."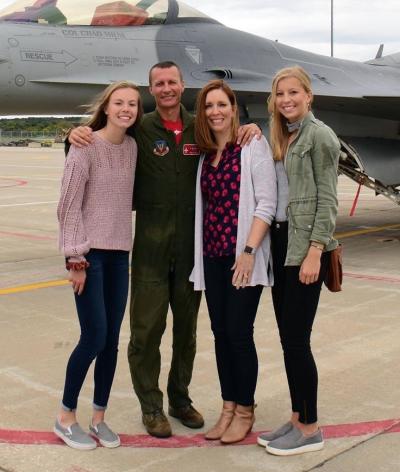 After two years as a high school math teacher and six years as a part-time Guard member, Milne decided to serve his country full-time in the Wisconsin Air National Guard. He soon became a pilot, flying mid-air refueling missions in a giant KC135 and later flying combat missions in an F-16, his dream. He flew missions on overseas deployments in six of the years between 2000 and 2013. 
"I was always fascinated with flying. I didn't realize the possibility of it being an opportunity until I started working in the Guard, right out of high school," Milne said. "I saw the people before me, how they became pilots for the Guard. I thought it was something I had the opportunity to do." 
By the time he retired from the Air National Guard in 2018 after 31 years of service, he had risen to the rank of colonel and was serving as state director of air operations. Toward the end of his career, he made a lasting impact on the Guard's combat readiness by playing a vital role in development of the Counterland Operations Center at Volk Field. The upgraded operations center makes Volk Field a premier facility for air combat training as well as working on strategic planning and command operations. 
Milne's father, David, was a fixture at Cashton High School for years as a teacher, two-sport coach, and athletic director. Growing up, Milne was a self-described "gym rat," excelling at sports despite being a "little guy." In high school, he played football, basketball, and baseball, coached by his father in the latter two. 
In his junior year, Milne caught a couple Viterbo basketball games and decided he wanted to be on that team and learn to become a teacher at a college renowned for its educator training. After full-time military duties for a year after graduating from high school, Milne came to Viterbo, and won a spot on the basketball team as a first-year walk-on.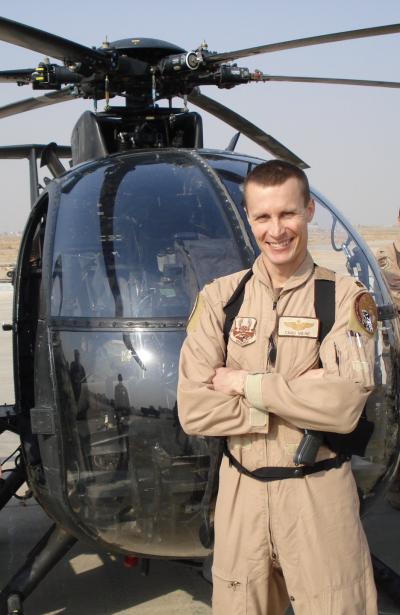 That year, he met Donna Statz, a sophomore RA majoring in biology in preparation for pharmacy school. She was a tougher challenge for him than the basketball team. "She didn't want anything to do with me for the first couple years," Milne said with a laugh. 
They started dating his junior year, when Milne also won a spot on the baseball team. She graduated from Viterbo in 1992 and moved on to the pharmacy school at the University of Wisconsin-Madison. The summer before Milne graduated from Viterbo, he earned his private pilot license, and in November 1993 he took her for a plane ride. 
Passing over his father's tobacco field, she looked down and saw the giant white letters Milne had painted on the field: "Marry me," it said. 
She did. 
Milne said the support and sacrifice on the part of his family, which includes daughters Paige and Lauryn, were reason why he could serve his country so many years.  
"I know most veterans feel the same way. We often feel guilty when recognized, knowing our families shouldered much of the hardship while we were away," said Milne, who makes his home in Lodi. "It was definitely a family effort, and I am very grateful for their support and sacrifices." 
Since retiring from the military, Milne has kept up his high-flying ways, piloting Boeing 787s for United Airlines on mostly international flights. The morning he took time for the interview for this story, he was in Sao Paolo, Brazil. 
Milne's been all over the world, but it's been a while since he's seen the Viterbo campus. He'll have plenty of chances now, though. The proud papa will be making trips to La Crosse to watch his daughter, Lauryn, play basketball for the University of Wisconsin-La Crosse. 
Some things have changed. When Milne was a Viterbo student, he knew of nobody else on campus who was in the military or had previously served. These days, Viterbo has a reputation for being a military-friendly school, with a new lounge for the many military-aligned students enrolled.  
One thing that's still the same is the personal attention and care students get from their instructors. Milne, who majored in math, credits Professor Emeritus Larry Krajewski with keeping him on track when he had struggles with higher level math. "If it wouldn't have been for him, I don't know if I could have gotten through the program," Milne said. 
The most precious thing Milne took away from his time at Viterbo (excluding his wife, of course) are the friendships, he said. The Milnes have a group of Viterbo friends they see at least once a year. 
"I have to say, Viterbo was a great fit for me," Milne said.