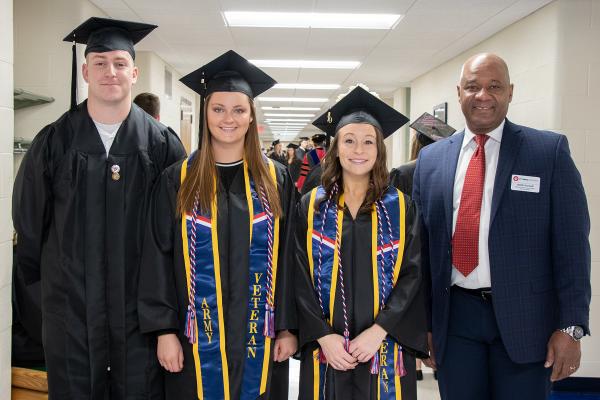 Military service runs in the family for Rob Faucher, so back in 2008, five weeks after graduating from high school in Virginia, he joined the U.S. Air Force. During his 12 years of Air Force service, Faucher had three Middle East deployments and rose to the rank of staff sergeant.
He spent nine years as an aircraft loadmaster on C-130 cargo planes and three years as a biomedical technician, earning two associate degrees from the Community College of the Air Force to prepare him for those duties.
When it came time for Faucher to pursue higher education outside the Air Force, it was vital the school be "military friendly." His significant other, Nichole  Steinborn, also a veteran, had chosen Viterbo University for its designation as a military friendly school, Faucher said, "so it was a no-brainer to follow the same footsteps. After seeing and hearing her experiences at Viterbo, I knew I didn't need to look any further."
Viterbo was considered military friendly when Faucher enrolled to study business management and leadership in 2019, and the university continues to move up in rank. It was recently announced that Viterbo had earned a silver designation through the 2021-22 Military Friendly Schools survey.
Of all the American private universities offering doctoral degrees, Viterbo is one of only seven to have earned the silver designation for being military friendly. Only five are currently designated gold, and Keith Purnell, Viterbo's director of military aligned student support and recruitment, aims to see Viterbo join them.
Purnell knows what college is like for students like Faucher. Purnell began his college studies after 22 years in the Army, and it was like being a fish out of water.
"College campus life is such a different animal for veterans," said Purnell, who has just started working on his MBA at Viterbo. "They bring a wealth of life experience and maturity with them, but they also have spouses and families and work that put pressure on their time."
Myriad factors go into determining a college's military friendly status, including programs and people dedicated to helping soldiers and their families succeed, graduation rates, student retention, job placement, loan repayment, and having a special place on campus reserved for military-aligned students to relax and socialize.
Purnell noted that the addition of a tuition discount for family members in some online programs might have helped Viterbo attain silver status. He explained that "military-aligned students" includes not only veterans, active duty and reservists, it also includes their family members.
For Faucher, the big difference at Viterbo is the people, he said, expressing appreciation in particular for Purnell and for Dawn Mazzola, Viterbo's assistant director of financial aid.
"Keith is a great resource for all military-related questions, and Dawn makes all G.I. Bill and financial processes a breeze with her vast knowledge of military benefits," said Faucher, who served as president of the Viterbo chapter of the Student Veterans Association. "Also, professors are very understanding of drill schedules as well as any other military-related events that would affect your school attendance."
Viterbo also has two long-serving veterans in President Glena Temple's cabinet, the university's inner leadership circle: Executive Vice President for Student Success Rick Trietley and Fr. Conrad Targonski, the university's chaplain.
Trietley, Targonski, and Purnell started a new Viterbo tradition in 2019, accompanying three Viterbo student veterans on a pilgrimage to Italy to walk in the footsteps of St. Francis of Assisi, who was a soldier early in his life and likely had PTSD from his war experiences. Because of the pandemic, the 2020 pilgrimage had to be virtual, but Purnell is looking forward to being able to have students put boots on the ground again in Assisi.