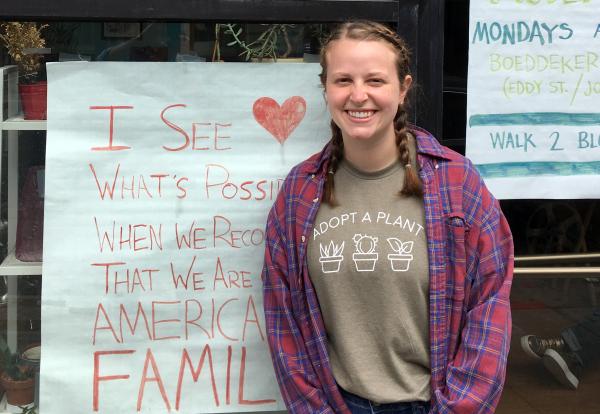 Viterbo University can point to an admirable placement rate for graduates. A very high percentage of students leaving Viterbo get jobs in their fields or get accepted to graduate schools for advanced studies. You might think of it as a high return on investment.
That kind of ROI isn't the only definition of success, though. The value of a Viterbo education goes beyond being a path to employment. Ask Marne Boehm '20, who is completing her first volunteer service year in San Francisco and about to start a second service year in Philadelphia.
At Viterbo, Boehm's purpose in life came into focus. She developed a sense of mission, a drive to serve and learn from others.
"My time at Viterbo 100 percent shaped me into a different person," Boehm said. "I didn't have the tools before college to realize who I wanted to be. It was the community that I found at Viterbo and got to learn from that taught me so much more about the world than I could have imagined."
Boehm grew up in Wausau, graduating from Newman Catholic High School in 2016. Consideration of Viterbo was an afterthought for Boehm, a last-minute visit tacked on to her planned tour of the University of Wisconsin-La Crosse.
"I was shocked by how much I fell in love with Viterbo," Boehm said. "I just felt I could see myself being a part of a community there."
Boehm followed through on her plans to major in biology, which she saw as a step toward becoming a veterinarian. She also was interested in environmental issues. As a precursor to an environmental ethics class, she took Professor Jason Howard's ethics class.
"That class really changed things for me, and I really loved the professor," Boehm said. "That shifted how I saw myself and the world and what I wanted to do."
An Honors Program participant, Boehm added a philosophy major to her biology major, along with an ethics minor. Besides her class work, Boehm credits service learning trips to Atlanta and South Africa—both led by Professor Matthew Bersagel Braley—for forming her approach to service.
"I believe the most important aspect of service learning is the continuous reflection," she said. "Mindless service loses its meaning and allows for little growth or betterment of a person."
Service, at its best, doesn't come from a position of privilege as much as it comes from learning and understanding the needs of those being served, Boehm explained.
That approach is emphasized in the Mercy Volunteer Corps (MVC), an U.S.-based international service organization Boehm began volunteering with after graduation from Viterbo. MVC volunteers commit to living a simple lifestyle in community while focusing on compassionate service and spirituality.
For her first year with MVC, Boehm is working at The Healing WELL in San Francisco, an organization that provides services and support for people formerly homeless and/or recovering from addiction.
"The focus is on learning to work and grow with other people," Boehm said.
Boehm's next volunteer year with MVC will move away from social services into something she describes as "big picture policy work." She will be in Philadelphia working with Witness to Innocence, an organization led by exonerated former death row inmates dedicated to eliminating the death penalty in this country.
"I'm really excited for that," said Boehm, who is considering going to law school after her volunteer year in Philadelphia.
Boehm graduated from Viterbo without any student loan debt, which made doing the post-graduation volunteer years an easier decision. But she noted that people can get loan deferrals to take a volunteer year.
"Viterbo was very affordable for a private school, which made it that much easier for me to be able to do a volunteer year," Boehm said.
Help strengthen the impact of a Viterbo education and help make it even more affordable for students.