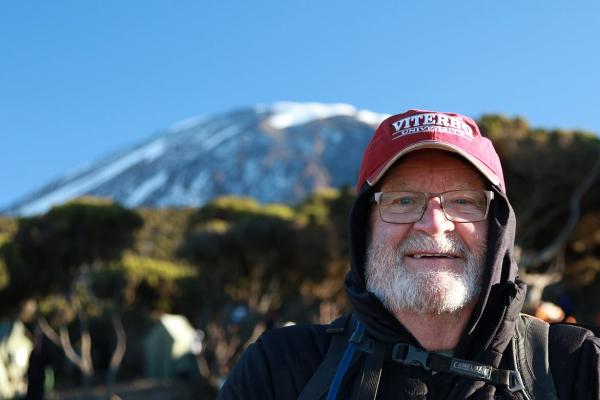 Years ago, retired Viterbo University English Professor Grant Smith was struck by the exceptionally quiet nature of one of his students. One day he asked her why she was at Viterbo.
"Volleyball," she told him.
That piqued Smith's curiosity, so he decided to go see her play. "I was blown away," said Smith, who retired in 2013 after teaching at Viterbo for 20 years. "This girl who never said a word in class became a beast on the court, probably one of the best athletes Viterbo has ever seen."
Smith had been an athlete growing up in Idaho, and he had looked forward to cheering on his own children in sporting endeavors. His children weren't inclined toward athletics, so when he discovered how good the V-hawks were on the volleyball court and how much fun the games were to watch, he became one of the team's top fans.
Over the years he has been to countless volleyball games, often traveling long distances to watch the V-Hawks play in far-flung tournaments. This year he even plans to travel to Europe to cheer on the team. "These young women became my surrogate daughters," Smith said. "It's such a great group of women. They're all very bright, good citizens, fun to watch, and skilled and disciplined athletes."
Smith also has shown his support for the team by contributing to scholarship funds. His generosity hit a peak last summer.
Literally.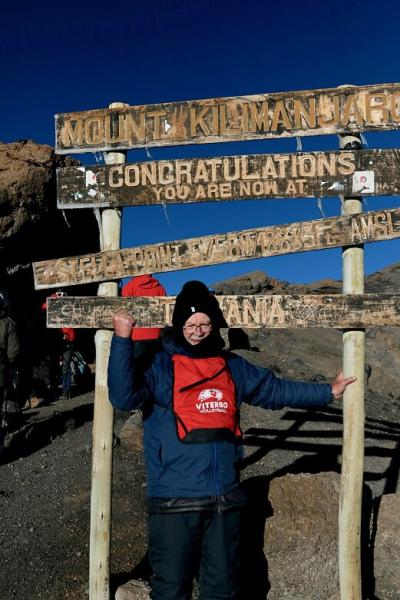 An avid hiker, Smith has spent his retirement completing his mission to hike to the highest points in each of America's 50 states. He didn't get to the very highest points in two states, but he covered a good part of the elevation of Mount Denali in Alaska and Mount Rainier in Washington.
Always looking for new challenges, Smith decided to try the weeklong climb of Mount Kilimanjaro, the highest point in Africa. As part of this adventure, he issued a challenge to the V-Hawk women's volleyball Coach Ryan DeLong: If DeLong could raise $20,000 for the volleyball scholarship fund (a dollar for each foot of Kilimanjaro's elevation), Smith would match that.
DeLong was successful on his end, and last August when Smith went to Africa, he felt some extra pressure to meet his challenge because of that.
Smith was 50 years older than the youngest member of his dozen-strong Kilimanjaro climbing companions, and after Smith the next youngest was 30 years his junior. Still, he had trained hard for the climb and going into the last day of the ascent was the only climber who hadn't experienced some kind of "mountain sickness."
Leaving at midnight for the last leg of the climb to the peak so they could see the sunrise from the top, Smith was determined to get to the peak, for the volleyball team as much as himself. In the extreme cold, his glasses kept fogging up, slowing his progress, and his hands were practically frozen. About four hours into the final climb, he started showing signs of hypoxia, a lack of oxygen in his system that could have been deadly.
His guides, recognizing the danger, insisted that he turn back. Unaware of his hypoxic state, Smith pleaded with his guides to let him continue, arguing so passionately that they went off to confer privately. When they returned to Smith, he was showing signs of recovery and they decided to let him continue to the top, but he would have a guide on each side of him to ensure his safety.
Thanks to their help, he saw the sunrise from Kilimanjaro's Stella Point and came away with a life-changing lesson.
"It was one of the most transformative experiences I've ever had," Smith said. "It taught me a lesson in humility. I thought I could do anything I wanted by myself. I was wrong. Sometimes you need help."
Read Smith's reflections on Kilimanjaro, Hemingway, and more.
For more stories on scholarships from benefactors and recipients, check out our Scholarships Make a Difference page.