When Barbara Nick thought about setting up a Viterbo University scholarship fund, she wanted to be sure to give preference to nontraditional students. She knows what it's like to be one.
"I have a real affinity for nontraditional students because I was a young mother, working part-time, going back to school to finish up my degree," said Nick, who retired in July 2020 from the Viterbo Board of Trustees, one of many nonprofit boards on which she has served.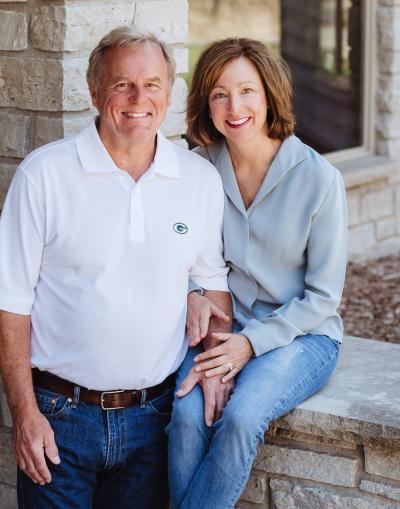 Nick also retired at the same time from Dairyland Power Cooperative, where she had served five years as president and CEO. Nick and her husband, Jay, cherished their time in La Crosse and wanted to show gratitude for her tenure at both Viterbo and Dairyland Power. That's how the Barbara Nick and Dairyland Power Cooperative Lifelong Learning Endowed Scholarship came to be.
"When I was looking at retiring, Jay and I talked about wanting to give back to the La Crosse community," Nick said. "We wanted to do it as a way of showing our gratitude to the community. And it's a way for me to honor the people who have been so influential in my life."
Nick grew up in Arizona, educated in Catholic schools. The scholarship in part is a way to honor her early Jesuit and Franciscan teachers and the Franciscan Sisters of Perpetual Adoration, the university's founders. The FSPA members earned her admiration during her time as a Viterbo trustee.
"Everyone I talked to told me about the Sisters," said Nick, who was awestruck by the FSPA and their Mary of the Angels Chapel. "It's where good people do good things. You just get that vibe. Everything about the Sisters says they are good people doing good things."
After high school started college at Arizona State University, eyeing a career as a photojournalist. But then she got married as a sophomore and started a family, moving to Jay's home state of Wisconsin. After moving to the Green Bay area, Nick earned a bachelor's degree at the University of Wisconsin-Green Bay, focusing on communications and business.
She thought she might become a writer, but a summer job in 1981 while she was in school at UW-Green Bay helped steer her into a long and rewarding career in the energy utility industry. Her task involved writing job descriptions for positions at the Kewaunee nuclear power plant, and an interview with a machinist proved revelatory.
"I thought, 'These are people who are doing things because they believe in the purpose, doing something that makes a difference in our lives,'" Nick said. "It's like they say, 'Where your true delight meets the needs of the world, therein lies your true vocation.'"
While Nick has devoted her career to the energy industry, taking on a number of leadership roles, she still found ways to exercise her writing muscles. Notably, she has written a book for business leaders called Lenses of Leadership as well as a children's book, Bella and the Year of the Dragon, and retirement provides an opportunity for more writing.
The scholarship, funded by grants from the Greater Green Bay Community Foundation, Dairyland Power and CoBank, is meant for students pursuing degrees related to STEAM – science, technology, engineering, arts/humanities and math. Both Nick and her husband, a retired computer and electrical engineer, are passionate about science and technology education, especially when it intersects with the arts.
The Nick/Dairyland scholarship also gives preference to students who demonstrate a commitment to lifelong learning. That's something important to Nick, a firm believer that there is always something more to be learned. Already well into her professional career, for example, Nick returned to higher education, completing the Harvard Business School's Advanced Management Program in 2003.
For Nick, it's exciting to think of the students who will benefit from the endowed scholarship fund that bears her name. "I like endowments because it's a gift that keeps giving, a legacy," she said.