When Naomi Ruiru completes Viterbo University's Doctor of Nursing Practice program in May, she graduates knowing she might have helped usher in a new era in emergency room pain management at one La Crosse hospital.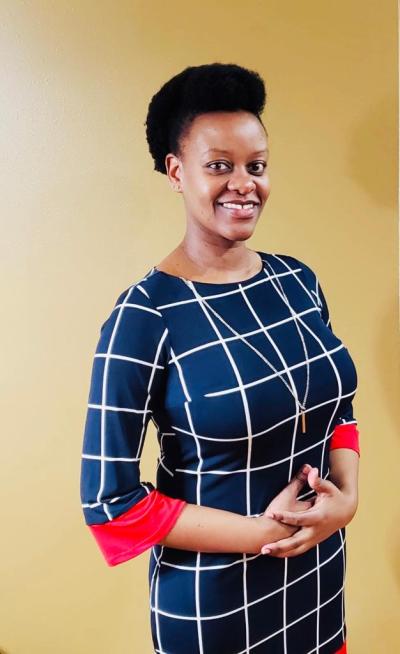 All DNP students are required to complete a scholarly project over the course of two or more semesters, an evidence-based inquiry designed to help improve the quality of care. In Ruiru's case, her project focused on determining the efficacy of using dry needling to address pain issues in the ER.
Dry needling is a specialized treatment method performed by physical therapists in which a thin needle is inserted into muscle trigger points to decrease tightness, increase blood flow, and reduce pain. Acupuncture and dry needling both use needles, but they are very different techniques.
Ruiru, who graduated from Viterbo in 2016 with a bachelor's degree in nursing, gathered data over the course of three months when physical therapists performed dry needling in the ER at Gundersen Health System, where she was working as an RN in addition to doing her DNP clinicals. By a statistically significant margin, Ruiru's study showed that dry needling was useful as an alternative pain management tool.
She is completing a clinical in Gundersen's internal medicine department, which she said has been challenging and rewarding. "We do see a lot of intense cases that come through, but my colleagues are a great team. I'm really privileged to work with great people."
Her next clinical assignments involve physical medicine and rehabilitation clinic.
When Ruiru started her nursing studies at Viterbo, she pictured herself working at a long-term care facility. An early clinical experience at a local hospital, though, changed her mind. "It was an eye opening experience to discover I would want to work in a hospital," she said.
La Crosse is a far cry from Ruiru's hometown of Nairobi, Kenya's capital and the country's most populous city with about 4.4 million people, but she's quite pleased with her decision to study at Viterbo after beginning her college education at Winona State University in Winona, Minn.
"It was always my parents' dream to give me and my siblings the best education we could possibly have," said Ruiru, the fifth of six children in her family. "I think I've been treated really well at Viterbo. It's been great. I feel like they listen to me. I feel like the teachers are always willing to reach out and assist."
The reasons Ruiru decided to pursue her doctoral degree are both personal and altruistic, partly to keep pace with her competitive, striving siblings but partly to make a difference in her home country.
"I vowed to go back for a graduate degree not only to meet my family's expectation but also to be in a position to do more when I am ready to give back to my community in Kenya," said Ruiru, who is in the family nurse practitioner track of Viterbo's DNP program. "Nurse practitioner positions are non-existent in Kenya, and it is my hope to introduce this role one day to my native country."
On top of her studies, Ruiru has other pressing duties. This year, she and her husband, La Crosse area native Matthew Kiser, welcomed a son to their family.
"I'm busy, busy, busy," Ruiru said with a laugh. "Not everything is easy but if you set your mind to it you will be able to achieve it."