Mayo Clinic registered nurse and Viterbo University graduate student Jessica Lindblom was considering research projects necessary to complete her Doctor of Nursing Practice degree when she learned of an interesting opportunity from program faculty members LuAnn Fowler and Michelle Merten.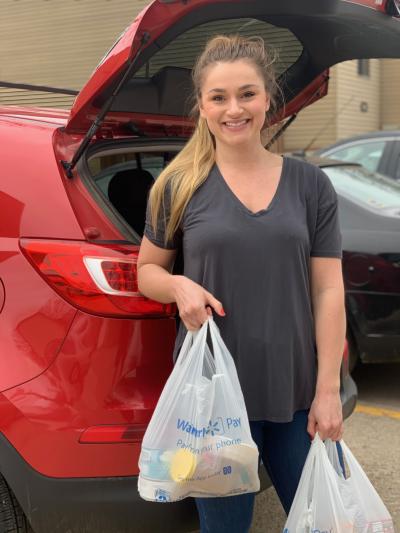 Fowler had contacted Tomah Health community outreach nurse and Viterbo alumna Julie Anderson about the possibility of a Viterbo DNP student establishing a Weekend Backpack Food Program in Tomah. The initiative, which would be similar to the one underway in the Sparta Area School District, would provide a backpack filled with food to students from food-insecure families needing help supplementing meals during weekends and other breaks from school.
Lindblom enthusiastically accepted the challenge and would research the results as part of the DNP project. Numerous studies indicate food insecurity has a significantly detrimental effect on student performance and achievement. In theory, partially alleviating this problem would boost academic success and help improve the lives of the participants.
Fourteen children from nine families enrolled in the program, which was held on a smaller scale through the Boys & Girls Club of Tomah instead of the school district because of COVID-19 restrictions. Lindblom provided participants with a plastic bag (rather than a backpack because of the pandemic) containing two breakfasts, two lunches, five to seven snacks, and ingredients and a recipe card for dinner every Friday for eight weeks. Children in the same family received one bigger bag.
"I am very happy I was able to help the children and families," Lindblom said. "It is one of the most rewarding things I have ever done. It is incredible to see how generous people can be and the resources that are available to support programs like this. All it takes is an individual or a group of individuals to plan, organize, and collect these resources to benefit children and families."
To supply the project, Lindblom received 600 pounds of food from the Hunger Task Force in La Crosse and a $99 donation from the Tomah Wal-Mart. In addition, she collected 400 pounds of food at drives she held herself at Tomah Health and Detour gym in Rochester.
Lindblom also received a $500 grant from the Bobbi's Backpack Award program at Viterbo University. The award fund was created by the graduate nursing faculty to honor longtime administrative assistant Bobbi Hundt for her "devoted service to the graduate nursing and nutrition sciences departments" upon her recent retirement. The award funds a DNP student who initiates or sustains a project addressing food insecurity. Lindblom's was the first grant of the Bobbi's Backpack Award program.
"The money allowed me to supplement the bags each week with some fresh foods as well as allowed me to get creative with creating recipe cards and nonperishable ingredients to make the bags more appealing," said Lindblom.
Among the many positive results of the project were the parents and staff at the Boys & Girls Club of Tomah reported that the program had a positive effect on the children and all nine participating families strongly agreed that it had a positive effect on their budget and families.
Judy Anderson, Lindblom's faculty advisor, said the "stellar project filled a such a need and was especially relevant during the pandemic."
It was a major but very worthwhile undertaking for Lindblom, who in addition to her other studies in the DNP program works full time as an IV/transfusion RN at Mayo Clinic in Rochester. She will graduate from Viterbo University in May 2022.
"I chose to pursue my DNP because I want to be a family nurse practitioner, which will allow me to diagnose and treat patients with a nursing approach that is holistic, and patient centered," Lindblom said. "I chose Viterbo University because of the excellent reputation that their nursing programs have."