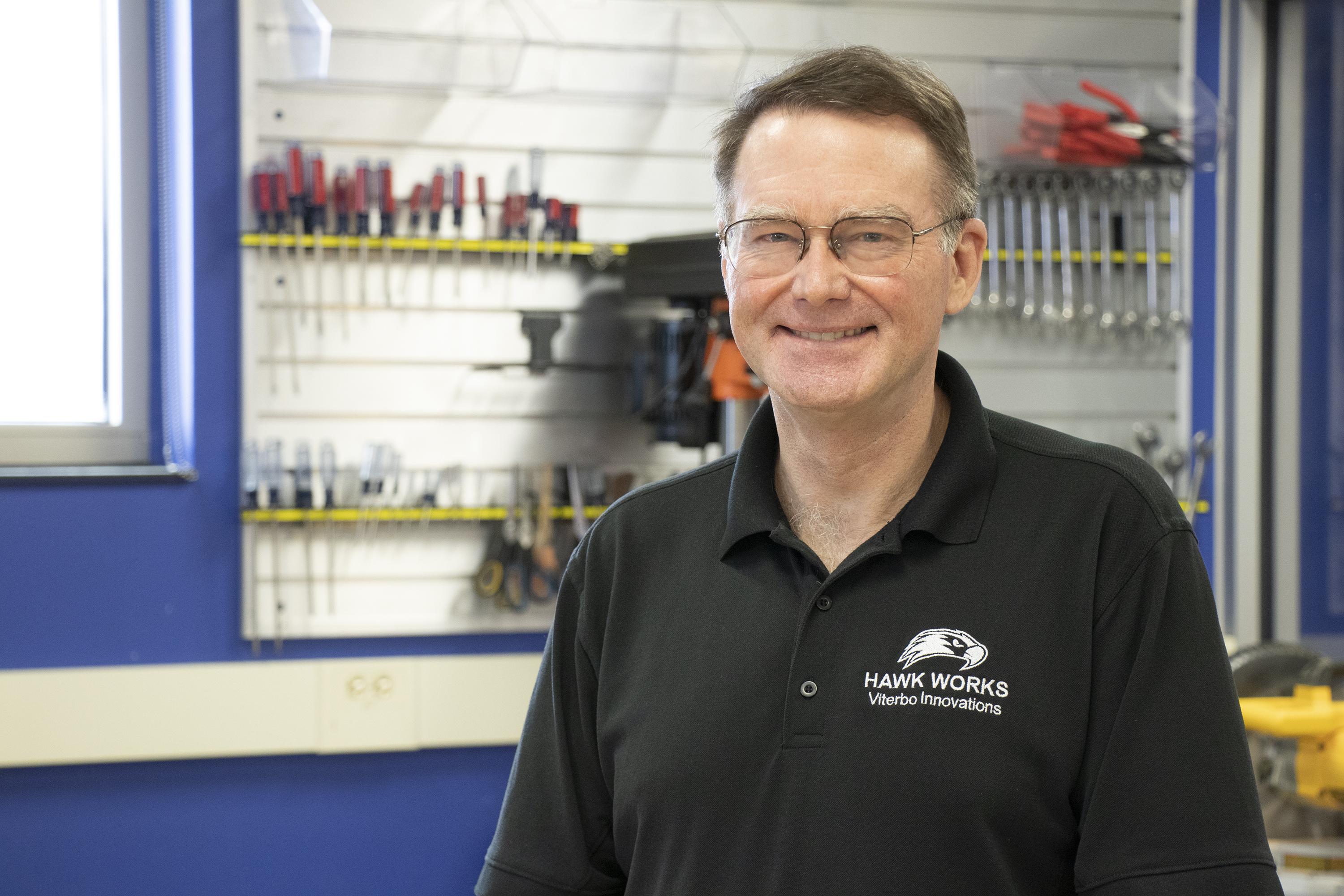 Viterbo engineering professor Ric Harned has a message for each new class: "I'm here to help you make your dreams come true." It's certainly a message that resonates with his students.
"Their whole attitude changes when they realize that you're there for them," Harned said. "It's fun to see the light bulbs in their mind turn on and be open to new possibilities. I love teaching, especially the life lessons you can share with students."
An engineer by trade, Harned brings exceptional real-world experience to the classroom. He served 20 years in the U.S. Navy, as a naval flight officer and an aviation engineer duty officer. He later attended test pilot school and upon graduation conducted flight tests for the F-18, A-6 Intruder, and other planes.
Harned earned a bachelor's degree in general engineering from the U.S. Naval Academy, a master's degree in aeronautical engineering from the Naval Post Graduate School, and a master's degree in education from Notre Dame of Maryland University. After his military service, Harned taught secondary mathematics for 17 years before beginning at Viterbo in 2019.
"I was welcomed from day one," Harned said of his Viterbo experience. "People bend over backwards to get you the resources you need. It is a great working environment."
After attending the Association of Academic Support Educators teaching symposium in Tampa Bay, Harned and fellow engineering faculty member Emily Vanderfleet created the HAWK WORKS capstone initiative at Viterbo. There are several examples of the program in the corporate world with which Harned was very familiar.
HAWK WORKS brings together students from a variety of majors to solve a problem in the community.
"It's about having the right people around the table all the time," he said. "The students are doing real things with real dollars—and learning invaluable skills in the process as they create solutions as a diverse team, just like in the real world."