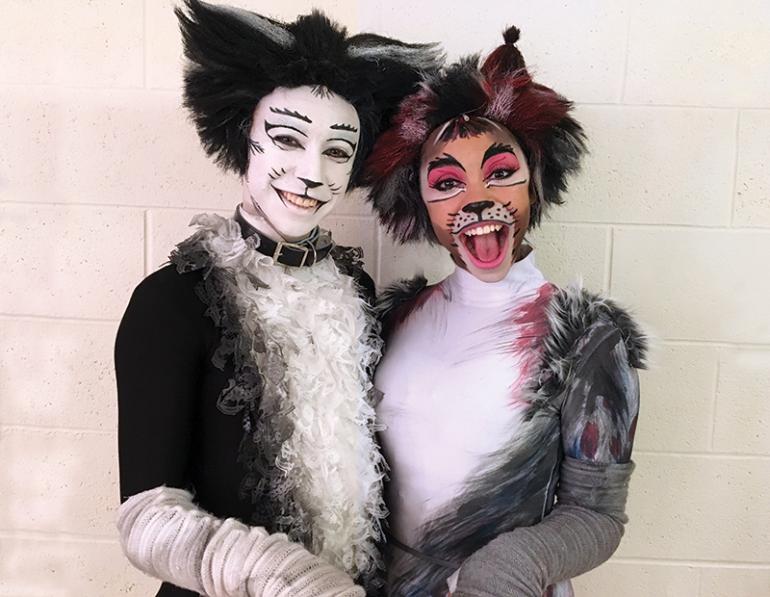 Students Achilles Mulkey (left) as Mister Mistoffelees and Maya Richardson as Syllabub in the Viterbo University production of CATS. 
When she was a child, Viterbo senior music theatre major Maya Richardson used to write plays and sing with her father at the piano. She knew early on that life on stage was what she wanted.
Richardson's Viterbo education recently culminated in being cast in the major role of Syllabub in the university's production of CATS.  It was one of the larger shows ever done at Viterbo, requiring the effort of the entire department to create the elaborate costumes, makeup, wigs, etc., resulting in a "visual masterpiece" as described by the director.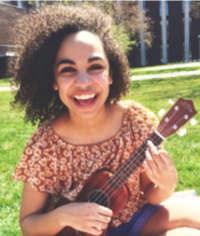 "It was such a special community within the cast, and Syllabub was an image of hope and joy." said Richardson. "The whole experience was awesome."
When deciding which college to attend, Richardson, whose hometown is Blaine, Minn., had auditioned at a number of schools.
"Viterbo just felt different," she said. "I thought the professors looked at me like a human being and not a number. They really seemed to care about me and my personal journey."
In addition to CATS, Richardson has performed in Viterbo productions of Avenue Q, 9 to 5, and Merrily We Roll Along. She is the president of the Improv Troupe, and has performed in several of the ensemble's shows.
In her spare time, the self-described "very creative and having a lot of energy" Richardson enjoys writing poems and stories, painting watercolors, and running.
"It's amazing to look back at my growth from my freshman year," she said. "I have found a voice not only as an artist, but also as an activist (for women of color, minority voices, and LGBTQ rights). I'm ready to go out into the world and I know I'll be OK. I want my career to be one in which I help give a voice to those who don't have one yet. I want to pave the way for others."
Update: Upon graduating from Viterbo, Richardson landed the role of Zuma in Paw Patrol Live!