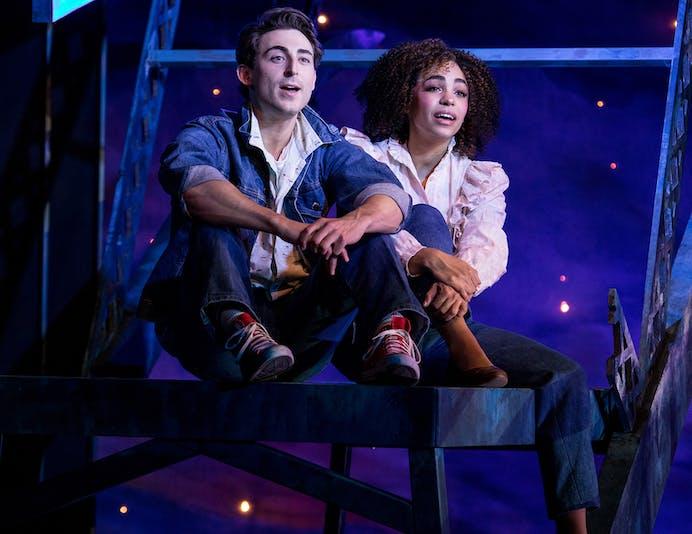 Maya Richardson '19 is making a big splash on the Twin Cities theatre scene, earning kudos from the Star Tribune for her work in the role of Ariel (the female lead) in the Chanhassen Dinner Theatres' production of Footloose.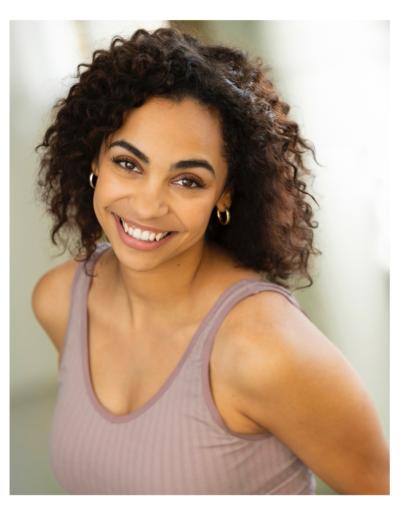 Richardson led off a list of "10 impressive actors, singers, dancers, storytellers, and directors to look out for this fall" in a Sept. 15 Star Tribune story, that had this assessment of her: "A triple-threat performer with fluid dancing, strong singing and honest acting, this Viterbo University graduate made the rebellious minister's daughter a winner."
"It's very cool to get your name out there like that," Richardson said, noting that she also did a Broadway World Q&A about her performance in Footloose and got a chance to perform a song from the show, "Almost Paradise" with co-star Alan Bach on Twin Cities Live, a much-watched daily show on the ABC affiliate KSTP.
The production of Footloose opened in February and will end its run Feb. 4, 2023, but Richardson gets no breather. While she's taking the stage for the final months of Footloose, she'll be spending her days rehearsing for another Chanhassen Dinner Theatres production, The Prom, that opens a week after Footloose closes.
Richardson said she didn't go into the Footloose audition thinking she would end up with a long-term full-time job. She thought the audition would be good practice for making her jump to the New York theatre scene, something she has been thinking about for a long time and is still in her career plans.
"I think if I don't go to New York soon, I will spend the rest of my life wondering what if," she said.
Soon after Richardson graduated magna cum laude from Viterbo (with a music theatre degree and a dance minor), she was cast as Zuma the Water Dog in a touring production of Nickelodeon's Paw Patrol Live! Her plan was to do the tour for a year and then move to New York. She made it to nine months on tour before the pandemic shut down the show.
In the middle of the pandemic, she got a call to reprise her Zuma role in a filmed production of the show, Paw Patrol Live! at Home, that is now available for viewing on the Paramount platform. She also worked on a short film, did some commercial work, wrote for a nonprofit, and taught children's dance classes before landing the role in Footloose.
Her education at Viterbo prepared her for the realities of having a career as a performer, something she had yearned for growing up in a musical family in Blaine, a northern Twin Cities suburb. "You could be secure in work, and then you could be unemployed," Richardson said. "I'm lucky right now it's my full-time job."
Richardson recalled an admonition on the difficulty of show business she received at her audition for Viterbo's music theatre program. "One professor said, 'If you enjoy doing anything else, go do that instead of theatre,'" she said.
Viterbo was one of many colleges she auditioned at for music theatre programs, but there was something striking about her audition that made Viterbo stand out. "I remember being in the room with the faculty, and I remember them looking at me as a person rather than a product," Richardson said.
Her time at Viterbo was a great experience, a time when many lasting friendships were formed. "It was interesting being one of the few people of color and navigating that and what that meant for me and speaking up for myself," Richardson said. "College is such a beautiful time of transformation. I think I found a deeper sense of self in a very exciting and unapologetic way and really learned how to laugh at myself and not be afraid of caring too much."
One of Richardson's favorite productions as a Viterbo student was Cats, in which she played Syllabub her senior year. In one of those "small world" coincidences, a cast from the Broadway production of Cats, Michael Gruber, came to Viterbo to conduct a master class.
Fast forward a few years and Gruber is playing her father in Footloose.
For the first part of her run in Footloose, she didn't get to see expressions on the faces of the audience because they were wearing masks. She rarely even saw the faces of her Footloose cast mates during rehearsals because of masks, and often she'd see different faces on stage from night to night because so many cast members got COVID-19. Over the first 250 performances, Richardson figured there were about 100 different casts, with subs often having to learn parts on very short notice.
Richardson is loving the chance to see audience faces these days, and there was one in particular that she recently saw that gave her some joy. A young girl sitting in the front row who watched Richardson enthralled because the little girl saw herself in Richardson, possibly the first woman of color to play Ariel in a professional production of Footloose.
"At the end when we were doing our curtain call, I gave that little girl in the front row a wave," Richardson said. "In some ways, I still am that kid."