Rising Professional, Conservatory of the Performing Arts
Since graduating from Viterbo in 2013 with a degree in music theatre, Jhardon DiShon Milton has put his performing skills to good use in television shows, plays, and musicals, including roles in Broadway productions of A Bronx Tale and, most recently Tina: The Tina Turner Musical.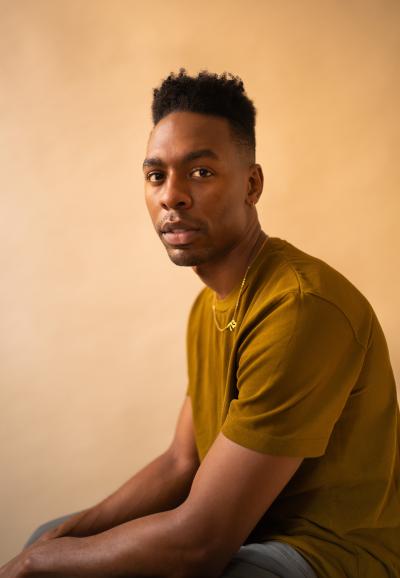 "I'm extremely grateful to have been able to work almost consistently since graduating, but it has definitely had its ups and downs. Choosing to follow your dreams is already hard, but I find that dreaming to have a successful and fulfilling career in the arts is very challenging," Milton said. "So many times I've been rejected for projects, but the key is to keep going. I knew that this is what I wanted and no matter how hard it got, how much money I didn't have, how many connections I didn't have, how many jobs said 'no,' I never gave up."
In addition to Broadway roles, Milton's performing career includes regional theatre credits in the Chicago area, off-Broadway roles in New York City, and TV appearances in shows including And Just Like That, Blue Bloods, and Harlem.
On the heels of the August closing of the Tina production, Milton was gearing up for his first leading role this fall in Roundabout Theater's production of The Bandaged Place by Harrison David Rivers.
Growing up in Houston, Texas, Jhardon DiShon Milton knew very early he was born to perform, making his stage debut at age 7 in a production of Schoolhouse Rock, Live! at Houston's Ensemble Theater.
By the time he graduated from what is now called Kinder High School for Performing and Visual Arts in Houston, he said, "it was extremely clear that acting would be my career, and I was dedicated to making that dream become a reality."
At a theatre festival in Lincoln, Neb., Milton had a chance meeting with two people from Viterbo, faculty member Rick Walters and a former Viterbo student, Lance Newton '10. Milton had never heard of Viterbo before, but he decided to take a leap of faith and move across country to a place very different from his Texas home.
"And it turned out to be one of the best decisions I've ever made," he said. "I'm forever grateful to the professors at Viterbo, including but not limited to Dana McConnell, David Gardiner, Tom Thibodeau, Nikki Balsamo, Karla Hughes, and Rick Walters. They really helped shape me into the man and artist that I am today."
Milton emphasized that his education at Viterbo went way beyond the arts and crafts of acting, singing and dancing. His time at Viterbo fed his spirit.
"As a man of faith, Viterbo and the Franciscan Way and teachings really allowed me to not only study my craft, but lean into my belief in God and explore new aspects of the faith that I hadn't before, creating my own personal relationship with God. All of which I still have today," he said.
Milton said he always acknowledges God for all of his successes and is very aware that none of it would be possible without Him and the love of his family, especially his mother, B. Renae Milton, for her continued support and the sacrifices she made so he could attend Viterbo and allow his dreams to become reality.
Getting a Distinguished Alumni Award from Viterbo is something very special to Milton.
"Receiving this award is a part of the journey that I didn't expect," he said. "I'm completely honored. I've always prayed to God for my light to shine and for others to experience my gifts at the highest level. Being recognized for doing just that is a prayer answered. It is proof that I'm doing exactly what God called me to do and I'm beyond grateful. And I pray that I am able to keep inspiring others as I continue on with everything that I do."
---
2022 Viterbo University Distinguished Alumni Award Recipients main page