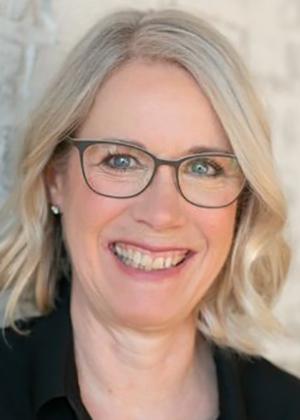 Throughout a career that took her from groundbreaking nutritionist to food industry corporate change agent at General Mills, Jean Storlie '80 took note of the power of stories. A well-chosen, well-timed story, she found, could make all the difference in the creative problem-solving process essential to innovation.
"Stories impart wisdom and empathy from different points of view that collectively reveal patterns and possibilities. They help to make sense of data and trigger viable solutions," said Storlie, who started her own consulting firm, Storlietelling, in 2012. "The data gives you the 'what.' The stories give you the 'so what.'"
Storlie holds so much stock in stories that she co-authored a book about how they can be used in the business world and beyond. Her book, Once Upon an Innovation: A Business Storytelling Guidebook for Creative Problem Solving, is the February pick for the Viterbo Alumni Virtual Book Club, and she will host the Feb. 25 discussion session.
Transferring to Viterbo after a rocky start at another college, Storlie dove into the then-small dietetics program—she was one of only four students in the program—and minored in chemistry. She leaned toward the scientific and analytical, convinced anecdotes weren't useful or substantive.
"I wasn't a natural storyteller," Storlie said. "I stumbled into it."
She really started to harness the power of stories when a clinical rotation at the University of Wisconsin-La Crosse turned into a job. She was tasked with beefing up the campus nutrition program. After she faced a few challenging encounters with clients who were struggling with lifestyle changes, she built time into the group sessions so she and others could share some of their personal experiences.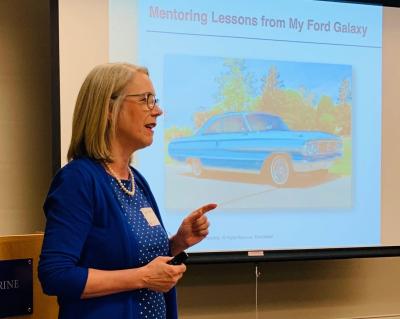 "I didn't know I was doing storytelling then," she said. "In nutrition education, stories make it easier to convey complicated health messages in a memorable way. Stories are also a tool for unlocking barriers to change and finding inspiration from their own and other's successes."
Over the years, Storlie used stories in various leadership roles. She talks about how stories helped her gain support from key stakeholders in complex organizations, like General Mills, where she needed to influence up, down, and across. Stories are a way to convey a hard message without being confrontational.
"The ability to lead when you don't have authority is a very important skill," she said. "I think you find great leaders at every level. Stories help you build deeper connections with others, which enhances trust. Plus, we all have our leadership values. I think it's really important to get in touch with and clarify those values."
Storlie recalled a time when a new vice president introduced himself to his team through telling stories about his core leadership values. "He walked in with a box of objects with each of them representing a key life event that shaped his values. The team successfully coalesced around his leadership," she said.
Leaders should think hard about their values, come up with six core values, and then devise stories about them, including six-word versions that colleagues will remember.
The emphasis in Once Upon an Innovation on creative problem solving comes from her training with the Creative Problem Solving Institute (CPSI), which is where she met co-author Mimi Sherlock. Sherlock brought over 30 years of experience in creative problem-solving facilitation to the book. Their book emphasizes that analytical and critical thinking about a problem can shut down the imagination, but stories open the creative pathways.
Storlie has written nutrition related books and articles before, her first at age 26, but Once Upon an Innovation blazed a new trail. "This book is definitely a whole different genre for me. Everything I wrote before was technical," she said. "Writing this feels like a career capstone, and I'm very happy I did it."
---
►Hone your leadership skills through Viterbo's business and servant leadership graduate degree programs and the Center for Professional Learning and Development, which is offering new training sessions on compression planning and leadership for nonprofit organizations.