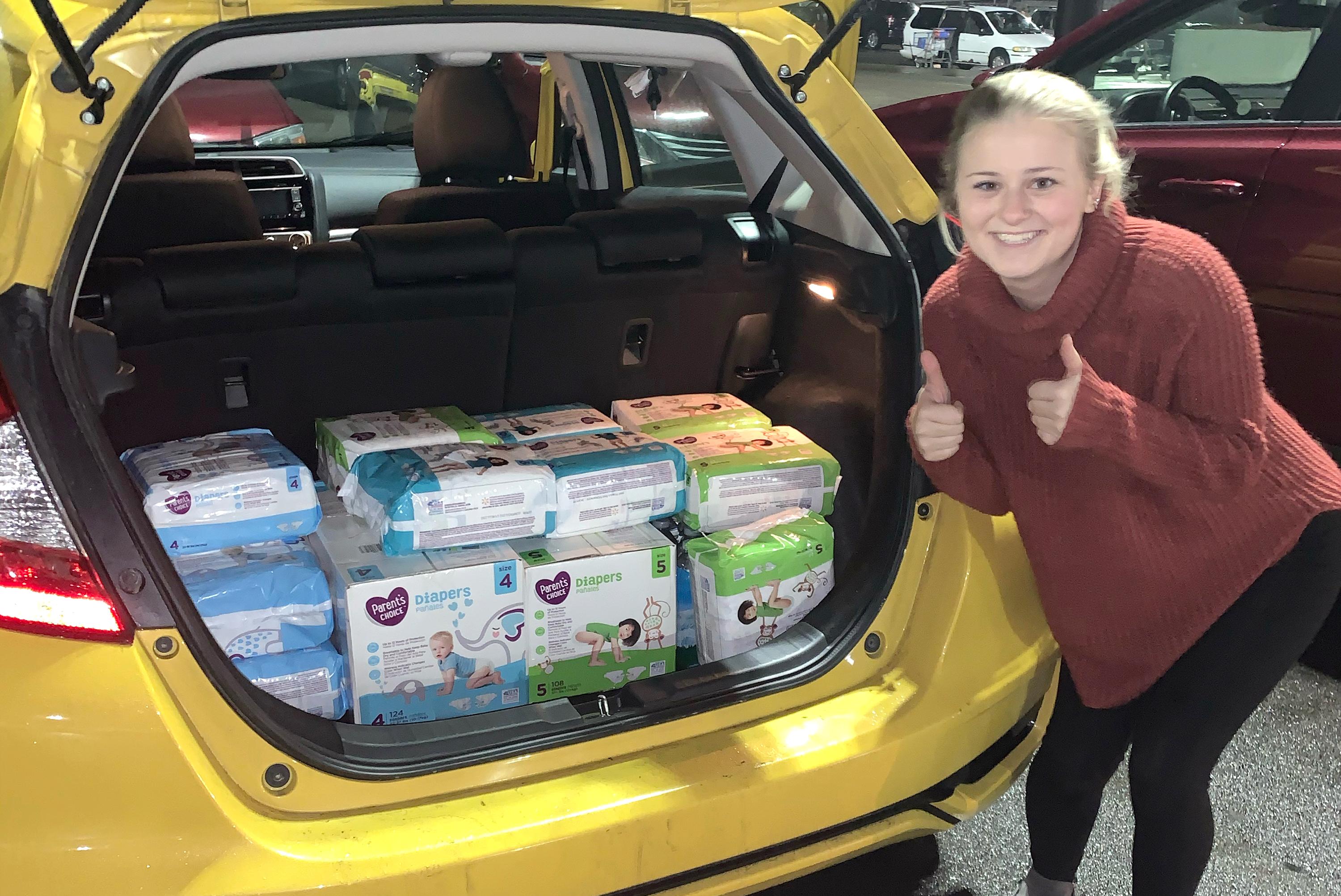 Maggie Goldermann's parents did a great deal of service work when she was growing up in Davenport, Iowa. Now as a junior nutrition and dietetics major at Viterbo University, Goldermann has followed their excellent example.
"I want to live my life helping other people," she said. "When I learned one of Viterbo's core values was service, I knew it was the college I would ultimately attend."
Through participation in the Viterbo Service Saturdays program, Goldermann discovered La Crosse's WAFER Food Pantry, where she became a weekly volunteer. She liked getting to know the people and hearing their stories.
One recurring theme was the need for diapers, which were expensive and in very limited supply at WAFER. Last holiday season, Goldermann was told of parents using the wrong size or even trying to reuse them. Hearing enough, she took it upon herself to do something to at least help alleviate the problem by purchasing 15 boxes of diapers in various sizes and she and her roommate delivered them to WAFER.
"When we walked in, the workers were excited, and the families who received them were grateful," she said.
Goldermann's volunteer activities have been on hiatus during the pandemic because she works as a dietary aide at a local nursing home and needs to be extremely careful to prevent the spread of COVID-19 at her place of employment.
On campus, Goldermann said she is very happy with the education she is receiving in the dietetics program.
"I love it," she said. "The teachers are amazing. They are very accommodating and are always there to help."
Goldermann became interested in the field of dietetics because educated changes to her diet resulted in significant improvement to her own health issues. She also wants to help others experiencing the same difficulties.
After graduation, Goldermann plans to continue her education and become a certified lactation consultant and "help women be empowered."