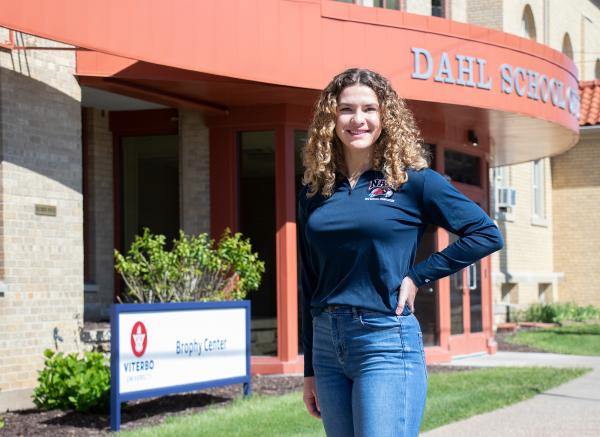 For many graduating seniors, commencement can be a bittersweet experience. For Maya Roberts, it's just plain sweet.
When Roberts took part in the Viterbo University commencement May 16 to celebrate earning her Bachelor of Business Administration degree in leadership and management, it didn't signal the end of her time at Viterbo.
Thanks to COVID-19, the V-Hawk volleyball standout has another year of eligibility. And thanks to Viterbo's 4-plus-1 program, a year from now she'll be graduating from Viterbo again, this time with a Master of Arts in Servant Leadership degree.
"I'm really excited for the opportunity to come back to Viterbo next year. I love this place, and I love the people," Roberts said. "I really can't say enough good things about Viterbo. I'm just so grateful for having the opportunity to learn and be a part of a community where I can practice that learning."
A native of Watertown, Roberts added a gerontology minor to her business major after taking a Sociology of Aging as sophomore year. She was inspired by the possibility she could help people who, like her grandmother, had dementia. Last fall, she did find a way to help.
During an internship with La Crosse County's Aging and Disabilities Resource Center, Roberts helped set up a "friendly phone" program that aimed to provide senior citizens someone to talk with during the pandemic isolation.
One of the biggest projects during her ADRC internship involved creating and promoting a training program to help businesses become more "dementia friendly." Roberts didn't start from scratch, but with her leadership and management education she was perfectly suited to make sure the training was in business-friendly language.
One thing Roberts might pursue after leaving Viterbo is finding a way to increase opportunities for intergenerational care, where care is provided for children and older people in one place, with both ends of the age spectrum benefiting from the other.
When Roberts accomplishes that goal, it will not come as a surprise to Rick Kyte, director of Viterbo's D.B. Reinhart Institute for Ethics in Leadership and a major reason Roberts decided to pursue graduate studies in servant leadership.
"What stands out about Maya is that she combines high intelligence with deep compassion," Kyte said. "She has a sincere heart for service, as evidenced by her volunteer work with the Holmen Community Center to help develop intergenerational activities and relationships."
In his servant leadership classes, Kyte has noticed Roberts listens carefully to people and asks great questions. "She works very hard to try to understand problems before working to solve them. This sounds simple, but it is actually quite rare. The result is that when she gets involved in a project—and her resume is full of projects she has worked on, ranging from public art to dementia care—her efforts are highly effective."
Roberts has taken part in Viterbo's Honors Program, served on the university's Student Athlete Advisory Committee, and has been involved since her sophomore year in the Viterbo Voyagers, serving as president of the organization this year. Voyagers lead tours for prospective students and their families, and Roberts has a passion for sharing her love of Viterbo in leading the tours. "I absolutely love it. It's one of my favorite things to do, to show prospective students and their families around campus."
For the past two seasons, Roberts has served as a volleyball team captain, a role she will have again next year. She is quick to downplay the title, though.
"We have a structure we've created where we try to make sure everybody on the team is a leader," Roberts said. "Sure, there's a captain designation, but we have a lot of leaders on this team."
That's a servant leader view of things, and it's just what Viterbo volleyball coach Ryan DeLong would expect Roberts to say.
"Maya is a natural leader that lights up the room when she is around," DeLong said. "She thinks big picture and always has other people's best interest in mind. Maya is a person who is always putting others in front of herself.
"I would be remiss," DeLong continued, "not to mention she is a stud athlete on the floor, gaining national recognition and putting up tremendous season and career numbers here at Viterbo."
Roberts was recognized with Viterbo's top female academic athlete award for seniors this year, as well as being named first-team All Conference and All Region and second team All American.
Her first three seasons with Viterbo the team made it to the final four in the national tournament. This year's split volleyball season got off to a rough start in the fall, but when second-half competition started, the V-Hawks battled back. They won the season-ending conference tournament, and won their first-round game in the national tournament.
They came within a hair of beating the tournament's top seed in the next round, but Roberts said that loss will be motivation for next season. With three other Viterbo seniors coming back next year for a fifth year of volleyball, Roberts likes the V-Hawks' chances.
So does DeLong.
"The fact the Maya is coming back for another year means the world to us, on and off the court," DeLong said. "Maya is one of a kind, a very special student athlete who lives Viterbo values on and off the court. There is no better face of Viterbo University and Viterbo volleyball than Maya Roberts."