Meredith (Zondag) Hink '01 grew up convinced of the importance of giving back to the community and helping those less fortunate. So when it came time to pursue her dream of becoming a dietitian, Viterbo University felt like home.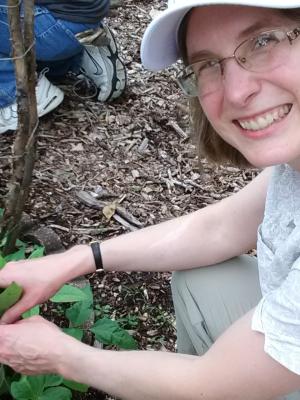 Many members of Hink's family have devoted their lives to the medical field—her maternal grandfather, for example, was the town doctor in Holmen. She knew she wanted to be a dietitian early on, and Viterbo was attractive for its small class sizes and the way the program worked internships into the schedule.
She soon realized that Viterbo had at its core an emphasis on service, on serving the community. "There always was an encouragement to give back, whether it was distributing bread to neighbors or working at Place of Grace," Hink said. "I loved that because I grew up with that."
As a student, Hink got involved with a newly formed group aimed at making international students feel welcome, which she said was a vital part of her years at Viterbo. Learning about cultures and meeting people from around the world was fun, she said, and it solidified her commitment to doing her part to help others on a global scale as well as serving the community here.
At Journey Lutheran Church in Holmen, where Hink and her husband, John, are active members, local and global service are so interwoven that they call it "glocal support."
In addition to playing flute for the church music team and being heavily involved in the youth programs, Hink has played key roles in major charitable projects. She's especially invested in Lutheran World Relief's Fill the Crib effort, which aims to help infants abroad in countries ravaged by natural disasters, famine, and war.
She also oversaw a major project in 2017 commemorating the 500th anniversary of the Reformation. She was tasked with coordinating the Coverings of Care project for the ELCA synod, which involved about 40 churches. The aim of the project was for the synod to donate 500 homemade quilts, baby blankets, prayer shawls, and the like, a mammoth undertaking. "I had quilts spilling out everywhere," she said.
These days, Hink lives in Holmen and works as nutrition services manager at Reinhart Foodservice, a company founded and presided over by D.B. Reinhart, for whom Viterbo's Reinhart Center building is named.
Hink has put her dietetics expertise to good use for Viterbo, serving as a preceptor for dietetics students and serving on Viterbo advisory committees.
She also found a great way to put her expertise to use in the community by teaching gardening and vegetable appreciation to members of the Terry Erickson branch of the Boys & Girls Clubs of Greater La Crosse.
She started her summer gardening program for club members three years ago, meeting with children once a week at the Kane Street Community Garden as well as offering cooking classes at the club. "It was a way to introduce and have them try vegetables and fruit," Hink said.
This summer she wasn't able to gather at the garden with kids because of the pandemic, but Hink (with help from her daughter) made weekly videos about gardening, which she sent to the club with other materials.
"Difficult times call for creativity. I was really happy we were able to continue that program this year," Hink said.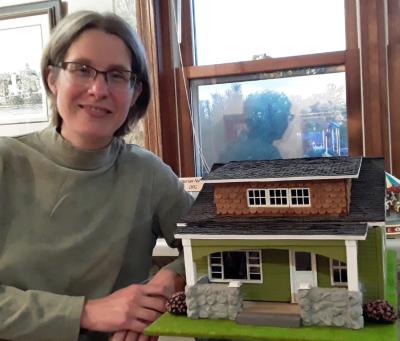 The pandemic means there aren't many chances for Hink to indulge in one of her passions, folk dancing, but COVID-19 can't quash a hobby she's been involved in since she was 7: collecting and creating miniatures. She works in a variety of scales, with her greatest achievement a fully furnished Arts and Crafts-era bungalow that she built from the ground up.
There's nothing miniature about Hink's appreciation for her time at Viterbo, especially to Karen Gibson and recently retired Carol Klitzke of the nutrition and dietetics program and Beth Moore and Anita Beskar, FSPA for their contributions to the international student program.
"I'm always teaching my kids about the importance of gratitude," Hink said. "I'm grateful to Viterbo for showing me what community can do. That's something I've always carried with me, and I appreciate that."