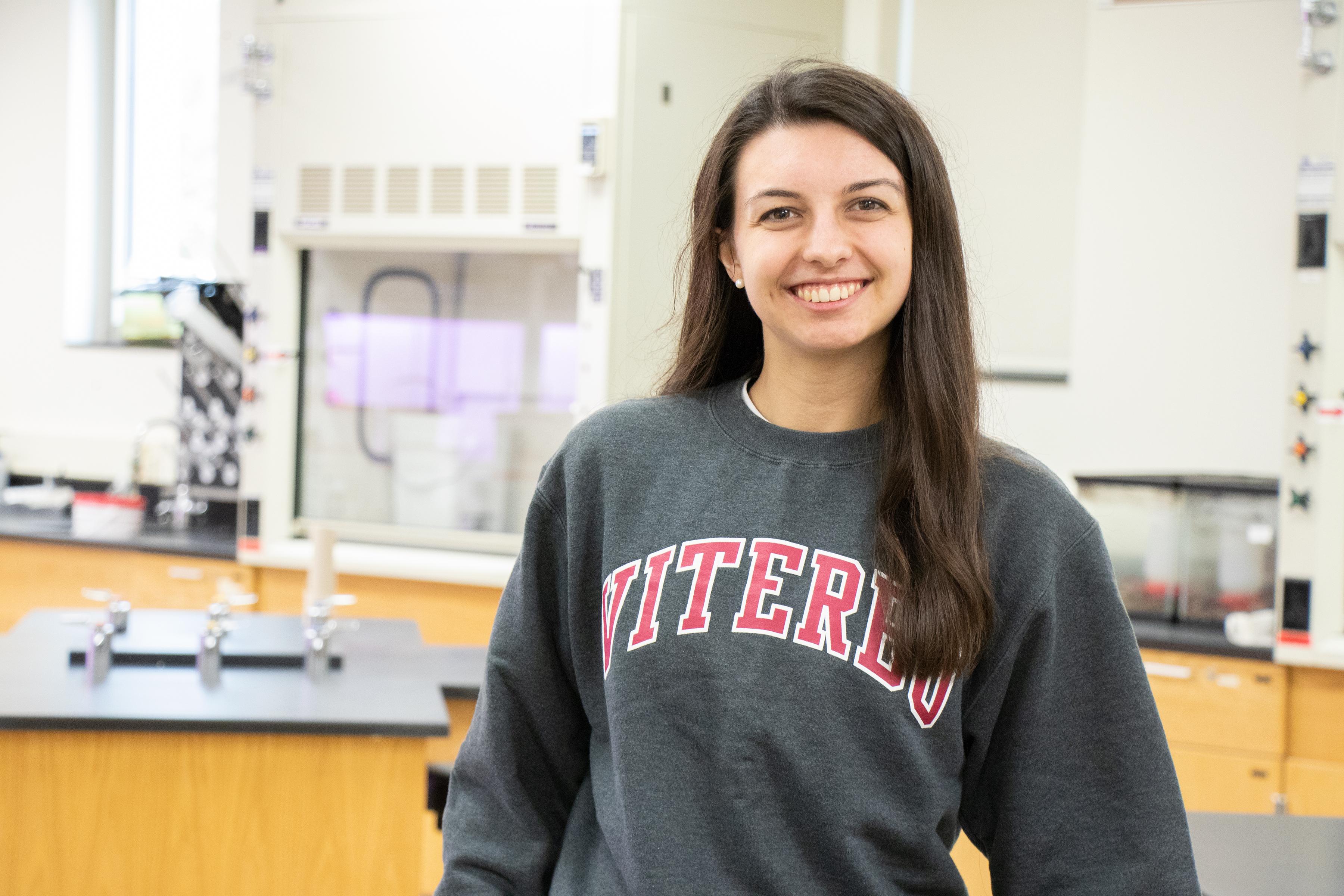 Elizabeth Henriksen enrolled at Viterbo because of the university's excellent nutrition and dietetics program. While taking a course on anatomy, however, she discovered her true academic interest. "I enjoyed that anatomy class so much I decided to change my major to biology," said Henriksen, who grew up in Nekoosa.
Henriksen is a first-generation college student and one of three children in her family, so financial aid was crucial in making a college education affordable.
"Many people think private schools are expensive, but that's not the case when you factor in financial aid," Henriksen said. "Attending Viterbo was a very good choice financially with all the aid the school offers."
Henriksen is enjoying her experience at Viterbo, a place where she said she is part of a community. She enjoys Viterbo's small class sizes and the relationships she has with faculty members.
"No matter where you are on campus, you know someone, and it makes you feel welcome and important," Henriksen said.
Like many students, Henriksen is very busy, on campus and off. She works as a Viterbo resident assistant, helping other students transition to college and campus life. She is also a member of the Viterbo Honors Program and Tri Beta biological honors society. She participated in a service trip to Minneapolis, which she praised as a "very different kind of learning experience."
She also works as a Voyager campus tour guide. "I like connecting with people and showing them what Viterbo is like," she said. "I'm definitely an extrovert."
As if that's not enough to keep her busy, Henriksen also serves as a tutor for anatomy and physiology classes.
"Being a tutor allows me to get to know more people on campus and help them be successful in their classes," she said. "I couldn't have taken those classes without a tutor, so it was good to give back in the same way."
Biology department faculty member Charlie Lawrence appreciates Henriksen's work.
"Liz is a great student and has been an excellent tutor," Lawrence said. "She is hardworking, very bright, and really connects with the students. Liz will be exceptionally successful as she continues to pursue her goals."
Off campus, Henriksen teaches dance—her first love—at a local studio. She has been dancing since she was 4 years old, and she has a minor in dance at Viterbo. She would like to combine a degree in biology and with her love of dance into a career.
"I would love to develop a new injury prevention program for dancers," she said.